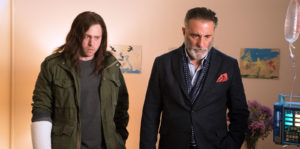 Writing, like film, is a journey into the unknown. At least it is if it's done right. We've all seen unoriginal, cookie-cutter movies that bore us to death in the process of ripping off plot points from superior films. It's why so many cinephiles complain about the lack of variety for major releases in theaters, and rightfully so. The solution is to see more independent films like writer/director Brian Petsos' Big Gold Brick.
I didn't know where the heck this story was going, and for an avid film buff like myself, that's a good thing. The plot starts off with the narrator/protagonist Samuel Liston (played authentically by Emory Cohen) with unkempt long hair, looking like a young metalhead, floating in space while downing a beer. He recalls how he's never believed in a higher power, nor the supernatural, not even Santa Claus. That is until Samuel met Floyd Deveraux (the great Andy Garcia).
Then Pestos cuts to an older, sophisticated-looking Samuel, complete with a ponytail and reading glasses. He's telling his story to a therapist. Then he's in front of a packed audience listening to a reading of his book. The majority of Big Gold Brick focuses on the younger Samuel, but it does jump to the older version at times, showing different stops along his book tour.
Young Samuel has no purpose in life, is late on his rent, has a drinking problem, and is suicidal. So how does this down-and-out loser completely turn his life around? That's what this odd, tall tale is about, and I found it to be an unorthodox but fun ride.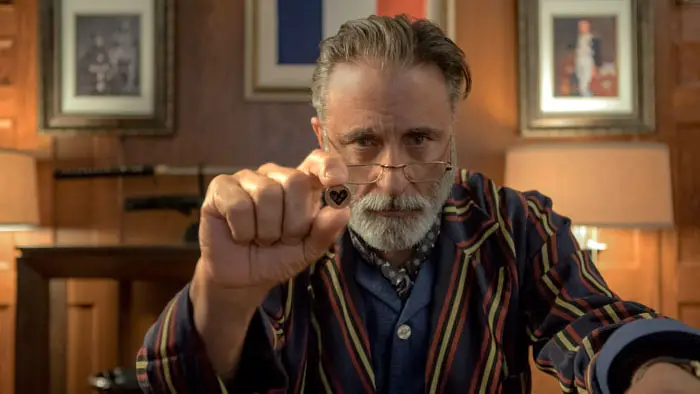 "…never believed in a higher power…until Samuel met Floyd."
The event that sets Big Gold Brick into motion is Samuel is wandering around drunk late at night in the middle of the road. Floyd accidentally runs him over while distracted by some fallen ice cream. Samuel goes to the hospital with wounds and head trauma. No one goes to visit him except for the guilt-ridden Floyd. The doctor explains that Samuel will have bouts of confusion, irritability, and possibly even visions, which explains some of the things that the audience sees later on.
Floyd decides to take Samuel home to his mansion until he can get back on his feet. He gives Samuel a weekly stipend to write a book as his biographer. This is where Samuel meets Floyd's flirtatious wife Jacqueline (the vivacious Megan Fox), his mischievous metalhead son Edward (Leonidas Castrounis), and daughter Lily (Lucy Hale), with whom Samuel is instantly infatuation.
The score features a lot of classical music to highlight the wealth of the Deveraux family, which is a complete one-eighty from Samuel's former life. Floyd becomes a de facto father to Samuel, with Garcia and Cohen displaying great chemistry together. The film is a buddy comedy/drama between these two characters, with odd touches thrown in, such as when Samuel sees things like a talking Santa.
The final act switches gears to become a much more absurd comedy, featuring Oscar Isaac as an over-the-top character named Anseim. Overall, the cast is top-notch, alternating effortlessly between comedy and light drama. Big Gold Brick could've been trimmed down a bit with a runtime of two hours and twelve minutes, and some of the characters, like Lucy, are not fully fleshed out. But overall, I enjoyed Petsos' strange vision.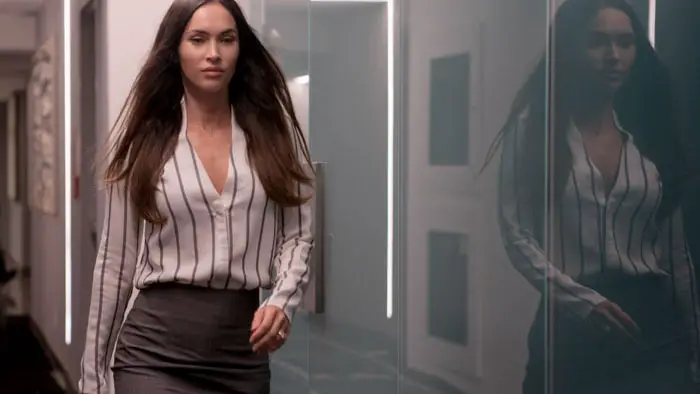 "…Andy Garcia and Emory Cohen displaying great chemistry together…"