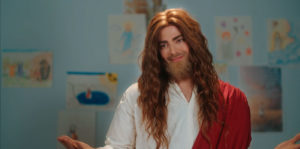 NOW ON DVD! What do you get when you mix a Russian queer coming-of-age tale with the whimsy of Jojo Rabbit? A feature that similarly focuses on a creative young boy and his single mother, but you swap out funny Adolf Hitler for a comical Jesus Christ? Wes Hurley's Potato Dreams of America is what you get. Well, for the first half anyways, before the writer/director completely switches gears toward a more serious melodrama.
The beginning centers on young Potato (Hersh Powers), as he's affectionately nicknamed by his mom Lena (Sera Barbieri), and their hellish existence in Russia. Lena is a prison doctor forced to falsify autopsies, while Potato is regularly beaten up at school for being different. This sounds like it would be depressing to watch, but it's actually quite the opposite due to the fun and eccentric way it's shot.
Unlike the titular Jojo Rabbit, Potato despises his country's political party and their oppressive regime. His passion lies in watching American movies, with a special affinity for Jean-Claude Van Damme. There's a humorous and pivotal sequence where Potato comes to the realization that he's gay while ogling the muscles from Brussels, as Jesus (Jonathan Bennett) cheers on the violence of the martial arts flick that they're watching from the couch.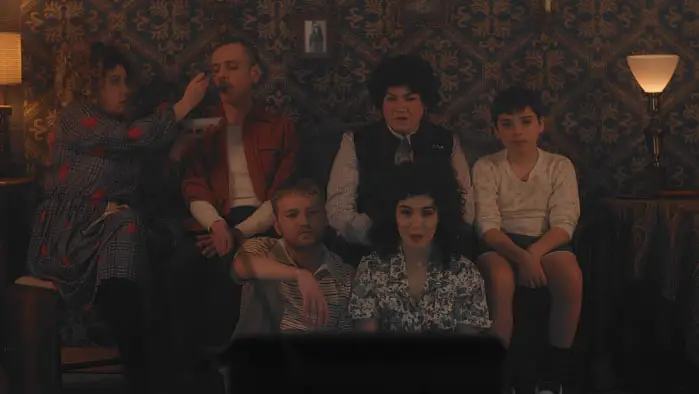 "…Potato is regularly beaten up at school for being different."
I dig the brightly lit theater-like sets, out-of-the-blue musical numbers, and absurdly dark humor from Hurley's autobiographical tale. Potato Dreams of America focuses on what it was like to grow up gay in Vladivostok, just as the Iron Curtain was collapsing in the 1990s. The filmmaker shows so much creative flair and talent in the first act that one can only hope that he will continue to let his artistic freak flag fly in future films and for their entirety.
Anyways, Lena becomes a mail-order bride in order to escape it all, they move to America, wherein this becomes a different movie almost entirely. Tyler Bocock plays the older Potato in the United States, while Marya Sea Kaminski plays the American Lena. Lena's character had a carefree and light air to her back in Russia despite their struggles there. But in the States, she's anxious and constantly worried about being deported. It's a jarring juxtaposition between the two actors.
The film wholly ditches all of the flair and creativity displayed back in Vladivostok. Instead, it intently focuses on the drama of Potato coming out of the closet. His new father-in-law John (Dan Lauria), is a queer-hating, gun-toting, Christian conservative. Potato Dreams of America is still an engaging drama in the second half, but it's not nearly as stylistic or entertaining (and how could it be without Jesus?).
Although uneven, it's exciting to see a fresh, new voice like writer/director Wes Hurley. The cast is also top-notch in both incarnations, excelling at the satirical and dramatic. Potato Dreams of America is very queer-centric, especially during a montage of explicit encounters near the finale. But hopefully, with help from films like this, more of us can say, like Seinfeld, "not that there's anything wrong with that."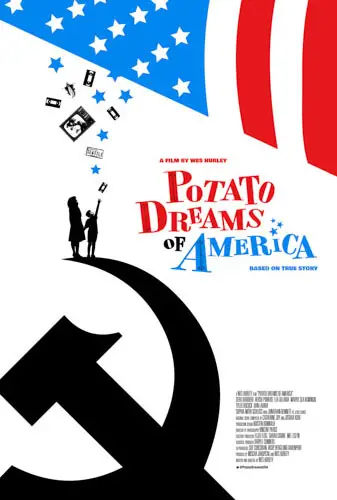 "…it's exciting to see a fresh, new voice..."