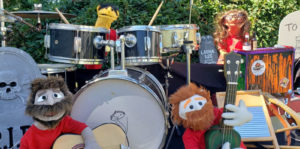 Bernice, Too, directed by Rick Passmore and Jon Bristol, is a lot of things at once: a story of two friends experiencing the world; a farcical take on directionless arthouse films; an extended meditation on how the people one crosses during their daily activities have lives beyond the snapshot seen; a downright hysterical comedy; as stated by one of the filmmakers, "a sexy nightmare,"; and finally, it's the ultimate MCU-style crossover event/ shared universe for the Connecticut-based puppet studio Elmwood Productions.
The one thing the drama-music video-arthouse-comedy-adventure isn't is plot-driven. In fact, the film is just a series of vignettes loosely connected by two friends, Mike (Mike Finland), who is in an electric wheelchair, and Rick (Rick Corbo), who rides on the back, as they travel across the city. Their sojourn leads them to witness a man get angry at his girlfriend for drinking all the delicious coffee. A woman's moped is stolen by her grandma. Two friends interrupt a broadcast to play their favorite band's music video.
All along the way, Rick and Mike only observe these people, never speaking. The two buddies also take in the natural beauty surrounding the town. They frequent the beach and stare past the horizon. They gaze up at the trees of the forest. Of course, this is before they come across two hobos discussing the trademarked name of "Hobo Joe" and several characters from other Elmwood features such as Josh And Todd and The Risley Brothers.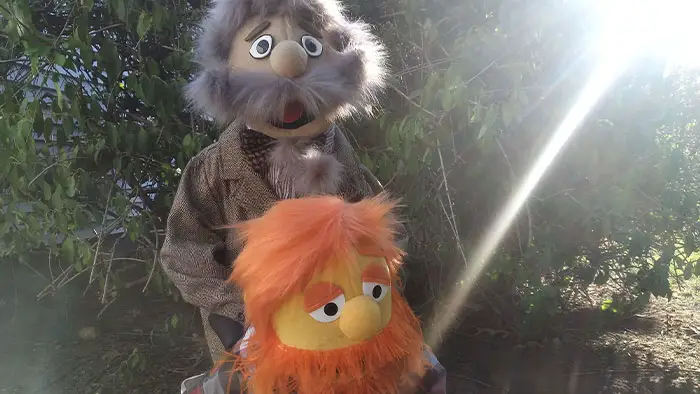 "…a series of vignettes loosely connected by two friends…"
Bristol, Passmore, Finland, Corbo, and the entire cast and crew collaborated on the script. They'd come up with the ideas for vignettes and workshop them to everyone's satisfaction. That such care is taken for something so intentionally absurd and hard to describe shows a real level of commitment that is not only commendable but impressive. It also directly translates to the viewing experience, as it is obvious the filmmakers are having a blast throwing convention and expectations out the window. While there is more to the story, such as it is, that could be parsed out, the charm of Bernice, Too is being able to experience one absurd, surreal, or just plain odd interaction after another and spoiling that more than necessary would ruin that fun.
Head, Elmwood's cult horror hit, is only six or seven years old. But, the difference in production value and quality between that (their last full-length production) and this is staggering. The cinematography is more defined and crisp, adding a greater depth of field. The puppets are no longer directly in the foreground, allowing for more interesting shot compositions and a wider range of movement from the felt stars. The editing is more precise, allowing the filmmakers to play around, making for several experimental arthouse-esque shots. The standout involves a rocket and the fan-favorite character The Jungle Man. But again, let's not spoil all the fun.
By its very nature, Bernice, Too will not appeal to everyone. It has no narrative to speak of, and while there are character arcs, those people might disappear for 15 or 20 minutes at a time. I know for a fact that this can frustrate viewers, who either don't understand it or don't appreciate what the production is sending up. However, if the bands Sgt. Scagnetti or Strawberry Machine, entirely offbeat characters, non-sequitur scenes that are akin to breaking the ninth wall, meditative scenes of serenity, and over-the-top hallucinatory images are your bag, well then, this puppet slice of insanity is for you. And it is definitely for me.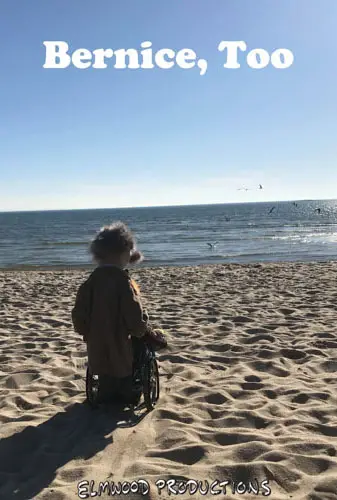 "…this puppet slice of insanity is for you."