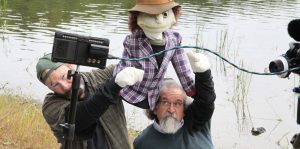 Elmwood Productions is a Connecticut-based studio specializing in films and shows starring puppets. Their award-winning horror-comedy Head has gained a sizable cult in the years following its release. To help celebrate the truly independent production company's 20th anniversary, Rick Passmore, a man of many hats, sheds some light on Elmwood's operations and how they've managed to stick around for two decades.
You were a producer and the editor and director of photography on Head. How did you meet Jon Bristol (founder of Elmwood Productions and director of Head) and get on board the project?
I met the Elmwood guys at a bar, funny enough. I moved to Connecticut for work in 2011 and was out drinking one night in the summer of 2012 and saw this guy with a Henson-style puppet at the bar. It was (lead puppeteer and special effects coordinator) Mike Finland. We started shooting the s**t, and my background in film and TV production came up. He then invited me to one of the production meetings, and that was that. So I've been with Elmwood almost as long as I've been in Connecticut.
The movie was filmed on location in the actual woods, as opposed to sets. What challenges did that present when setting up shots and consideration of the kind of shots possible?
The more significant challenge was that we were shooting just once a week for the majority of the production. Because we all have day jobs, we would shoot on location for 10-12 hours every Wednesday from September to almost Halloween. Though a few scenes weren't on site. The benefit was we were shooting on private property, so we didn't have to worry about things getting changed or causing distractions that would slow us down.
We did have issues with neighbors creating noise, though. A weird drum circle would happen around noon every day we were on set, and it would sometimes carry into our location. Another neighbor would mow his lawn like clockwork just because he was an a*****e. But, otherwise, it wasn't much different or more difficult than any other shoot we've done since. No raised sets or anything like that; just a lot of dirty knees and a***s at the end of the day (hahaha)!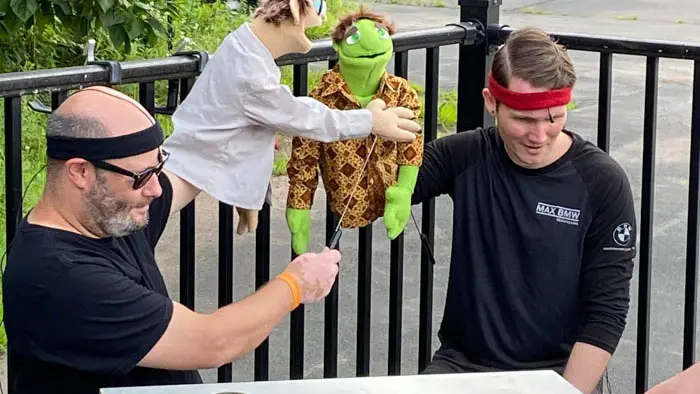 "A weird drum circle would happen around noon every day…"
I know the Midnight Gil host segments and the short (The Walking Path) were added to make Head get to around an hour long. Did these additions impact your approach to editing at all? And what does your editing process entail?
It didn't change the editing process for the feature at all, but it did open doors for us to be creative in the future. I grew up in northeast Ohio, and I loved watching Ghoulardi and Big Chuck & Li'l John on Channel 8, so those influences of the Midnight Horror host and campy humor seeped into our creation of the Gil character. We've done two more Midnite Thrills shorts that are on YouTube and our 5th (+1) Anniversary Head DVD, and we're looking to do more down the line.
As for editing the feature itself, it's the longest singular project I've worked on to date. We shot everything that was on the page but didn't really have time for much in terms of pick-ups or reshoots. As the editor, I would have liked to have had some more coverage and been able to play with some scenes a bit. But when you're a small crew on a tight schedule, you do what you need to. Luckily, it all worked out.
Since working on Head, you have directed several things for the company and puppeteered a few characters. Was it a natural evolution of your desires or happenstance that you just happened to be around?
A little of both. I have my Bachelor's in Film Production and Cinema Studies from The University of Toledo and work professionally in television, so it was a natural progression for me to do more behind the camera. Puppeteering is one of those things that sort of feeds my deep-seated performative ego, even though I'm a pretty introverted guy for the most part. I don't consider myself a great performer, but I love to do it when I need to. Just don't ask me to be the lead. I am much more comfortable in the editing room.
Puppets: Are they live-action or animated?
The characters move and react in real-time and are voiced live most of the time as well (we occasionally have to dub the dialog, but try not to), so live-action. We've dabbled in some very crude animation (Risley Brothers: The Legend of Cotterville Road), but we do 95-99% everything live and on the set.
What are some of the challenges in creating a film or show starring puppets?
Working with puppets is a challenge for sure. You're very limited in what you can do, especially with blocking and the performance. They only have so much range of motion, and every shot is a special effect. But there's a ton of upsides to working with puppets from a creative side. Performers can play multiple characters throughout the film, and you can cast whomever you want based on how you build the puppet, no real make-up chair, etc. But from a practical side, it's very difficult, especially with no budget or time. During a traditional production, you can always grab a few actors, shoot a scene and make it look natural – that's much more difficult to do with puppets.