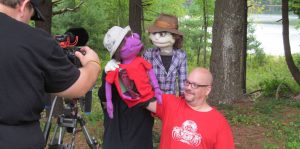 Working with puppets might seem like a chore, but it is a way of life for the founder of the independent studio Elmwood Productions. Jon Bristol created the media company 20 years ago, and along with his colleagues, has helmed several films and shows. In fact, the folks at Elmwood are hard at work on a new project. Jon Bristol sat down to spill the beans on the studio, their projects, and legacy.
Elmwood Productions is a full-on entertainment studio, helming movies and series alike. It's just that they all star puppets. So who were some of the artists that influenced you as a filmmaker and the direction of Elmwood overall?
Jim Henson and his whole team were (and continue to be) major influences for us. Especially the 1970's and 1980's output of work. There is a different look and feel to specials like Emmet Otter's Jugband Christmas, Hey, Cinderella!, and The Muppet Show than the more modern works. That's kind of a vibe we're looking for.
I was raised in movie theaters and watching television. Spielberg was the first director I followed, ET and Raiders of the Lost Ark both came out before I was even in third grade, and both made me fall in love with movies. Kevin Smith has been an enormous influence as well. He more than proved you could make something from nothing and be entertaining, relatable, and original all at once. I think he'd make a great Muppet movie if given the chance!
Other film-related influences include Robert Rodriguez, Tim Burton, and Frank Oz. Outside of film, James O'Barr's art has been big for me. Bowie's and Prince's music and style and ability to reinvent themselves… I mean, this list could go on for hours!
Elmwood Productions is situated in Connecticut (a northeastern U.S. state for international readers), a far cry from Hollywood, though reasonably close to New York City. Was there any hesitation about setting up shop here or did it simply make the most sense to be housed in CT?
Necessity. I was raised in Connecticut, moved away, and came back. Once back, I found some like-minded friends who were willing to give a puppet studio a shot. As the years have passed, there have been moments where the idea of "going Hollywood" was tempting. But, I'm not a big fan of the past decade of what has been coming out of the mainstream systems. And we're doing OK here and really have the freedom to do what interests us.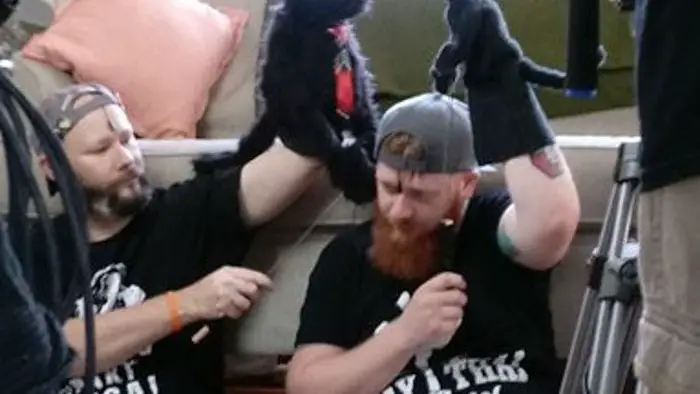 "…there have been moments where the idea of 'going Hollywood' was tempting."
What goes into the process of designing the various puppets? What is the thought process of one character being purple (Todd) and another being more orange or entirely flesh-colored?
Sometimes I'll make a puppet and come up with a story for it. Other times it is vice versa. That's usually the way: story first. Todd was actually made before the concept of Josh And Todd: The Story Of A Man And His Puppet came to me but in all black. Then we had the idea for the film and thought that the monster puppet would be perfect. But all black didn't look so great on camera. So I rebuilt him with purple fur. But the black version still has a cameo in the opening nightmare scene!
Josh And Todd: The Story Of A Man And His Puppet is about a person's repressed id literally manifesting itself in the real world to help him find himself and joy again. And it's all baked into a rather silly, fun time. Were there any difficulties in balancing the humor and the drama in Elmwood's first feature-length title?
It really came organically. The crew at the time were a funny bunch, so the humor flowed naturally. The hardest part was finding a balance with the anti-racism themes in the flick and how we would mine humor from such a serious topic. Luckily the cast nailed it!