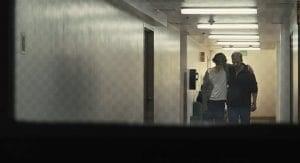 Belgian filmmaker Felix Van Groeningen's (The Broken Circle Breakdown, Belgica) English-language debut is very much tonally akin to his efforts in his native tongue. Known for his emotional, sprawling tales of love and destruction, the director doesn't miss a beat when shifting his setting to the breezy coast of California. Keeping in line with Van Groeningen's previous films, Beautiful Boy dives headfirst into a harrowing tale of familial scourge in the face of ruinous substance abuse.
A joint adaptation of the dueling memoirs Beautiful Boy and Tweak by father and son David and Nic Scheff, respectively, the film chronicles the painful struggle of a family nearly destroyed by crystal meth addiction. David (Steve Carell) is entirely stripped of his paternal autonomy as he watches helplessly as Nic (Timothée Chalamet) is overcome by a debilitating substance abuse problem. In a cyclical wave of relapse and recovery, the family must learn to stand by one another while constantly adjusting their definition of rehabilitation.
"…entirely stripped of his paternal autonomy as he watches Nic overcome by a debilitating substance abuse problem…"
The crux of the story rests on the relationship between David and Nic, and Carell and Chalamet truly bring the characters to life with their raw, humanistic performances indicative of the open wounds displayed onscreen. The film nimbly captures the bitter animosity that only arises amongst those whom we love most. We are given a bleak and engaging portal into David's paralyzed lack of control, leading to some truly emotionally devastating passages. He is willing to sacrifice everything for his son's well-being, but he never feels disingenuously sentimental. His blunt, direct speech elevates the character past the level of blind uniformity that so often comes with tales of addiction: "You cannot say dumb s**t like that or you're gonna start believing it."
As we're often reminded throughout the film, "relapse is a part of recovery." Recreating the disorienting nature of Nic's turbulent journey, the narrative is told in fragmented bursts, leaving the audience to fashion the broken pieces into a linear tale on their own. The viewer is pulled from a variety of angles, as the harrowing spiral demonstrates just how truly detrimental addiction can be for so many. Director Felix Van Groeningen showcases this intense fluctuation of emotions, selling both the euphoria of drug use and the incapacitating barrier of withdrawal. One of Beautiful Boy's chief tools in emotional direction is its enthralling soundtrack. The film is often scored like a horror movie, and for Nic and David, it is.
"…told in fragmented bursts, leaving you to fashion the broken pieces into a linear tale on your own."
The film ends with a few statistics about those affected by crippling drug addiction, illustrating Van Groeningen's larger point: the substance abuse problem in this country has reached its tendrils into even the most quaint, suburban homes. It's becoming increasingly difficult for the affluent bystanders to ignore this growing epidemic from the comfort of their cushy existences. By all accounts, Nic Sheff had a privileged upbringing, with the path to success laid out before him at his feet. Yet even he was susceptible to this corrosive disease, as were all those close to him. Beautiful Boy probably isn't going to change any minds, but you can't fault Van Groeningen for trying.
Beautiful Boy (2018)  Directed by Felix Van Groeningen. Written By Felix Van Groeningen, Luke Davies. Starring Steve Carell, Timothée Chalamet, Maura Tierney, Amy Ryan, Jack Dylan Grazer, Kaitlyn Dever, Andre Royo, Timothy Hutton, Lisa Gay Hamilton. Beautiful Boy screened at the Chicago Film Festival.
8 out of 10