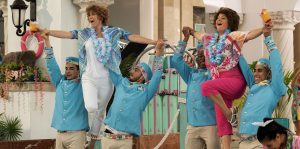 NEW TO HULU! Since the marketing for Barb and Star Go to Vista Del Mar emphasizes the fact that it is written by and starring the writing pair behind the uproarious Bridesmaids (Kristen Wiig and Annie Mumolo), I could be forgiven for expecting, or at least hoping for, a pleasantly ribald few hours. While the Josh Greenbaum-directed comedy does have some truly rib-tickling moments, frustratingly, it represents a missed opportunity. The film could have been smart and refreshing if only it had the confidence to remain focused on its two spectacularly appealing lead characters and completely jettisoned the absurd killer mosquito subplot.
Barb (Annie Mumolo) and Star (Kristen Wiig) are longtime BFFs, loving life in suburban Middle America and their careers at the local Jennifer Convertibles. But, unfortunately, their idyllic day-to-day comes to a grinding halt when they are laid off due to the store closing (apparently, no one told management that the company had gone out of business months prior). Making things worse is the fact that the two are kicked out of their only social outlet, a girls-only talking club.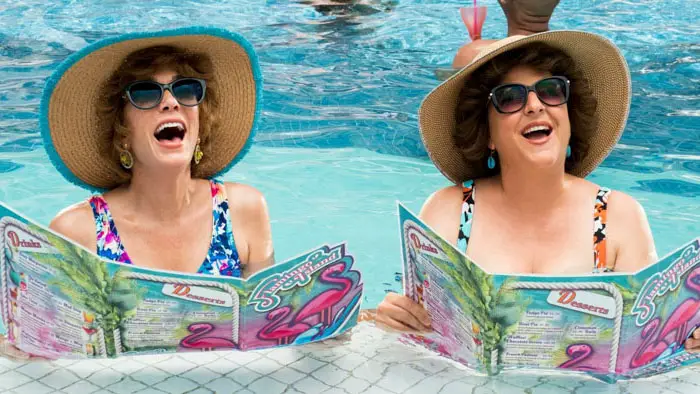 "Barb and Star arrive at their hotel…[and] encounter Edgar, an Irish hottie…"
Thinking that this might be a good time to recapture some of their lost youth, Star suggests that the two take a vacation to Vista Del Mar, a coastal community in Florida where middle-agers like themselves flock to get their grooves back. "I feel like we're fading away," she laments. Barb and Star arrive at their hotel, which welcomes them in the first of two extravagantly weird musical numbers, only to learn that their reservation is the dumpy motel across the street. No matter, because of a family that has mysteriously gone missing, a room has become available at the initial resort, so the two check-in and get to chillin'.
At the bar one evening, the two encounter Edgar (Jamie Dornan), an Irish hottie in despair resulting from unrequited love. Barb and Star's sunny dispositions will simply not allow Edgar to feel depressed, so the three get drunk and have a grand old time. But, the audience is aware that the real reason he is at the resort is to plant a microchip that, upon activation, will unleash a swarm of killer mosquitoes. This subplot is as out of left field as it sounds and brings down the cheerful curve of an otherwise incessantly bubbly production.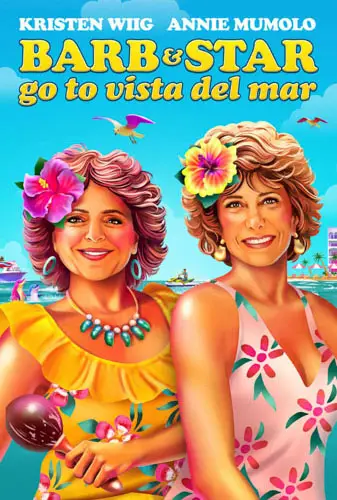 "…as welcoming as a great big hug."