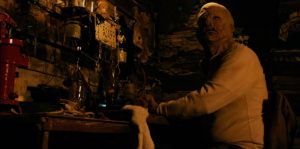 Hot on the heels of Ron Howard's The Hillbilly Elegy comes Thomas Smith's Backwoods, another cautionary (read: misguided) tale about the murderous cesspool that is the American South. Take away Elegy's production values, the gloss, the extended dramatic speeches, and the award-bait performances, add a dash of gore, and voila! The message remains the same: backwoods hicks represent the grimiest aspects of humanity, and if one gets an opportunity to escape, they better take it.
I'm exaggerating, of course. For one, Backwoods is set somewhere in Alabama, as opposed to Elegy's Ohio. Secondly, it runs barely over an hour. Thirdly – and that's its cardinal sin – Backwoods isn't that frightening. That's not to say it doesn't have its merits. Smith's palpable enthusiasm and energy are evident from the first underexposed shot of a cheerleader, Molly (Isabella Alberti), waking up to find herself trapped in the trunk of her "douchebag football player" boyfriend Hunter's (Matthew McCoy) car. Smith then skillfully intercuts between the present and Molly, piecing together the past, whose hazy nature is eventually revealed.
The last thing she remembers is flirting with the water boy, Noah (Michael Anthony Bagozzi), before listening to some heavy exposition about the infamous Hangman (Scott Alan Warner), a psycho hick slaughtering folks in the titular backwoods. After barely escaping from her masked kidnapper, Molly stumbles upon the Hangman's shack. Along with Noah (who has the tracking abilities of a bloodhound), she is caught by the severely disfigured, allegedly inbred hillbilly. A twist, a suitably gory finale, even a post-credit sequence – what else do you want in a midnight horror flick?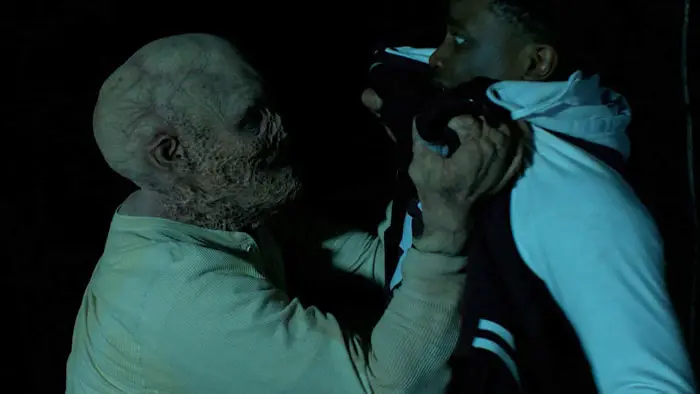 "After barely escaping from her masked kidnapper, Molly stumbles on the Hangman's shack."
A clearer sense of continuity, for one. The editing, by Smith, is so frenzied, each exchange is sliced and diced into so many cuts, it's as if copious amounts of cocaine (energy drinks? Cocoa Puffs?) were consumed during the process. The sound mixing is all over the place. This makes it doubly as difficult for the amateur cast to pull off their characters, much less individual lines – and it's not like they have Shakespearean dialogue to butcher. "It's not how old you are. It's how old they feel," a dealer comments about underage girls at one point. "That bitch is so stuck up. You'd have to roofie her," another character says.
If Smith intended to make a statement about the toxicity, misogyny, and racism of Southern men, or men in general, lines of dialogue like "Don't shush me, you backwoods mongoloid!" don't necessarily help substantiate his already-dilute point. If he wanted to display how said "backwoods mongoloids" are misunderstood, how quick we are to indict based on age-old assumptions, he should have developed his purported antagonist's backstory a bit more. The "monster" touchingly giving our stoic heroine a flower in no way justifies all the kidnapping, potential rape, and multiple murders he's committed.
So hideous hicks are portrayed as hideous hicks. Fine. Let's even disregard Noah screaming, "I'll pay for your plastic surgery!" Backwoods is mercifully short. The make-up work is effective, and there are a few quippy lines among the inconsequential/ridiculous ones (My favorite: "You've got every guy in school lining up to lick the mud off your pom-poms."). A character getting shot through the head is an applause-worthy highlight.
Kudos to Smith for having more on his mind than just slaughtering teens. Perhaps next time, he can slow down a little, focus on fleshing out both his pro- and antagonists, trimming down the fat, and most importantly, making his points in a clearer, more scathing fashion. Backwoods may prove to be a midnight movie delight for some and an absolute cinematic travesty to others. I'll stay right in the middle.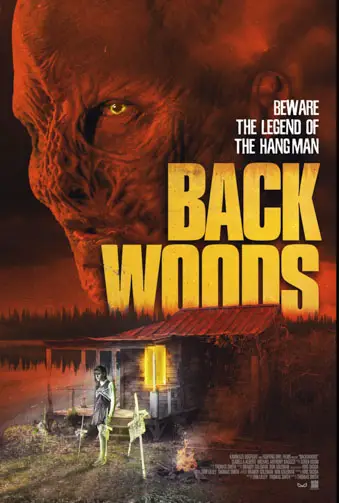 "…may prove to be a midnight movie delight for some, and an absolute cinematic travesty to others."