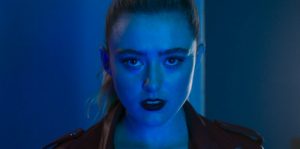 Freaky Friday the 13th was the working title for Christopher Landon's new film, which was shortened to just Freaky. I like the obviousness of that original title (which also functions as the world's shortest pitch). Really, nothing else needs to be said: imagine blending the body-switching shenanigans of Freaky Friday with the body-slashing horror of Friday the 13th, and you'll have a clear idea of what to expect. Except Landon's movie has one crucial thing that (slightly) elevates it above gimmick territory; his name is Vince Vaughn.
The actor has continuously displayed a wide range throughout his career, yet it's his comedic persona that took off and resonated with audiences. One look at his unleashed, carefully calibrated performance in S. Craig Zahler's blasphemously underseen Brawl in Cell Block 99 reveals a quietly efficient, thoughtful approach to "serious roles." In Freaky, Landon allows Vaughn to showcase both sides of his persona, and he does so with aplomb. He doesn't just steal the film. He owns it.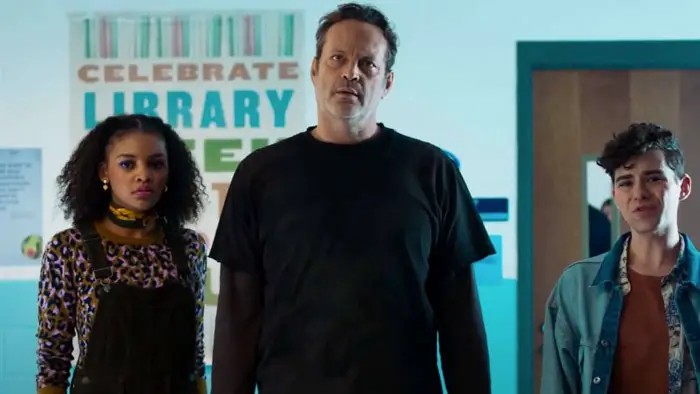 "…local serial killer/psychopath The Butcher stabs Millie with a magical knife… setting the hilarity in motion: she becomes him, and he becomes her."
That's not to take away from Kathryn Newton's fine turn as Millie, the movie's dorky-but-actually-hot protagonist. She deals with constant harassment, hangs out with two other outcasts (Celeste O'Connor and Misha Osherovich), and takes care of her widowed mom Coral (Katie Finneran). One night, local serial killer/psychopath The Butcher (Vaughn) stabs Millie with a magical knife he stole, thus setting the hilarity in motion: she becomes him, and he becomes her.
Landon cleverly peppers Millie's crusade to get her body back with pitch-black humor and gory deaths. A man sawed in half may be the film's highlight, although an early murder-by-glass-bottle sequence rivals it for ingenuity. Vaughn attempting to prove to his friends that he's actually Millie is an inspired moment, as is an extended, purposefully uncomfortable sequence involving him and a young man in the back of a car. In the meantime, with The Butcher's spirit inside her, Newton nails several crucial scenes, channeling Vaughn-as-psychopath to great comedic and frightening effect. The high school is her slaughter playground, and she loves it.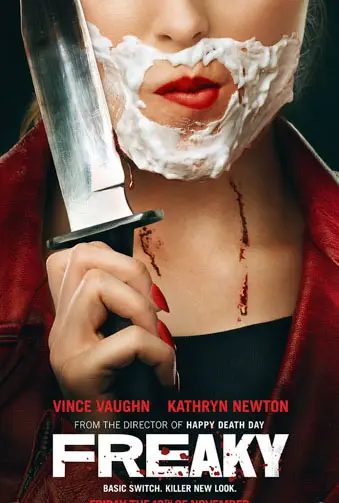 "…think of how freaky it would be to see a spin-off, with Vince Vaughn as Millie and Jack Black as Bethany, traversing the terrains of Jumanji."