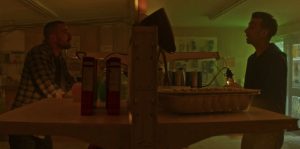 I have been excited about Random Acts of Violence ever since I saw the trailer a month or so ago. First of all, I have been a fan of Jay Baruchel ever since Undeclared. Secondly, I am a superfan of Jesse Williams because I am an unabashed fan of the never-ending Shondaland classic Grey's Anatomy. His turns in horror films fascinate me, whether in Cabin in the Woods or the Jacob's Ladder remake. So I was immediately on board for Baruchel's second feature directorial effort and first foray into the horror genre. Also, knowing that Shudder is releasing the film gave me some definite hope that it would be awesome.
Random Acts of Violence follows the comic-book creator Todd Walkley (Williams), his wife, Kathy (Jordana Brewster), his business partner and founder of Hard Calibre comics Ezra (Baruchel), and his assistant Aurora (Niamh Wilson) as they embark on a road trip from Toronto to NYC Comic-Con. Along the way, they stop at creepy hotels and rest-stops so that Todd may get some inspiration for the final issue of his wildly popular Slasherman comic series. The character of Slasherman is based on a real murderer who tore through the northeast American countryside in the '80s. Kathy is also working on a book that focuses on the killer's victim, which is a very different approach from Todd's.
Soon enough, things begin to get scary as there's a murderer is on the loose, and he is imitating scenes from Slasherman. Earlier, Todd said that he sees Slasherman as someone who creates art through inflicting pain. Most people who talk to Todd, including a radio show host and police officer, think Todd is sick for glorifying violence. Little do they know that he really isn't, he's merely writing what he knows and not in the way you might think.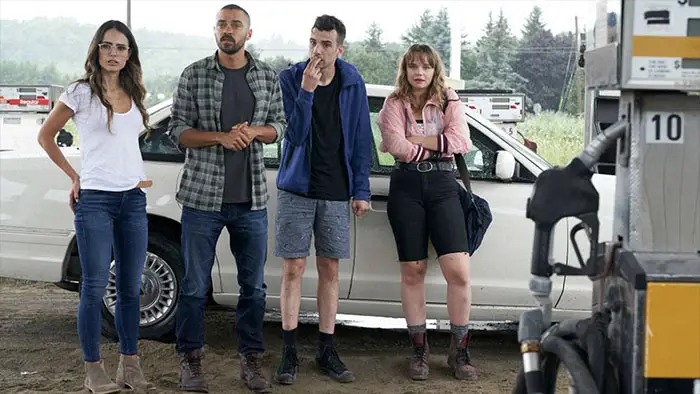 "…a murderer is on the loose, and he is imitating scenes from Slasherman…"
Random Acts of Violence has a series of gruesome kills, so be sure to go in knowing this if you aren't a big horror fan. As a horror fan, I found the set-pieces for the murders to be horrifyingly awesome. For genre buffs, there's plenty of blood and guts to go around. However, the violence isn't really as random nor as gratuitous as the title might suggest. It serves a purpose to tell us who Todd is and where he came from. Unfortunately, not everyone who's along for the ride gets to see the end result.
Another awesome thing about Random Acts of Violence is that it has the Slasherman comics cut in through-out, which are very well designed by Tony Fantastic and the art department. Superstar cinematographer Karim Hussain lenses the film in a way so that every frame looks fantastic. The production design by Michelle Lannon is top-notch. Baruchel picked a great team to surround himself with, and it provides great results.
Random Acts of Violence has something to say about the proliferation of torture porn and horror that glorifies violence. Baruchel does it in a smart, sometimes funny, and sometimes utterly devastating way. It's absolutely worth checking out if you love horror, and maybe even if you don't.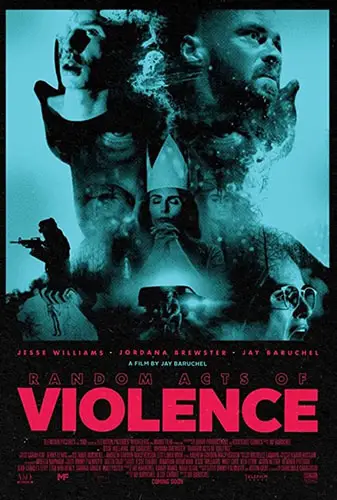 "…the set-pieces for the murders to be horrifyingly awesome."