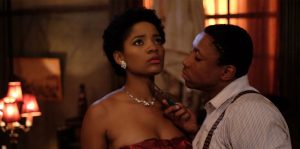 South African director/co-writer Angus Gibson's Back of the Moon delivers a history lesson in the form of a riveting gangster drama. The year is 1958, and Ghana has just elected Kwame Nkrumah as their first black president. However, Apartheid is still raging in South Africa. The driving principle of Apartheid (literally "apartness" in Afrikaans) was to keep black South Africans as far away from white people as possible. That meant creating and maintaining distance economically, socially, and geographically. This intentionally fractured policy took hold in 1950 and was South African law for nearly 50 years. Land Acts earmarked 80 percent of the country for the white minority. Anyone categorized as non-white was required to show papers allowing them temporary passage through the designated white areas.
Much of the black population was moved onto reservations to enforce the buffer between them and the whites. The drama, co-written by Libby Dougherty, takes place in Sophiatown, a run-down suburb of Johannesburg. It's set on the night before the village residents are removed from their homes and displaced to a remote settlement 10 miles outside the city. They have been told the police will bring trucks and move them forcibly if necessary.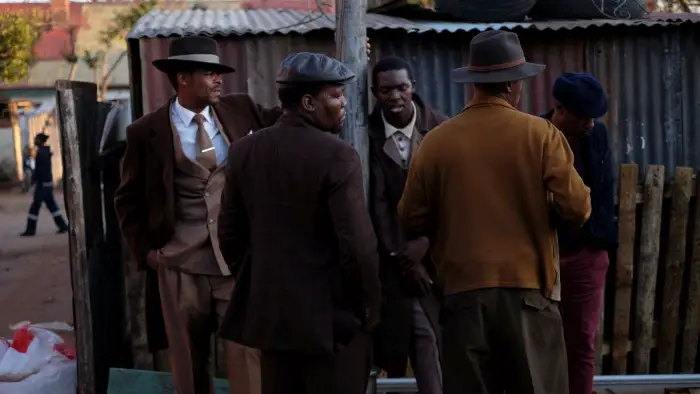 "…the stage is set for a violent showdown between warring factions of The Vipers."
Sophiatown is a bustling village full of commerce, family life, art, and culture. It's also rife with gangs. The ruling gang is The Vipers, run by the well-read intellectual Maxwell (Richard Lukunku). His street name is Badman. The social center of Sophiatown is the nightclub Casablanca (the parallels are clear). That night's performance features the beautiful and talented Eve Msomi (Moneoa Moshesh). She plans to leave for London the next day with her pianist and manager, Nat (Thomas Gumede), to embark on a recording career there. However, Eve's boyfriend, a boxer named Strike (S'Dumo Mtshali), has different plans for her. Instead of allowing her to leave for London, he confiscates her passport and insists she'll be traveling to his home village where they'll marry and have many children.
As everyone prepares for the police action the next morning, they bid farewell to their town and way of life. At a dance hall called Back of the Moon, a malevolent Viper, Ghost (Lemogang Tsipa), has decided that under the circumstances, he need no longer follow the rule of Badman. As such, he decides to rob the place and wreak havoc. He attacks a white journalist with a knife while one of his men rapes a woman. Badman shows up and shuts down the attack, but the owner of the hall protests and is knifed in front of Badman. In response, Badman kills his own man. Ghost is furious and feels betrayed, and thus the stage is set for a violent showdown between warring factions of The Vipers. Badman suddenly finds himself entangled in complications around his long-hidden feelings for Eve while dealing with the betrayal of his gang and despair for the loss of their village.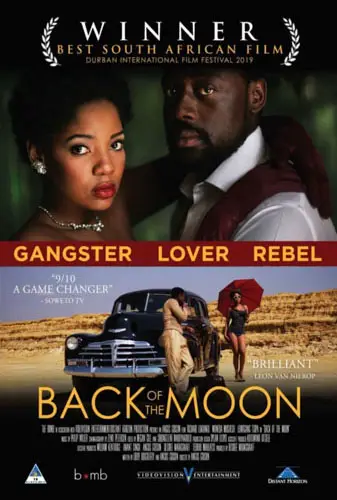 "…Gibson has carved out a place for himself..."