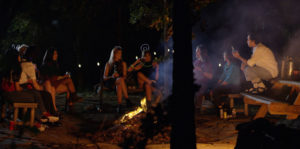 The cabin in the woods subgenre gets a feng shui make-over in director Terry Spears' unpredictable horror movie As The Village Sleeps. Sarah (Eleonora Saravalle), a college student, is getting out of Los Angeles for the weekend with Connie (Chloe Caemmerer) and Liz (Victoria Strange) to celebrate her birthday. Connie has also invited her new boyfriend, Matt (Rane Thomason), along for the fun. Oh, and Matt's rock band will be joining them. Complicating matters is that band member Alex (Oliver Rotunno) is Sarah's ex. Add to that the step-family members Tala (Shiah Luna) and Jacey (Daniel Olguin) show up to use the cabin, and things become awkward to the max, dude.
Good thing there is this cool card game one of the band members says they bought from a gas station. It's called Lynch, a variation on the party game Werewolf with the addition of witches and cats. They play it around the campfire while getting liquored up and gobbling down edibles. Everyone wakes up deep into the night and notices some people missing. Sarah and the gang realize something is very wrong as more people vanish. As missing becomes dead, they struggle to remember the game they played hours earlier, as the rules state the group is playing for their lives.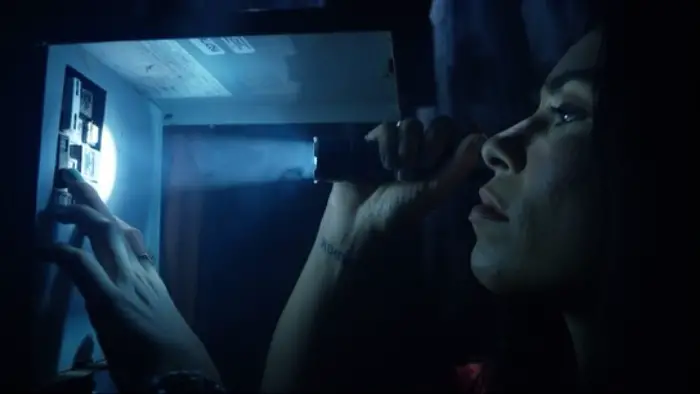 "…the rules state the group is playing for their lives."
I remember how nuts my dad went over Witchboard back in the VHS days. He was impressed with how the filmmakers pulled off a crazy successful horror film with close to no budget, using only people rolling around the floor next to an Ouija board and a script explaining why. With As The Village Sleeps, Spears has delivered Witchboard for the world of the future. Of course, when conceiving a shoe-string budget production without the shoe-string, to quote the holiday title Christmas at the Ranch, you will need someone who can build a fire out of nothing. In this case, that person is Chloe Bellande, and the fire is her crackling screenplay based on a short she made. It's the development of her concept of the game controlling reality that keeps one guessing in a subgenre that has no guesswork other than who will die next.
There are clever flashbacks for fun reveals and a lot of world-building from the specific rules of Lynch. By the time you are at the midway point, you have no idea where the plot will go next, which is so refreshing. The screenwriter puts in a lot of solid character development and drama to keep things lively. The dimensions added to the personas help with identification as well as fattens the body count for the slaughter.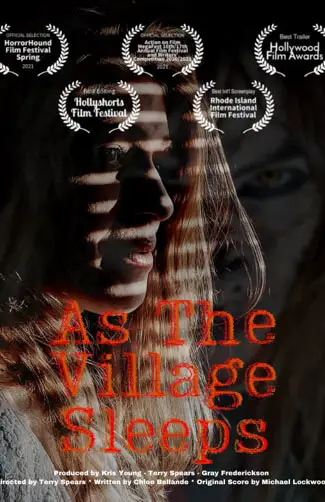 "…Spears and Bellande have pulled a horror movie out of thin air..."