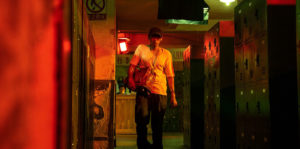 Are You Lonesome Tonight? is so precisely wound and elegantly constructed that it shows a master helmsman at the top of his craft. Wait, scratch that. This handsome, dramatic mystery is Shipei Wen's feature-length directorial debut. He also co-wrote the screenplay alongside Noé Dodson, Yinuo Wang, and Binghao Zhao, who are also entering full-length territory for the first time.
The night is hazy and drenched in neon lights. The port city of Guangzhou (in Hong Kong) teems with life as its citizens go about their lives. Repairman Wang Xue-ming (Eddie Peng) is driving along when he hits someone. Scared and panicking, Wang flees. However, the man is racked with guilt over the incident to the point he tries to turn himself in to the police. While that doesn't pan out, he does meet the victim's widow, Liang Ma (Sylvia Chang), and the two strike up a friendship.
Meanwhile, Detective Chen (Yanhui Wang) is put in charge of the investigation looking into a body riddled with bullet holes. It turns out this body is Liang's husband, the same person Wang ran over. So, if the repairman isn't reasonable for his death, who is? Well, years later, these questions and the case still haunt everyone involved. Who did kill Liang's husband and why? Will the truth ever come out?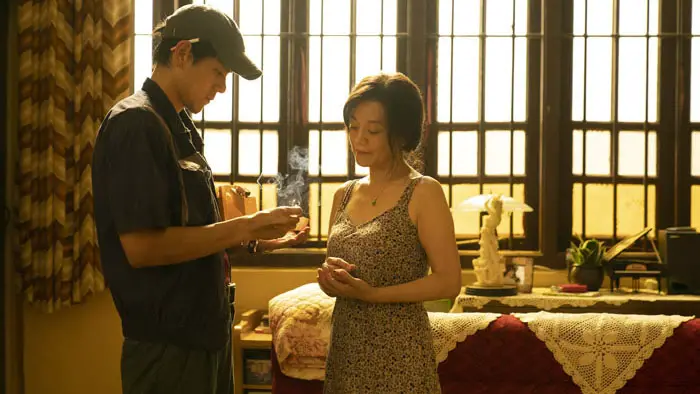 "…a body riddled with bullet holes. It turns out this body is Liang's husband, the same person Wang ran over."
The cinematography and lighting make Are You Lonesome Tonight? look like a realistic Blade Runner, of all things. There were four directors of photography working on this: Cedric Cheung-Lau, Xiaosu Han, Zhang Heng, and Andreas Thalhammer. They work together seamlessly to bring forth a beautiful cinematic experience in which the visuals telegraph the characters' mood before anyone speaks. In that vein, the violent outbursts, of which there are many, are riveting and intense, flawlessly shot and choreographed.
It would be a shame if all this visual panache were wasted on a poorly thought-out story or dumb script. Thankfully, the screenwriters put as much work and love into that as Wen does the look and feel of his picture. All the characters have strong motivations, and their arcs keep all watching engaged from their introduction to their final scene. In addition, Wen structures the story non-chronologically, jumping back and forth through time to fully explore the events of that fateful night. It is a stellar way to keep the mystery afloat for much of the speedy 95-minute runtime.
Also ensuring the success of Are You Lonesome Tonight? is the cast. Peng is brilliant as the frustrated but well-intentioned Wang. He makes the character's reaction believable while conveying guilt and angst with conviction. Chang is elegant, underplaying her first few scenes. That way, when the character loses it, that impact is felt all the more. Yanhui Wang avoids many of the stereotypes usually found in the obsessive cop, making viewers connect with him on a deep level. Even the supporting actors do their share of the heavy lifting as no one turns in a mediocre, much less bad, performance.
Are You Lonesome Tonight? is a masterclass of cinematic storytelling. Every element works together to enhance and build up each other. This might be Wen's first feature film, but it heralds a top-notch director with a lot of swagger and much to say.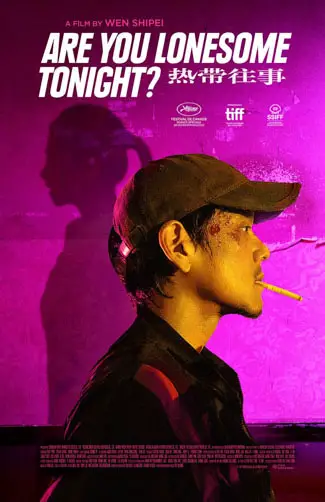 "…a lot of swagger and much to say."