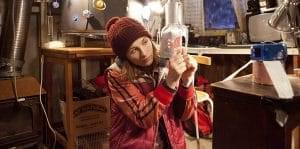 Grief has a way of stopping people in their tracks and placing lives on hold. Emotionally speaking, it's the avoidance of emotion and reality that is the problem. Practically speaking, the passing of a loved one can be an excuse to stop moving forward and stop maturing as a person. This inability to motivate oneself to continue with life can be painful for an adult and even more devastating for a child.
In Rachel Tunnard's Adult Life Skills, Anna's (Jodie Whitaker) life is at a standstill after the passing of her twin brother years before. She lives out of her mother's shed. A shed she calls "Shedd Zepellin," where she makes videos with thumb puppets piloting a rocket ship in space and commenting about their unrelenting journey. Posting videos on the internet is something that Anna and her brother did growing up and she continues that tradition. Anna spends her day working at a local recreation facility by the lake renting boats to vacationers only to return home to relative isolation.
"She lives out of her mother's shed that she calls Shedd Zepellin..."
Over time, Anna has become one of those unmotivated adults, who lives off the backs of their family. Anna's mother Marion (Lorraine Ashbourne) grows more and more irritable with her laziness. The shed has been transformed into an apartment with extension cords running from the house for power, allowing herself to successfully separate from her family. Marion is constantly on Anna's back to doing something with her life, and Anna becomes intolerant with the nagging.
As the film progresses, more and more of her support system begin to turn on Anna including her grandmother Jean (Eileen Davies), who wishes she'd get laid and long-time friend Alice (Alice Lowe). The film's plot catalyst comes in the form of a little boy named Clint (Ozzy Myers), whose mother is fighting cancer. As the cancer progresses, Clint is taken in by Marion while his mother is hospitalized. In processing the unknown future of his mother's cancer, Clint sees how Anna is living and begins to emulate her lifestyle, which bugs the hell out of her.
"…wish it would just jump up a notch or two for some sorely needed energy…"
For a film about grief and moving on, Adult Life Skills is a pretty light comedy, that moves at a slower-than-American pace. There's also a quirkiness to the film that lends itself to laughs. Much of its comedy is derived from silly moments, such as a subplot about killing moles at her job, a hallucination Anna has with a snorkeler (I suppose this is her brother), and a whole bit on boob sweat.
Subtle is the best way to describe Adult Life Skills' overall tone. It hovers at a 6 out of 10, when you wish it would just jump up a notch or two for some sorely needed energy. The acting is fine overall. As the sexually-charged potty mouth grandmother, Eileen Davies provides the boost of energy the story needed. Jodie Whitaker is also good as the lead and carries the film. I found myself just not engaging with the lead characters and storyline as much as I like. In the end, I was just observing people dealing with a problem, while never able to be in the story as it played out.
I would recommend Adult Life Skills to fans of Jodie Whitaker and Dr. Who, but there are undoubtedly other films about loss that are easier for you to connect with emotionally.
Adult Life Skills (2018) Written and directed by Rachel Tunnard. Starring Jodie Whittaker, Lorraine Ashbourne, Eileen Davies, Ozzy Myers.
5 out of 10 stars