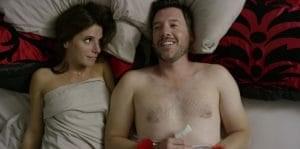 Making highly sexual situations "funny" isn't an easy task for a filmmaker. To be honest, It's hard enough just making a successful comedy at all. But director Jon E. Cohen attempts to bridge the gap anyway in A Swingers Weekend. 
After 15 years of marriage, Dan (Randal Edwards) and Lisa (Erin Karpluk) decide it's time to spice things up in their relationship. So they invite their very attractive "friends" Teejay (Michael Xavier) and Skai (Erin Agostino) to their lake house for a sexual swap. Everything is going smoothly until Dan's (awkward and less attractive) friend Geoffrey (Jonas Chernick) shows up with his embittered wife Fiona (Mia Kirshner), who has no idea that Dan has tricked her into coming to a swingers party.
"…they invite their very 'attractive' friends… to their lake house for a sexual swap."
From this point, all motives are revealed from the couples as to why they are really there. Teejay and Skai are trying to get financial backing from Dan and Lisa to fund a "baby yoga" business. Geoffrey brought Fiona to try to save their marriage. And Dan and Lisa, though appearing to "have it all," are really unhappy with their lives and wanted to secretly test waters of being single. And of course, bigger problems surface when you add in the couples actually having sex with each other's significant others.