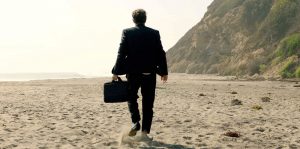 A Shore begins with a man in a suit (Richard Neil) washes up on the shore in an unknown location. He is confused, lonely, and unsure of what to do now. Somewhere else, along an unknown shoreline, two friends, Charlie (Ezekiel Goodman) and Matt (Will Holbrook), discuss their futures on the last day of summer. The seaboard is the only thing that connects the young friends with the man seemingly halfway across the world in writer-directors Armand Dov Brescia and Sam Gilberg's short film. But the beauty and the ambiance of these beachscapes provide the characters an outlet to express themselves like never before.
As that man in a suit washes ashore, the crashing of waves and the other subtle sounds of nature fill the screen. Both he and viewers are unsure of how or why he has ended up there. Despite not entirely knowing what is going on, there's a message here that is undeniable. A Shore makes audiences think, in-depth, about everything taking place. The first question they have to ask themselves is what importance does this man play in the world? His uncertainty and confusion mirror the way that many individuals feel during some of the more difficult times in their lives. While Richard Neil's unnamed character has no dialogue, his quiet, unnerving presence forces those watching to rethink their motives in the world.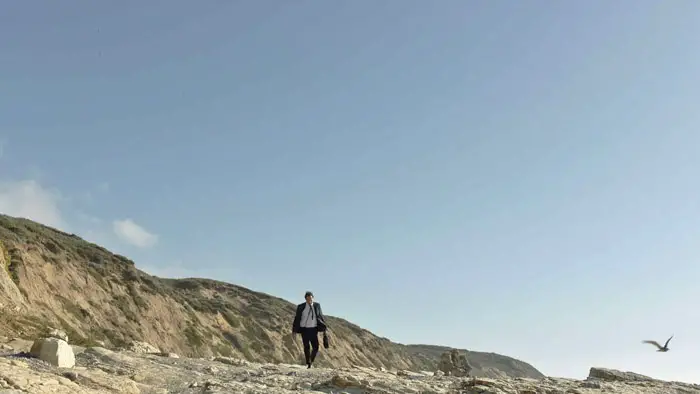 "…a man in a suit washes up on the shore in an unknown location…"
Part of the allure of A Shore is the juxtaposition of this unnamed man and the dynamic between Charlie and Matt, who consistently talk throughout their time on screen. While the man in the suit is suffering quietly, leaving much up to interpretation, these two young men are open and honest about the struggles they have and will face. There is little to decipher regarding their conversation, but the audience can, again, see themselves in the characters' struggles on screen.
It doesn't feel like too much is being asked of the actors in A Shore, but something is compelling about the connection between Goodman and Holbrook. Their bond appears effortless and genuine as the two hold a simple but meaningful conversation about where they are headed. The simplicity of Goodman and Holbrook's acting allows them to appear innately human, strengthening that connection.
In just nineteen minutes, Brescia and Gilberg create authentic connections between their characters and viewers. A Shore is brilliantly simple and beautifully deep, appealing to a wide range of audience members. Present in the movie is a series of messages about life, love, and hope pertaining to nearly anyone who watches. The short captures genuine human emotion and allows viewers to better appreciate their lives in the process.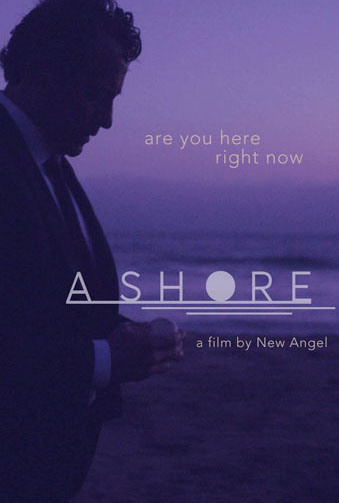 "…allows viewers to better appreciate their lives in the process."