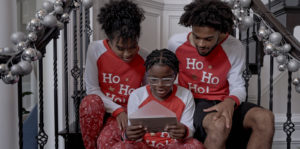 One common thread amongst the growing number of Christmas movies (aside from Christmas and Jesus) is the theme of family. Director LaVern Whitt and writers Anthony Guilianti and Peggy Williams bring their own spin and a wave of Christmas magic to A Family Matters Christmas. In case you were wondering, like me, yes, there are a few ties to the TV show.
A Family Matters Christmas centers on three soon-to-be step-siblings: brother and sister Aiden (Randy Vince III) and Emily (Cheyenne Cummings), and their step-brother Brandon (Chase Drewery). They're having problems adjusting to becoming a new family and can't see eye-to-eye on anything. So it appears drastic (and magical) measures must be taken.
In a science experiment gone wrong, Aiden inadvertently summons the Christmas elf, Alternis (Stephen Fisher). Realizing that Aiden's problem is more than just his parents, Alternis decides to teach them a lesson by swapping the bodies amongst the siblings. So now the nerdy ten-year-old Aiden is in Brandon's high school jock body. Brandon is now his young teen stepsister Emily, while she is now Aiden. The three must help solve each other's problem by Christmas, or they'll be trapped in the wrong bodies forever.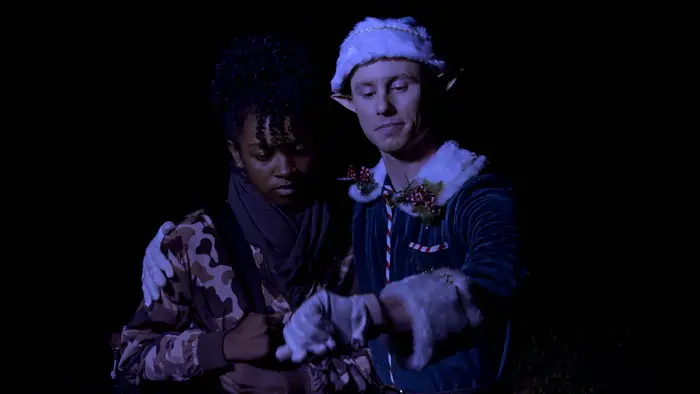 "…Christmas elf, Alternis…decides to teach them a lesson by swapping the bodies amongst the siblings."
Poor Aiden has to step into his big brother's basketball shoes and win the big game while sealing the deal with Brandon's crush during the school dance. Emily may not have the high intelligence of Aiden, but she must not only pass his upcoming test but present his science fair project for judging. Brandon's problem is a bit more emotional as he is forced to watch Aiden live his best high school life from a distance.
Like most Christmas tales, the stakes are pretty low in A Family Matters Christmas. But it tells a solid story about family as its foundation while peppering sitcom jokes and gags along the way for some wholesome fun. This could easily find a home on Hallmark or other "family" channels. The young cast is exceptional, and the story is above-average.
What I like about the film is its indie vibe. No Hollywood studio ever backs these kinds of stories and productions. The entire behind-the-scenes crew just wanted to make a family-friendly comedy and made it happen for the love of the art. As a result, the production values are top-of-the-line professional, and the result is solid in the look and feel of the overall story. You could undoubtedly throw more money at the production and maybe buy an A-list star or layer in unnecessary special effects, but there's a community feel that comes across in the final product that can not be bought.
The message behind A Family Matters Christmas is simple: a family matters, no matter what form it takes. We can learn a lot about ourselves by walking in the shoes of others. While paying homage to the family comedies of the 1990s, this tale is perfect viewing for families with young tween children.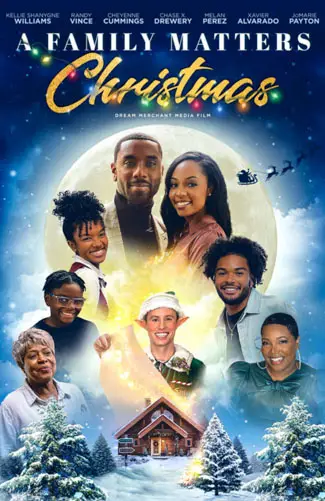 "…perfect viewing for families..."