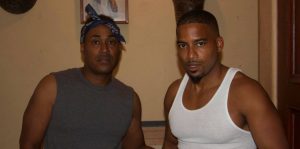 We're all hanging by a thread in life. One wrong decision or chance meeting can send our lives spinning out of control. Four such lives collide for the worse in Marc Cayce's A Day of Trouble. Terrance (Cayce) is a former gang member hoping to turn his life around while living with his mother after being booted from his home by his wife. Meanwhile, his cousin Curtis (Marian Granville) was just released from prison and what he wants to do with his newfound freedom is questionable at best.
On the other side of town, college best friends, Suzzane (Saga Spjuth-Sall) and Jennifer (Paris Franz), work together at their hot yoga studio. Suzzane has been slacking off recently because her ex-boyfriend recently left and took her life savings. Now penniless, Suzzane has to decide whether to start over again or move back to Sweden.
Curtis' mother set him up with a job interview and asks Terrance to drive him. He reluctantly agrees, and during a brief stop, Terrance robs a bank. Curtis freaks out because he is now an unwitting accomplice. Now on the run, the boys randomly break into Jennifer's home and take Suzzane and Jennifer's sister, LaToya (JadePaige), hostage. Though the four people do not know one another, they are connected.
A Day of Trouble is equal parts thriller and soap opera drama. The thriller is easy to spot with the home invasion angle. Suzzane and LaToya are bound and gagged. Curtis is the "alpha" of the pair and with a large sack of cash plus two women at his disposal for some "fun," he feels emboldened. Now caught in the middle, Terrance knows his life as a free man is over. Suzzane and LaToya must use their wits to escape and take down the two intruders.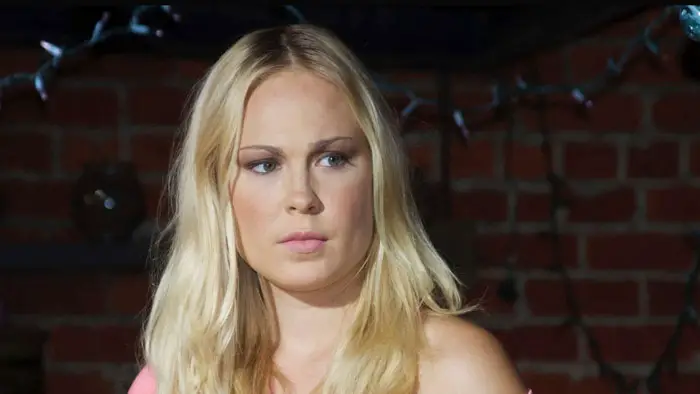 "…Curtis reluctantly agrees, and during a brief stop, Terrance robs a bank."
Let's talk soap opera. It may not be the best descriptor, but there's a great deal of backstory we get for everyone. Terrance is trying to repair his marriage. His mother's boyfriend lives in the house that his father left him and his mother when he passed. Curtis learns zero lessons from his time in prison and immediately hooks up with his gang. Suzzane's boyfriend took off with her money and left her nothing but a fantastic weed dealer. LaToya has her whole life ahead of her as she just graduated college. Many of the character conflicts play out during the hostage situation.
I'll start with the negative and end on a positive note. The problem with A Day of Trouble is that it's essentially two good movies blended, resulting in one muddled, mediocre story. The thriller can't get dark enough nor as tense as it should because of the time spent focusing on relationships. On the flip side, there are excellent personal conflicts between Suzzane and Jennifer that can't be explored because of the hostage situation. If this was meant to be a thriller, it needed to focus on the suspense. The same holds true if it wanted to be a drama about friendship.
As a thriller, I liked the idea of two rival gang members, connected by family, and the trouble they get into because of their past. As a drama, I like the idea of three women working their way through bad toxic relationships and relying on one another as friends. There's also a racial element worth exploring when Jennifer brings up Suzzane's "open" European lifestyle.
Criticism aside, A Day of Trouble tells an exciting story that, with more focus, had the potential to be a significantly better one. Writer/ director/ star Marc Cayce exhibits a true independent spirit as I could see his desire to tell this story. Then in true indie fashion, he found a way to make it happen on a small budget, with limited resources available both in front of and behind the camera. The cast and crew brought a good energy to the project, and though I had issues, I was engaged to the end and got a small push over the recommendation line.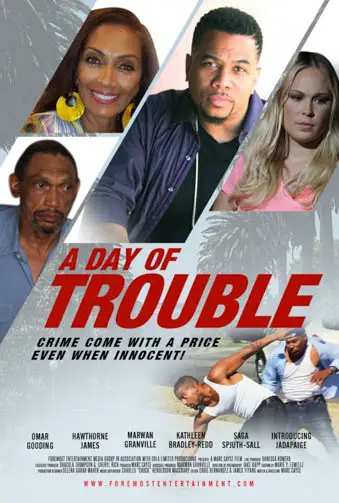 "…with more focus, had the potential to be a significantly better story."