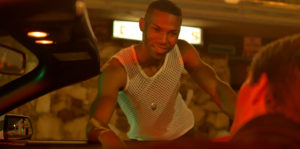 Harry L. Michaels Jr. makes his writing and directing debut with the dramatic LGBTQIA+ thriller A Date. The film opens with Tracy (Denim-James Drake) dancing at a club, getting the attention of another person there. He buys the young, energetic African American a drink, and the two seem to get along well. At the night's end, the stranger asks Tracy for his name but leaves unsatisfied. While this simple flirting might be good for a drink or two, it certainly does not pay the bills, and Tracy is seriously lacking in the funds department.
Desperate and with few options, Tracy becomes an escort. After a bit of training, so to speak, Tracy starts going out on so-called dates. He gets $2,000 per date though his pimp gets half. The long hours and never being home alarm Tracy's best friend/roommate James (Harry L. Michaels) and his mother (Socorro James). Soon enough, Tracy has a standing date with white lawyer Ted (Damon Preston), who likes to use drugs in his fornication. Can Tracy survive the sex and drugs world he entered with little preparation? Or will he be swallowed whole for a fleeting moment of bliss?
A Date has a lot on its mind, and the third act turns the film into a relevant treatise on the current zeitgeist. The message hits home, and the filmmaker's conviction feels genuinely earnest. Even before then, the plot intrigues, as how far Tracy falls before hitting rock bottom keeps viewers on edge. Despite some rash decisions, the lead is a compelling person, and all watching hope he can find his way to stability.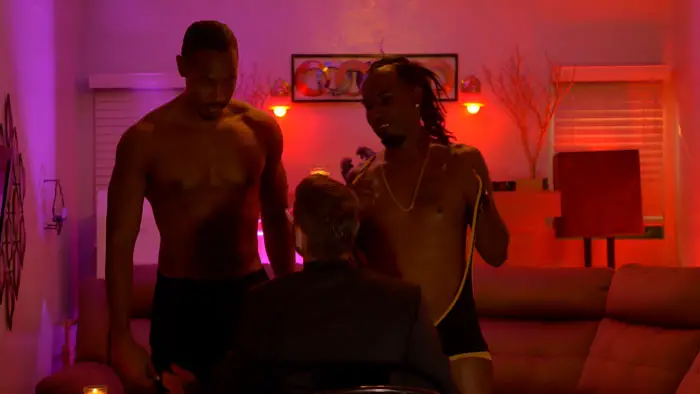 "…Tracy has a standing date with white lawyer Ted, who likes to use drugs in his fornication."
Helping Tracy remain in the audience's good graces is Drake's performance. He is good-looking and charming. Michaels is also strong as Tracy's best friend, as the two actors share a strong rapport. Preston is great, playing the creepy and sweet sides of his role with ease. Socorro James is okay until her ending monologue, which she nails with heartfelt conviction.
Unfortunately, A Date suffers from its low budget status and first film status. A few edits are a little off, a second too soon, so it seems abrupt, or the scene never quite has a natural rhythm. When James gets a call from Tracy's mom and has to go into his room, it is unclear what he saw. It is only evident after the fact when James and Tracy discuss it after the fact.
Even worse is the sound design, which veers widely from scene to scene. The beginning's music is so loud that the dialogue cannot be heard over it. These barely audible lines extend for the next 10 or so minutes. The balance between the score and the dialogue is eventually figured out, but at times, the spoken word is still poorly mixed and very low.
Despite its technical issues, A Date is a compelling watch thanks to decent direction and a strong cast. More importantly, the themes the filmmaker is hitting at are deeply personal and carry the film across the finish line, thanks to a fantastic ending. Harry L. Michaels Jr. may have crafted a flawed feature, but it is a strong start to a promising early career.