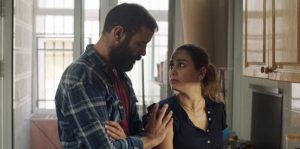 The long-lasting struggle between Israelis and Palestinians is not a subject that can be dealt with in a 90-minute film. Yet in his latest film, 200 Meters, Ameen Nayfeh tries to give us a quick look at the life of those living behind the Israeli West Bank barrier.
Mustafa (Ali Suliman) is a kind father and a loving husband. He lives in Tulkarm, but his family lives just 200 meters away from him in the Israeli regions, and they are separated by the infamous wall. When things get rough and he needs to reach his family, Mustafa is overwhelmed by tough decisions.
The movie has a clear agenda: showing the injustice that Palestinians are experiencing daily, but it fails upon execution. Mustafa wants to be with his family, yet he refuses to apply for an Israeli ID card. His wife Salwa already has an Israeli ID and asks him time and again to join her on the other side of the wall, but he just lashes out and disagrees. Even other Palestinians that share a ride with him on his journey give him the same advice as his wife, but Mustafa never explains the reason behind his decision. Whether it is his ego or patriotic feelings, Mustafa is seemingly willing to be separated from his family, and that's why it's hard to sympathize with him.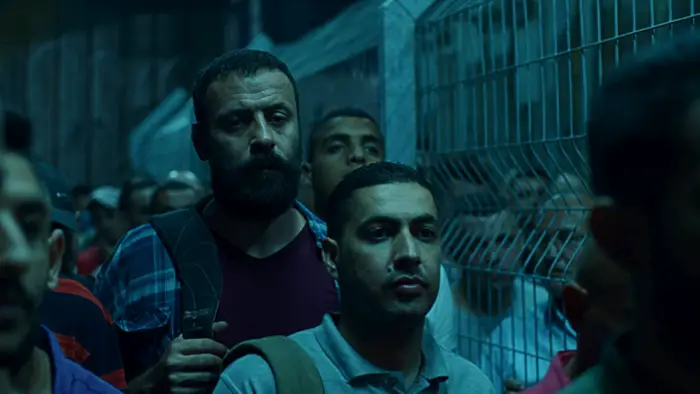 "Mustafa…[and] his family…are separated by the infamous wall."
200 Meters also fails to develop an arc for Mustafa. When the credits roll, he is right where he started. It seems all the trouble he went through was in vain, and even worse, he is deemed to repeat the cycle sooner or later. For a person who's been through hell and back, Mustafa is too hesitant to join his family. He does not learn anything from this personal odyssey and is neither mentally nor physically transformed.
Of course, writer/director Ameen Nayfeh is more interested in making political statements than detailing the minutia of the story. We witness scenes of people bringing down flags and overhear conversations about ethnic injustice. Yet, the most powerful message is embodied in Anne (Anna Unterberger), a German photographer who is also trying to get smuggled into Israeli lands. When it comes to walls separating nations, Germany is one of the most publicized historical examples. Anne comes from a nation once torn apart by walls of hatred. They say history tends to repeat itself, and the filmmaker wants to point out that such unjust barriers are meant to be destroyed, eventually.
200 Meters is a tale of two families, two cities, and two nations that are tired of conflict. Ameen Nayfeh's debut work as a director has a sound idea behind it, and Suliman's performance is captivating, but there are some shortcomings regarding the story and writing. Overall though, the film is a bold look at one of the most controversial disputes of our century.
200 Meters screened at the 2020 Venice International Film Festival and the 2021 MOOOV Filmfestival.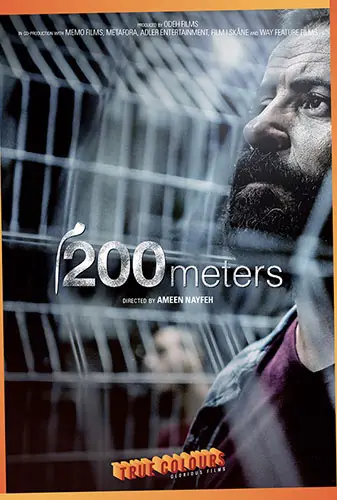 "…a bold look at one of the most controversial disputes of our century."