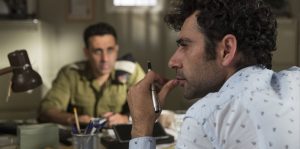 Tel Aviv on Fire tries to do many things and is most successful in accomplishing its balancing act. Writer-director Sameh Zoabi, who co-wrote the film with Dan Kleinman, sets their story amidst tensions between Israel and Palestine. It offers some commentary without going too deep outside of its central story.
The movie follows Salam (Kais Nashef), who is sleepwalking through life, working as a production assistant on a popular soap opera called Tel Aviv on Fire. After Salam crosses paths with an Israeli officer, Assi (Yaniv Biton), he poses as a writer for the popular show. Salam somehow convinces his uncle, who is an exec on the show, to let him write the scripts even though he has no idea how to continue the story. Assi starts feeding Salam ideas of how the show should progress in order to appease his mega-fan wife.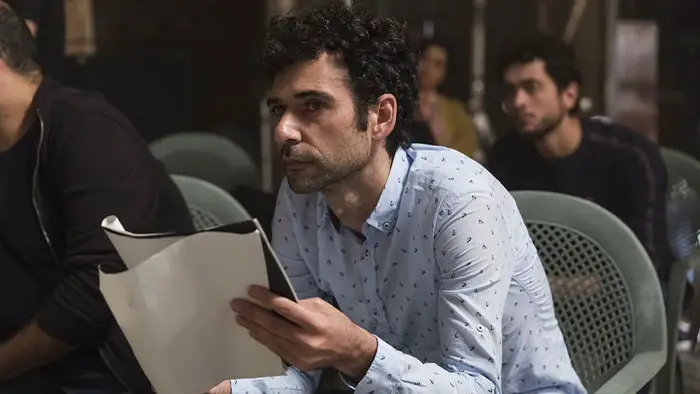 "…Salam somehow convinces his uncle…to let him write the scripts…"
The plot threads in Tel Aviv on Fire get tangled and overly convoluted at times, for the sake of hilarity, but at the heart of the film is an entertainment-story satire, paired with political commentary. Salam finds himself in less-than-ideal scenarios as the movie progresses, some a bit more over-the-top than others, which shows people's obsession with bad television. People feel they can claim ownership over the culture they consume, which Salam finds out the hard way.
We are shown clips of the soap opera throughout the film, and Zoabi hilariously distinguishes between the show and the movie. When the film cuts to scenes from the show, the lighting is overly bright and golden, and the performances are knowingly hammy. The juxtaposition between the film and show play on perceived notions of soap operas effectively. 
Tel Aviv on Fire moves with purpose, even if it occasionally trips over its own ideas. It has a lot on its mind but doesn't tackle all of them deeply, focusing on the satire and outlandish comedy. Thankfully, that's where the movie succeeds the most.
"…sets their story amidst tensions between Israel and Palestine."