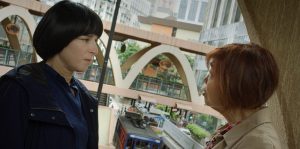 NEW YORK 2020 FILM FESTIVAL REVIEW! With all the movies I watch, it's refreshing when one comes along that has distinct originality to it. The Last City, written and directed by Heinz Emigholz, is definitely one of them. Which means, probably unsurprisingly, that it is not the most accessible film in the world. While it does follow a loose narrative structure, the plot is not linear in so much as circular. Also, the film doesn't focus so much on the plot as it does on the characters. Essentially The Last City is a series of highly intellectual vignettes starring the same people in different roles and then the same roles again.
We start out in Be'er Sheva, Israel. There, a former film director turned archaeologist (John Erdman) meets with his old friend, who is a psychoanalyst turned weapons designer. The two of them talk about their past and present selves as the weapons designer takes the archaeologist on a tour where a top secret experiment is happening. The experiment involves using the random doodlings of young girls to look for new weapon designs. Both men think of new weapons while looking at the drawings. Then we are transported to Athens, Greece, where our archaeologist is now a different person, an artist, in bed with a young man (Young Sun Han) who he soon finds out, firstly by their shared tattoos, is a younger version of himself. They spend the afternoon talking about their shared past. The young man wants to know what comes with his future, but the older man is hesitant.
After this, we end up in Berlin, where our young man is now a priest with a cop brother (Laurean Wagner) who he happens to be in love with. They live with their mother (Dorothy Ko), who knows what's going on with her sons and doesn't seem to have a problem with it. This is one of the more fascinating vignettes to me simply because of the taboo nature. The next one is probably the most grueling. The mother from the previous vignette is now a Chinese woman in Hong Kong, accompanied by her Japanese friend (Susanne Sachße). The Chinese woman lists off the atrocities that the Japanese have committed over the span of the 20th century. The Japanese woman doesn't understand why the Chinese woman expects her to answer for her country's crimes. The Japanese woman then becomes an art curator in Sao Paulo, Brazil. She has an in-depth discussion about aliens with her friend, the cosmologist who also happens to be the weapons designer from the first vignette.
"…explores large human themes, such as love, war, family, life, and death with curiosity and absurdity."
Some of this may seem confusing, but I assure you, if you pay attention, it isn't. The Last City explores large human themes, such as love, war, family, life, and death with curiosity and absurdity. The thing that a lot of people might have trouble with this film is the sheer magnitude of dialogue. This film is entirely dependent on the dialogue, and our collective brains are generally trained now to only pay attention for as long as it takes something to explode in an action movie. So, I can see a lot of people who aren't into more experimental films getting totally lost while watching this. This movie isn't really made for them, though. This movie is for the people who love Ulrich Seidl and Werner Herzog. In a way, a movie that tries to outsmart an "average" viewer is a bit eye roll inducing, but The Last City is fun with the way it switches things up on the viewer as well. I don't think that Emigholz was trying to over-intellectualize the film, but I could see it being perceived as such.
The cinematography by Till Beckman and Emigholz Himelf for The Last City is fascinating, using some unique angles that aren't typically used, especially when filming a conversation. The fact that it was filmed in so many cities and brought out the personality in all of them is something I really enjoyed. I recommend the film wholeheartedly to lovers of weirdo cinema, for people who don't expect films to follow a strict format, and for those who love the art of writing for film. The screenplay by Emigholz is a behemoth that somehow doesn't crash, although it seems like it could at any given moment. Somehow it all works and is worth an hour and forty minutes of your life if you have the attention span for it.
The Last City screened at the 2020 New York Film Festival.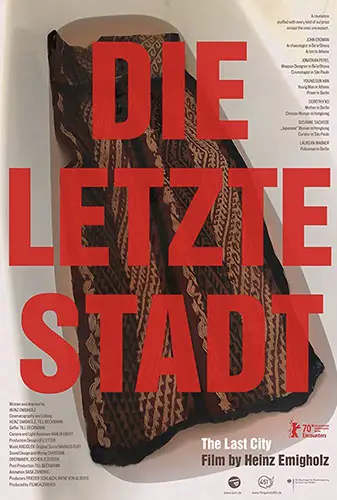 "…I recommend the film wholeheartedly to lovers of weirdo cinema..."