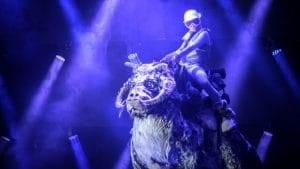 Direct from Australia, The Empire Strips Back– A Burlesque Parody is launching a premiere tour in the United States. Fresh from a sold-out national tour, the Aussie hit will take to the stage for a six-city California run from May 31st-June 9th.
Featuring all of the classic Star Wars™ characters, The Empire Strips Back – A Burlesque Parody takes audiences to a galaxy far, far away, creating one of the most unforgettable (and unauthorized) theatrical versions of the beloved franchise. Combining striptease, song and dance, troupe routines and plenty of Aussie humor, audiences are transported into the world of burlesque to witness a menacing troop of seriously sexy Stormtroopers, a dangerously seductive Boba Fett, tantalizing Twi'leks, a delightfully lukewarm Taun Taun, a lady-like Skywalker, and of course, scantily clad and daring Droids. Even Darth Vader will explore her feminine side.
Created in 2011 by Russall S. Beattie, the original production was booked in a 150 seat room in Sydney for a one-off, three-night run. Fast-forward to six national sold-out Australian tours, an enthusiastic audience of over 60,000, and a 2016 Huffington Post video feature boasting 20+ million viral views.
"It's been an amazing journey from the little stage we started on to the majestic theatres we play now," says Russall. "We never stop developing the show – always trying to make it bigger and crazier… Everywhere we go, our fans are passionate and excited, and they deserve an unforgettable, fun night out."
The Empire Strips Back celebrates the resurgence of burlesque, while delivering a powerful experience for fans of the art form as well as the classic film series.
Thursday, May 31st Riverside – FOX PERFORMING ARTS CENTER
Friday, June 1st Los Angeles – THE THEATRE AT ACE HOTEL
Saturday, June 2nd San Diego – SPRECKELS THEATRE
Thursday, June 7th San Jose – CALIFORNIA THEATRE
Friday, June 8th  Sacramento – COMMUNITY CENTER THEATER
Saturday, June 9th San Francisco – THE WARFIELD
For tickets and more information, visit empirestripsback.com