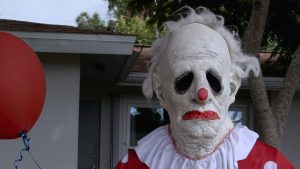 With praise and controversy following the Joker movie, 2019 has turned out to be the "Year of the Clown." So many independent films are being released on VOD looking to capitalize on the heightened interest in scary clowns.
Wrinkles the Clown is a documentary that follows a real clown in Florida that you can hire to scare your friends. The trailer is scary enough, we can't imagine what meeting Wrinkles in real life would be like. Candy Corn will chill you to the bone. And Clownado is exactly as advertised. See for yourself. Explore these films at your leisure and check out some of the trailers we've rounded up for you.
If you need to get your clown fix, just click here for a quick search of more clown movies. There are so many, even we're surprised! To see more, subscribe to Film Threat's YouTube channel so you don't miss a thing.