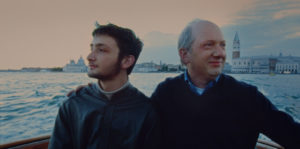 Fioretta to premiere at the Zurich Film Festival in its Sounds Section
Israeli-American filmmaker Matthew Mishory's latest feature, Fioretta, has its International premiere at the Zurich Film Festival on Thursday, October 5, followed by a Q&A and live string sextet performance of composer Arnold Schoenberg's Verklärte Nacht (Transfigured Night) by the ad hoc "Maverick Sextet" with Johannes Fleischmann (violin), Evgenia Epshtein (violin), Razvan Popovici (viola); William Coleman (viola); Justus Grimm (violoncello), and Valentin Radutiu (violoncello).
Fioretta is the cinematic new documentary directed by Matthew Mishory, whose previous films include Who Are The Marcuses?, No Place Of Exile, and Absent are celebrated for their exquisite visual style and expansive narrative language.
Filmed on location in Prague, Czech Republic, Vienna, Austria, Venice and Florence, Italy, and Los Angeles, Fioretta follows Randy Schoenberg and his son Joey on a journey through Europe and the centuries as they reclaim and reunite the fractured shards of 500 years of family history. Along the way, they encounter kings, mystics, a false messiah, and the ordinary people who witnessed Europe's distant and recent past.
Randol Schoenberg, the grandson of composer Arnold Schoenberg, is a top litigator based in Los Angeles, California, who specializes in legal cases related to the recovery of looted or stolen artworks, particularly those by the Nazi regime during the Holocaust. Schoenberg succeeded in recovering Gustav Klimt's famous painting known as The Woman in Gold and other works of art after a nearly eight-year struggle against the Austrian government, which was portrayed in the film Woman in Gold, with Ryan Reynolds playing Schoenberg.