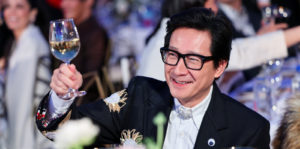 Gold House, the renowned cultural ecosystem that brings together and supports Asian Pacific creators, companies, and communities, recently hosted its second annual Gold Gala, named "Gold Bridge," at the esteemed venue of The Music Center. This gala served to recognize the remarkable achievements of the 2023 A100, which celebrates the 100 individuals of Asian and Pacific Islander descent who have had the most significant influence on culture and society over the past year. The distinguished honorees were chosen through a vote conducted by leading nonprofit, business, and creative leaders within the Asian Pacific community.
Honorees Ke Huy Quan (Academy Award-winning Actor), Sandra Oh (Actor, Producer), Iman Vellani (Award-winning Actor), Eva Longoria (Actor, Producer, Director), Neal Mohan (CEO, YouTube), Radhika Jones (Editor-in-Chief, Vanity Fair), Geena Rocero (Author, Producer, Director, Trans Rights Advocate), cast and creators of Everything Everywhere All at Once (Actors Stephanie Hsu, Ke Huy Quan, Harry Shum Jr., and Producer Jonathan Wang who took the stage with Michelle Yeoh at last year's inaugural Gold Gala), cast and creators of The Joy Luck Club (Executive Producer Janet Yang and Actors Ming-Na Wen, Tamlyn Tomita, Lauren Tom, Rosalind Chao, Lisa Lu, and more), Andrew and Peggy Cherng (Co-Founders and Co-CEOs, Panda Express), Lea Salonga (Tony Award winner, Disney Legend, Singing voice of Mulan) and Dominic Ng (Chairman and CEO, East West Bank) were present to receive their special honors in recognition of their transformative impact on culture. Each received a custom Gold Clover, designed by Maia Ruth Lee as a representation of the infinity knot prevalent in Asian culture.
The cast of Joy Ride (Ashley Park, Sherry Cola, Stephanie Hsu, Sabrina Wu) honored the cast and creators of The Joy Luck Club (Janet Yang, Ming-Na Wen, Tamlyn Tomita, Lauren Tom, Rosalind Chao, Lisa Lu, Kieu Chinh) to celebrate their 30th anniversary, bringing everyone to tears. Eva Longoria brought the house down with her commitment of the Latino community to partner with the Asian community alongside a Who's Who of Latino celebrities and leaders. The interactive program saw the return of Gold House's signature "Give/Get", where guests offered something to the community and asked for something they needed:: Olympic gold medalist Chloe Kim offered snowboarding lessons to Bella Poarch; Westworld creator Lisa Joy Nolan asked for attendees to join her in striking with the WGA; poet Rupi Kaur offered to write anyone a love poem to a secret admirer; chef Eddie Huang offered acting opportunities; NBA CMO Tammy Henault offered courtside seats; American Advertising Federation Chair Helen Lin offered free marketing campaigns to startups; and Brooks Brothers CEO Ken Ohashi asked to collaborate with partners who want to visually reimagine America. In addition, the historic evening included Netflix debuting a comprehensive 2023 slate of Asian Pacific content, including the trailer for the final season of Never Have I Ever. Academy Award-winning actress Brie Larson and Ms. Marvel creator Sana Amanat presented Marvel Cinematic heroine Iman Vellani with the first-ever New Gold Award. The awards ended with the presentation of the Gold Icon award to the cast and creators of Everything Eveywhere All At Once, which include Ke Huy Quan, who had been honored with the Leading Man Award earlier in the evening.
Gold House highlighted this momentous occasion by debuting its next phase "Gold Bridge," which includes cross-pollinating industries and shared opportunities with fellow communities.
Bridging Creatives with the Gold House Creative Equity Fund and Gold Consultancy Expansion: investing $10 million through a studio-inspired fund in filmmakers (including a new producer track with Aum Group), journalists, fashion designers, contemporary artists, musicians, and more. Gold House will finance projects and creators, provide career-defining tools and education (such as sustainability training), produce creative extensions (e.g. musicians will produce soundtracks with the filmmakers), and deliver mainstream promotion. Founding partners include Spotify, Netflix, Endeavor, East West Bank, Conde Nast, AEG, Panda Express, Google, GoFundMe, Julia Gouw, and John Doerr. Gold House's Storybook and Gold Consultancy that advise on casting, storylines, product placement, and more announced its industry expansion to advertising, sports, music, gaming, books, and Broadway. They were announced by Conde Nast Entertainment President Agnes Chu, super-producer Nina Yang Bongiovi (who is leading the new Producer Accelerator), Gold House COO Jeremy Tran, and Gold House Futures General Manager Christine Yi.
Bridging Businesses with Gold House Ventures' Advisory Council: an expansion of Gold House Ventures that has deployed $10 million to 68 companies and placed 30 diverse Board roles, Gold House has partnered with the top venture capitalists to turbocharge deal flow, expertise, and more including: Garry Tan (Y-Combinator), Hemant Taneja (General Catalyst), Aileen Lee (Cowboy Ventures), Anjula Acharia (A-Series Investments), Eric Kim (Goodwater Capital), Eurie Kim (Forerunner Ventures), Hans Tung (GGV Capital), Lynne Chou O'Keefe (Define Ventures), and Ramneek Gupta (Pruven Capital).
Bridging Communities with Latino leaders: inspired by Gold House, top Latino leaders across Hollywood, media, and technology announced the definitive Latino cultural collective that will reshape public opinions about the community through research, consulting, and LatinOpens. In attendance were Ruben Garcia (former MD of Multicultural at CAA), Karla Pita Loor, Gloria Calderó Kellet, actors Sasha Calle (The Flash) and Michael Cimino (Love, Victor), and director Angel Manuel Soto (Blue Beetle). A new venture with The Academy of Motion Pictures Arts & Sciences and other top multicultural groups was also teased for release in the coming months.
Header Image: Photo Credit: Zack Whitford/BFA