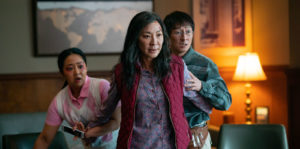 NEW TO VOD! I'm getting a little tired of the multiverse storyline being inundated with multiverses. It's all over MCU and next year, The Flash. So, who, if anyone, is going to do it right? Well, we have a winner! From the filmmaking team known as the Daniels (Daniel Kwan and Daniel Scheinert), the prize goes to their movie Everything Everywhere All At Once. It is loaded with twists, turns, and incredibly bizarre moments that must remain secret for maximum enjoyment. So the ensuing plot synopsis is minimal.
Michelle Yeoh plays Evelyn, a Chinese immigrant mother living in Los Angeles who runs a laundromat with her husband Waymond (Ke Huy Quan) and daughter Joy (Stephanie Hsu). Evelyn's father, Gong Gong (James Hong), lives with them in the apartment attached to the laundromat (a very Asian thing to do). Sadly, she's in big trouble. First, the evil IRS inspector Deirdre (Jamie Lee Curtis) is auditing the laundromat. Second, Waymond is trying to find the right moment to serve Evelyn with divorce papers. Lastly, Joy is upset that her mother refuses to accept her girlfriend, Becky (Tallie Medel).
On this day, Evelyn is at the IRS building for the formal audit and must explain some questionable purchases, specifically a karaoke machine. If she can not do so to Deirdre's satisfaction, Evelyn could lose everything. On the elevator, Waymond is possessed by a version of himself from an alternate reality. He warns Evelyn that the IRS is the least of her problems and that she is needed to perform three bizarre steps to prevent the collapse of the multiverse. We're about twenty minutes in, and trust me, it all goes batshit crazy from here.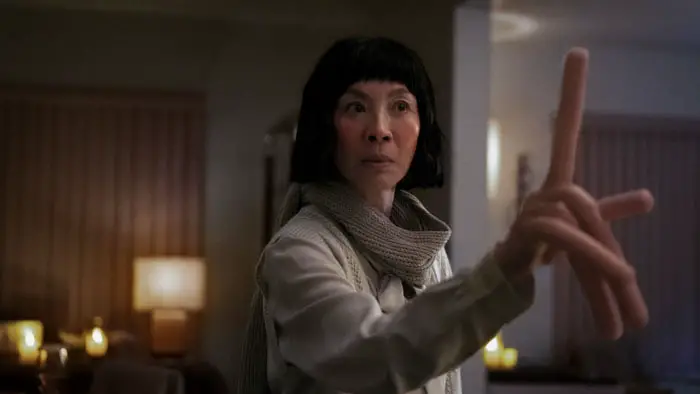 "…found a way to collapse the multiverse and this particular Evelyn is the only person in the infinite realities who can stop him."
I'll also say there's a big baddie, known as Jobu Tobacky, who found a way to collapse the multiverse and this particular Evelyn is the only person in the infinite realities who can stop him. The reason why will blow your mind, as will much of Everything Everywhere All At Once. The reality jumpers use a technology disguised as Bluetooth earpieces that allow them to jump into the bodies of alternate versions of themselves and summon the skills of all the Evelyns, like Evelyn the dancer, martial artist, opera singer, and all the infinite other personas. The process for these jumps is absolutely cringe-inducing.
There is so much to love about the film. Its greatest achievement is its screenplay, which is very dense. Nothing is wasted — not a single side character, joke, gag, or plot point. Every element serves a purpose to the overall story. All roads come full circle and tidy themselves up nicely, including a reference to Pixar's Ratatouille.
The cast is stellar. Michelle Yeoh can do no wrong and hits no false notes playing a broad spectrum of herself. I'm so glad to see the return of Ke Huy Quan, and the presence of veteran Chinese-American actor James Hong is downright outstanding. Though he plays a senile old man in a wheelchair, you'll see a side of him that goes far beyond the countless supporting roles he's done over the decades. Finally, Stephanie Hsu has the Chinese-American child of immigrants down pat.
Take my advice! Everything Everywhere All At Once must be experienced in a theater, preferably with a packed audience. There are screams, weird moments, and a beat down of Jamie Lee Curtis that must be shared with a community of cinema lovers. Regarding the whole multiverse thing, you've got to pay attention. It's not complicated to follow (at least not for my brilliant Asian mind), but it does not take a moment to relax. The action comes at you fast and furiously, with brilliant moments of silence that will blow your mind when it happens.
Warning: the two-hour runtime feels like two hours. You will be mentally exhausted and fatigued at the end, but it's well worth the journey.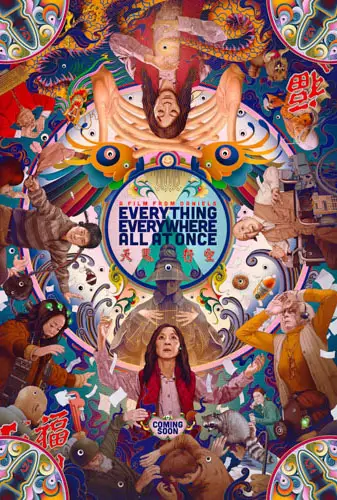 "…nothing is wasted — not a single side character, joke, gag, or plot point."