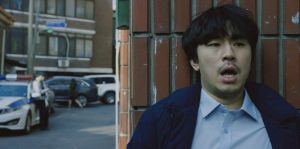 Writer-director Kim Ha-ra makes his cinematic debut with the intriguingly titled Killed My Wife. Playing out like The Fugitive and Memento—but with a sense of humor, the dramatic thriller proves to be a startlingly impressive first film, filled with intense scenes, brutal violence, and a punchy pace. Mind you, not everything works 100% here, but more on that in a bit.
The movie opens with a male and female having sex, when, out of the blue, the man takes out a knife and kills the woman. Smash cut to Jeung-ho (Si-eon Lee) waking up, clearly hungover, and the worse for wear. What awoke him is Lieutenant Choi (Nae-sang Ahn) loudly knocking. The police officer is here to inform Jeung-ho that his wife, from whom he's separated, is dead. Choi immediately assures Jeung-ho that it's just standard police procedure, and he's not a suspect… but then he notices that the husband's hands and clothes are smeared with blood, and a knife suspiciously similar to the murder weapon is not too far away.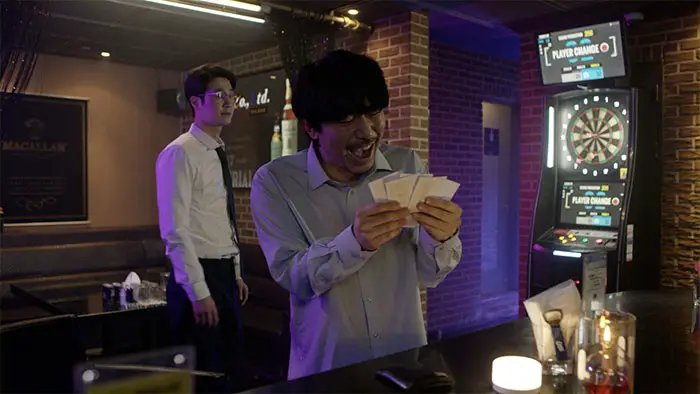 "…the police follow Jeung-ho attempting to piece together his night and what truly happened to his wife."
With no alibi, he's now the number one suspect. Because Jeung-ho regularly drinks himself into oblivion, he can't recall his whereabouts the night before. However, because there is no hard evidence against him (yet), Jeung-ho is not charged. The police follow while Jeung-ho attempts to piece together his night and what actually happened to his wife. As he gets closer to the truth, the loan sharks he owes money to come to collect, further complicating his life and search for the truth.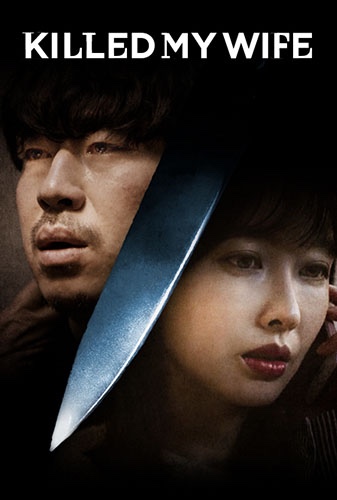 "…playing out like The Fugitive and Memento, but with a sense of humor..."