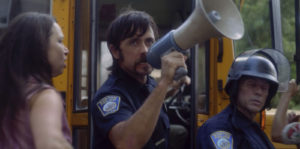 "The fact is any film can become an important one because if making a hit film was a formula, the studios would have already figured it out. There is always a bit of pixie magic dust that must be there." — DWF Co-Founder Leslee Scallon.
For more than two decades, Dances with Films (DWF), June 9-19, has taken the spotlight as Los Angeles' quintessential independent film festival. Hiding in plain sight at the TCL Chinese Theater in Los Angeles, DWF has become among the country's pre-eminent showcases of new or unusual talent across all media. In addition, viewers will have a first chance opportunity to view movies that will continue to major film festivals nationwide or abroad and distributed online or to cinemas.
DWF was "was created at a time when the Park City scene—aka Sundance—had so many mini fests gathering around it—like DigiDance, SlamDunk, Slamdance, and TromaDance," says DWF Co-Founder Leslee Scallon. "We thought it would be funny to be the summer film festival called Dances with Films in Hollywood. But, we were only planning on doing it for one time in 1998. Not twenty-five!"
"…now the country's leading festival showcase for new talent."
After writing, filming, and finishing their independent film, Indemnity, filmmakers Michael Trent and Leslee Scallon quickly realized they didn't have the "connections" to get their movie into the industry fests in those days. "So, with a brilliant idea from Michael to bring together other filmmakers like ourselves for a week-long event in Los Angeles," Scallon recalls, "the power of the 'unknown' filmmakers came together to present something other than 'star-studded' films to the industry and the public."
What about the fest's "no stars" policy? "In the beginning, we were very strict about it," Scallon explains. "However, moving into year 25, we realize that we have alumni doing more and more name-involved work, so we have evolved as well. That said, we will never program a film because it has a celebrity in it. It must be that much better when it has a 'name.' However, as we have grown and reputation, we receive more and more 'name' films, and is why we created our Unleashed section."
Dances with Films is now the country's leading festival showcase for new talent. For 2022, DWF is set to show 200 films, shorts, pilots, and music videos presented this year—all in-person and too many to preview—five of them world premieres—collectively show the range of projects on offer. In addition to Narrative Features and Shorts, Docs, and Global Spotlight, the festival includes Midnight (horror), T.V. pilots, and Kidz! programming.