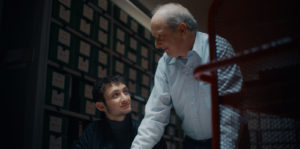 In reflection with Fioretta's director Matthew Mishory and subject Randy Schoenberg
While art can often imitate life, it's a rare film that can intersect with reality or current affairs to connect its purpose beyond the filmgoing audience. The documentary Fioretta, whose overarching theme is related to Jewish European ancestry, is one of those films. While in the midst of its festival run, Fioretta's Israeli premiere, originally scheduled at the Anu Museum of Jewish People in Tel Aviv on October 8, 2023, had to shift online due to the attack on Israel by Hamas terrorists the day before. 
As part of the Tel Aviv screening, The Israel Genealogy Research Association (IGRA), the largest genealogy society in Israel, came together online to watch the movie with more than 140 in-person Fioretta ticketholders and participate in a Q&A afterward with director Matthew Mishory and the film's principal subject, lawyer, philanthropist, and genealogist Randy Schoenberg. Fioretta was a comfort and distraction from what was happening outside the audience's doors, and a few of Schoenberg and Mishory's relatives could watch. 
"While filming Fioretta, the war in Ukraine had just begun and was very present," recalls Schoenberg. "This experience in Israel is a reminder of how awful things have been in Ukraine over the past eighteen months."
"…conveys how important it is to pass Jewish heritage and cultural information on from one generation to the next…"
While in Tel Aviv, Schoenberg shared a diary of the weekend's attacks on his Facebook page, where he described missile and rocket launches, sleeping in his clothes, making sure he knew where to find his shoes, phone, and passport in case he had to wake up, move, and evacuate to a shelter. He had also downloaded the Red Alert app, which provides real-time alerts whenever a terrorist fires rockets, mortars, or missiles into Israel. Schoenberg also mentioned how everyone in Israel is affected by this war.
"One corollary to this, I have realized, is that on the other side, in Gaza, it is certain that every single family had close relatives and friends who perpetrated these massacres, as well as those who have been or will be killed and injured in the inevitable retaliatory attacks. It is a war between peoples. There are no bystanders anymore," Schoenberg says. "My Facebook feed alternates between posts about murdered relatives and pictures of European government buildings draped in Israeli flags, the latter a symbolic gesture, but one with no lasting impact as these same governments, for example, won't even recognize Israeli sovereignty over its capital in West Jerusalem."
It seems ironic to discuss the importance of graveyards and record-keeping at this moment. Yet, suppose there's one thing Fioretta accomplishes. In that case, it conveys how important it is to pass Jewish heritage and cultural information on from one generation to the next, providing signposts for all cultures and peoples. In so many European families, war, adoption, and separations due to unthinkable consequences have predominated yet left a trail of clues and facts that yield diligent and careful research.