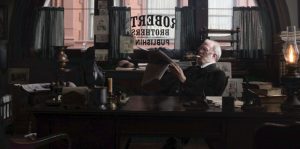 How did you get involved in the project?
James Mangold was making a movie about a Patty Hearst, and he had contacted me about playing a role in it. I was in the midst of figuring out whether I could do that. And then he lost his movie. The Patty Hearst movie went away. Very shortly thereafter, I got a call from James that he wanted me to look at this role in Ford v Ferrari. I read the script, and I thought it was terrific. I got on the phone with James, and we had a nice conversation. At the time had a newborn, and I knew it was a really long shoot. I said, "look, if we can do this in such a way that I'm not separated from my child for too long, I'll be glad to do it."
That's the way these things often go. They were able to work that out. And as it turns out, all the principals in the movie all have little kids, too. We were all dads of young kids. There was a real feeling of comradery around that. We're out in Agua Dulce, California, where they had built this track and grandstand to represent LaMans. We're out there in the middle of nowhere stuck in trailers, sometimes for days, and separated from our families. But, we all believed in the movie. James is such a strong filmmaker. He's somebody who's gifted at seeing the big picture, I mean the grand scale of Ford v Ferrari because it is a really big movie.
"We all embraced the human aspect of the story and we were there to do our job to help fill those people out…"
It's not a CGI movie either. Those cars are real. The drivers are real, and they're really driving. There's very little CGI going on in the film. I think they used some CGI to approximate some of the crowds. So for Jim to be able to get his head around all of that, coordinating all of that, and at the same time, he's such a fine director of actors. His small scenes scene work as well as the big, which is really where a movie like Ford v Ferrari is all about. We didn't sign up for it because it was about cars. We signed up for it cause it was about the people. Jim's outstanding at that stuff too.
That was one thing that really struck me. The film is about these characters, and everyone creates a well-defined character. I felt like it was kind of a repertory company that was put together.
Well, that's about as high a compliment as you could pay, as far as I'm concerned. And we absolutely felt that. The script did such an excellent job of that. It hits all of the points that a sports film is supposed to hit. And at the same time, an excellent example of sports films lets us know with great clarity what all of the principals have invested in the outcome. Why is this race important to them? I don't know anything about car racing nor the cars themselves. Nobody else did either. It's not like any of us are car fetishists or enthusiasts. We didn't even realize that until we were all together at the Toronto International Film Festival. I was like, "Oh, you don't know anything about cars, either." We all embraced the human aspect of the story, and we were there to do our job to help fill those people out and make them real, full, three-dimensional people.