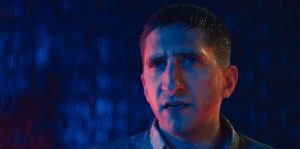 Making movies is by no means easy. Often the first hurdle to cross is yourself. You must stop making excuses why you can't make a movie and just do it.
I spoke with first-time feature filmmaker Aaron Fisher, who wrote and directed the comedy Inside The Rain. The story is about Benjamin Glass (played by Aaron Fisher), who happens to be bipolar and starting a brand new year of college. After an awkward one-night stand, Ben's condition gets the better of him and he is threatened with expulsion from school. Misunderstood about his condition, Ben decides to make a movie and present it at his school hearing in hopes of exonerating himself.
Like his character Ben, writer/director/star Aaron Fisher also suffers from bipolar disorder. We talked about the challenges he faced writing, directing, and producing the film when only a few thought he could. We also talked about the stigma associated with bipolar disorder and how easy it is to write-off people with mental health issues.
---
Tell me about the writing process and making your film Inside The Rain?
Aaron Fisher: I wanted to write a love story and wanted the character to be based loosely on me. My intention was not necessarily to raise awareness or to get rid of the stigma of mental health issues. I wanted to make a film like The Graduate. The main character of Ben happened to be bipolar. Although I was taking a lot from my experience, I was just writing about the truth. The movie is fictional, the essence of what my 20s were like. I didn't want the film to be preachy. Emma is the love interest, who happens to be a sex worker. The role is more about the person, not what she does for a living.
When I go to screenings, so many people tell me how important the film is. I'm not an activist. I feel like I've unintentionally thrown myself into a mix.