Movies and casinos have a relationship that goes back a long way. From Casablanca to the James Bond films, so many iconic movie moments have taken place in these glamorous gaming halls.
It is not hard to see why, as casinos represent both the thrill of going up against the odds and the allure of well-dressed sophistication. That latter element is why most casino movie moments still happen in luxury land-based casinos, when online ones like Rainbow Riches now rival them in popularity among the public.
After all, it is hard to imagine James Bond sat in front of a laptop playing baccarat in his pyjamas – even if he would sometimes prefer to be doing that!
When we think of casinos, we tend to think of the wealthy 'beautiful people' in ultra-smart tuxedos and stylish dresses playing for very high stakes against a backdrop of Monte Carlo or the bright lights of Las Vegas. That provides attractive imagery for a movie, showing us a world that we can dream about belonging to for the duration of the film.
A big part of the appeal of the movies has always been glamour and escapism. Everyone fantasises about being 007 or Vesper Lynd when watching Casino Royale or Danny Ocean in Ocean's Eleven, and the fact that they spend their time in high class casinos looking immaculate is a major reason for that.
Casinos are not just about people standing around looking great though: the gaming itself is also important. And that highlights another reason they are so often featured in films.
Gaming is exciting – there is no getting around it; you are putting your money on the line and could either win big or lose your stake. By watching casino scenes in movies people get to experience the adrenaline rush without taking the risk themselves. 
That psychological impact ensures that good casino movie sequences stick in the mind. Really great acting and direction can turn these scenes into genuine nail-biters for the audience. 
But it's not just the excitement of watching. More often than not, these scenes are pretty life-like which means viewers can learn a thing or two about gambling. At least about the casino lingo, that is used pretty accurately in the movies.
Let's have a look at some of the spectacular casino scenes from movies.
Casino (1995)
Martin Scorsese and Robert De Niro certainly qualify as a great director and actor. Therefore it is no surprise that their movie about the Vegas gaming scene, Casino, has plenty of memorable moments.
The one that people who have seen it recall most vividly is the sequence where a customer dressed as a cowboy has the gall to put his feet on the table of the casino run by Ace Rothstein (De Niro). Things escalate very quickly from there as he is ordered to leave and the security goons end up using his head to smash open the doors as they remove him from the building!
Casino Royale (2006)
We mentioned this movie earlier and no one who has seen the gaming section will forget it. James Bond is playing Texas Hold'em for an eye-watering £115 million against arch villain Le Chiffre. 
At one point in the game 007 appears down and out, as he loses his stake and has to get emergency financing. Le Chiffre scores a full house, but Bond eventually takes the pot with a straight flush.
This was the movie that revived the Bond franchise and it is scenes like this edge-of-the-seat Monte Carlo casino sequence that did the trick.
Ocean's Eleven (1999)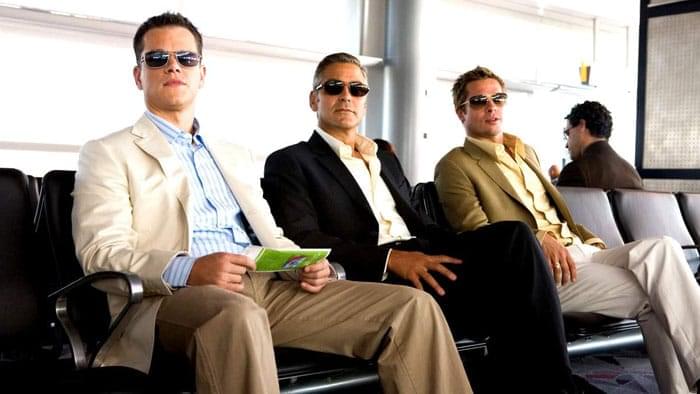 The setting here is Las Vegas and the plot revolves around three of its most opulent casinos: The MGM Grand, The Mirage and The Bellagio. The famous fountain outside the latter features in one memorable scene, but the most exciting casino sequence is the central one.
The high stakes gaming here is not happening at the tables: Danny Ocean and his hand-picked team are trying to rob the three Vegas casinos. The sequence where they break into the heavily guarded vaults where the cash is kept is a masterpiece of sustained tension at the heart of a movie full of laidback cool.
Rain Man (1988)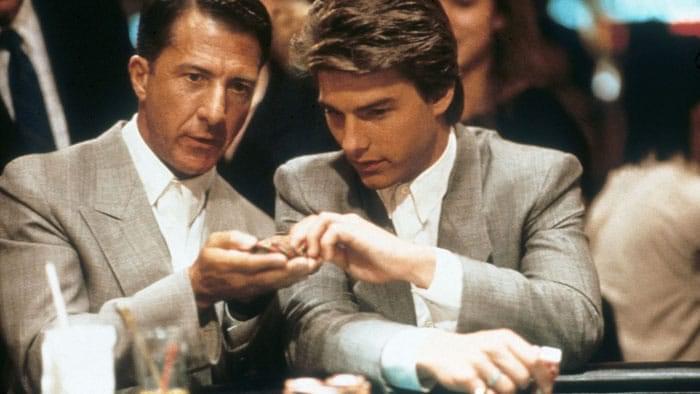 We may have reservations about Dustin Hoffman's portrayal of autism in this film from the perspective of 2021. However, it does make for a scene in a casino that is pure movie magic.
Raymond Babbit (Hoffman) and his selfish younger brother Charlie, portrayed by Tom Cruise, are playing blackjack at a Vegas casino. Charlie starts to win big thanks to his brother using his autistic maths genius to count the cards. 
It is really the turning point in the relationship between the brothers, making it a key moment of character development. 
The Hangover (2009)
This entire hit comedy takes place during a disastrous drunken Las Vegas trip, but one hilarious sequence parodies unrealistic casino movie scenes. It sees the team needing to make major money fast to buy Doug (Justin Bartha) back from gangsters.
We then see Alan – who is played by Zach Galifiniakis – take out a book called 'Guide to Blackjack' before a swift cut to him inside the casino winning a pile of money from the game, despite never having played it before.
Casinos can provide the makers of movies with an unrivalled blend of glamour and thrills, which makes them ideal for the silver screen. That is why Hollywood heads back there so often and why we can expect to see many more memorable sequences set in casinos in the years to come.