People who find the sweet spot of success by merging talent, passion, and hard work are few and far between. So, when you happen to come across someone who's managed to leverage their natural gifts and love of work into a lifetime of success, you obviously become curious about their journey, especially if they work in a highly competitive creative field like musical composition. 
Such is the case of Colin Bell, a talented composer, arranger, music teacher, and percussionist with a long string of achievements and a thriving career in film and music. It's no secret that breaking into the entertainment industry, as talented as one may be, is not exactly a walk in the park and many professionals give up along the way, but Colin Bell's story proves that anything is possible, as long as you have the drive and determination. 
So, let's take a look behind the scenes at Colin's amazing career so far and find out how he came to fulfill his dreams. 
A Natural-Born Musician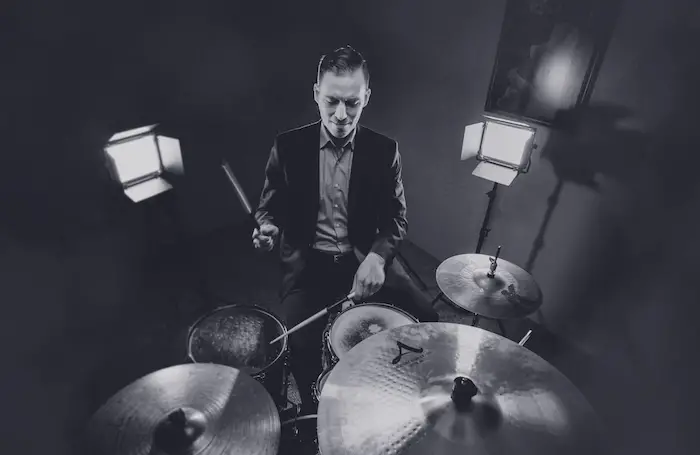 One of the most interesting things with many accomplished professionals is learning about their backgrounds and how they started their journey into a certain field. With Colin Bell, one can say he was literally born into it. He comes from a long line of musicians who instilled in him a passion for music from a very young age. Colin's grandparents, George and Shirley Bell, came to the United States from Scotland, after World War II, bringing with them the tradition of playing Scottish music, with bagpipes, drums, and other traditional instruments, and making Scottish Highland dance popular by traveling across the country alongside other immigrants that came with them.  
This was passed on to the next generation, so Colin's father and his many siblings all learned to play bagpipes or drums, and even formed a family band that became quite famous and traveled to Scotland regularly. Since his father was a drummer, Colin was exposed from a very early age to this rich cultural heritage of Scottish and Celtic music. Playing and touring with his family was something normal for Colin who attended his first Scottish music festival in Montreal when he was only two weeks old. 
He followed in his father's footsteps and learned to play the drums at the age of eight. When Colin entered middle school and then high school, he naturally gravitated toward music so he began expanding his artistic horizons by getting into the school band and participating in the drumline, choir, marching band, and drum corps. 
Colin went on to further his education at Kean University, Union, where he studied music education and started touring with a drum and bugle corps called the Boston Crusaders. At the same time, he would play gigs at theaters and started thinking about pursuing a career in music. Although he got his music education degree, he was leaning more toward playing than teaching, so he became a successful freelance musician and composer, and continued doing that for a very long time, composing and arranging music for bands, percussion ensembles, and orchestras.  He also toured with the reggae band Echo Movement.
 

Making of Don't Look Down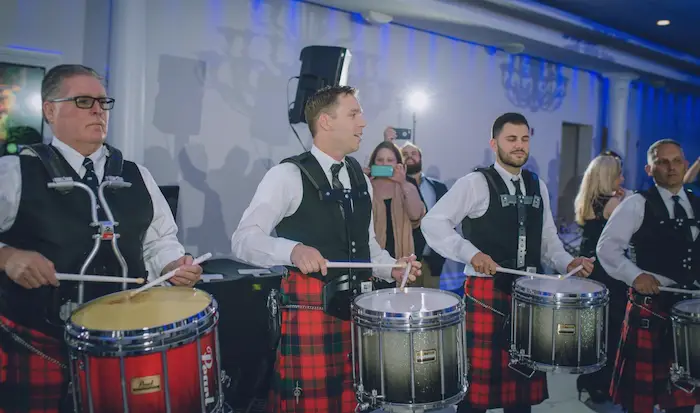 As Colin continued to pursue his passion for music composition, little did he know that fate had bigger plans in store for him. In 2015, Colin was busy focusing on his creative work, writing and arranging music for the Jersey Surf Drum and Bugle Corps, when the group was contacted by actress and musician Janina Gavankar. The artist – known for her work in Big Sky, The League, True Blood, The L Word, and The Mysteries of Laura – wrote an email explaining that she wanted to do a music video with a drum and bugle corps, for a Martin Garrix and Usher rendition called Don't Look Down, and Colin immediately jumped on board the project. 
From the moment Colin accepted the proposition, four very intense weeks of fast-paced work followed. The project involved a massive team effort, bringing together a large number of talented musicians and creatives who worked around the clock to bring Janina's vision to life. Colin managed to write the entire piece in one night, and after three concentrated 18-hour recording sessions taking place in Los Angeles, New Jersey, and Pennsylvania, and four weeks of relentless work, the music video was finally completed. The project represented both a creative and a logistical challenge, given its unusual nature and the coordination of multiple recording sessions with Janina's busy schedule traveling back and forth between New York and Los Angeles.
Janina and Colin formed a solid professional bond working together, both being talented musicians coming from a drumming background, and that led to another exciting collaboration. A few months after the production for Don't Look Down ended, Colin got another call from Janina asking him if he would be interested in arranging a piece of music for her to perform with the Roots drummer Ahmir "Questlove" Thompson at Carnegie Hall. Colin was obviously happy to join the project. He suggested writing an arrangement for Diamonds and Pearls, as a tribute to Prince, and ended up performing alongside Janina and Questlove at Carnegie Hall.  
Jumping on Board His First Major Film Scoring Project, Bezos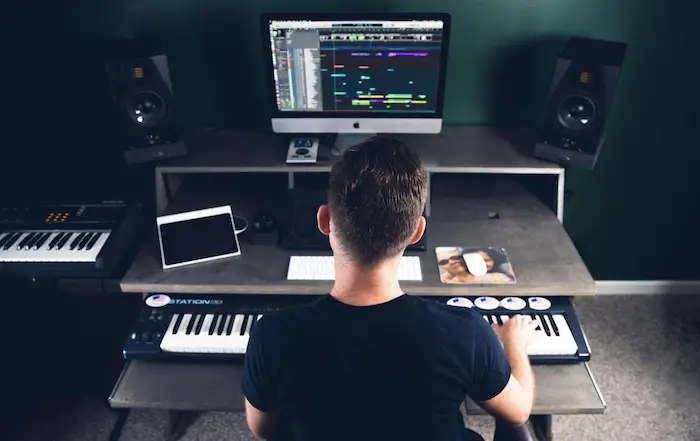 Colin got his big break as a film composer by meeting the right people in the right place at the right time. It was a chance encounter that brought Colin to the world of film scoring and gave him the opportunity to be a part of the upcoming biopic, Bezos, which tells the story of Jeff Bezos, the famous founder of Amazon.
As Colin started getting into composing music for films, he decided to attend a film and TV event held by entrepreneur and filmmaker Khoa Le who's also the owner of KVibe Studios. At the time, Bell had no idea who Khoa Le was, but the two got to talk about their projects and ended up exchanging cards. Then, one day Khoa contacted Colin, told him he was going to direct this film called Bezos, and asked him if he would be interested in doing the scoring. Colin couldn't miss such a huge opportunity so he accepted on the spot, and that's how their collaboration began.
Le and Bell hit it off from the very beginning, both professionals being deeply passionate about their work. They were on a very tight timeline, having only four weeks to get everything done, so they had to move pretty fast. They went to KVibe Studios and immediately started working. Fortunately, the film was already at picture lock, so Colin's work was made easier as he didn't have to deal with any edit changes along the way.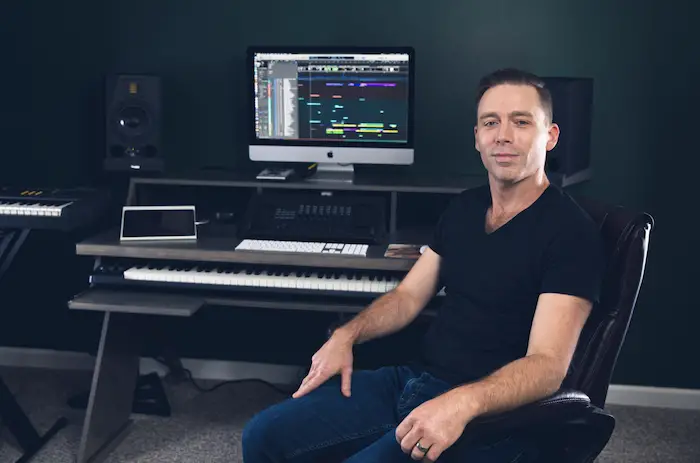 The project involved a massive effort from all parties involved, and Colin ultimately managed to pull it off and compose the entire score for the movie within four weeks. For Colin, this was a very intense and equally rewarding experience as he got to work on a movie alongside a great team of professionals, and despite the challenging schedule, he had a lot of fun writing the score for the film. 
In time, Colin has moved away from extensive touring and life on the road, so he is currently focused on continuing his ascension into the entertainment industry, composing music for films, TV, and video games. However, as he has proved time and time again, Colin has never been one to back away from an artistic challenge, so he remains open to proposals and collaborations, regardless of their nature. 
His latest project, Bezos, stands as proof of Colin's fearless character and artistic prowess and shows that even after decades of working in the field, his desire to find new avenues to express his passion for music is as strong as ever. That's what prompted him to attend the Berklee College of Music and get a Master of Music in Scoring for Film, Television, and Video Games, which he will complete this fall.   
Bezos is expected to hit theaters later this month, so we couldn't be more excited to listen to the work of this great artist and see what he has in store for us next.