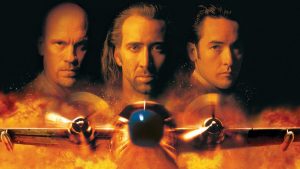 Bright lights, blackjack and roulette tables, glitz, and glamour—best of all, what happens there stays there. Well, unless a very talented director makes a movie in Vegas and shares the bagful of secrets with the world. Famous for its luxurious casinos and hotels, Las Vegas is an over-the-top American entertainment hub. Sin City has been redefined over the years, thanks to hundreds of films filmed around its many locations. In this article, we'll go through some of the most captivating viewing options.
After a feast of films on the gambling sites of Las Vegas, for us mere mortals, all that remains is to navigate among the slot sites not on GamStop. This allows you to experience, at least in part, a shred of the same emotion aroused by favorites of poker, slots, and even blackjack.
Jason Bourne (2016)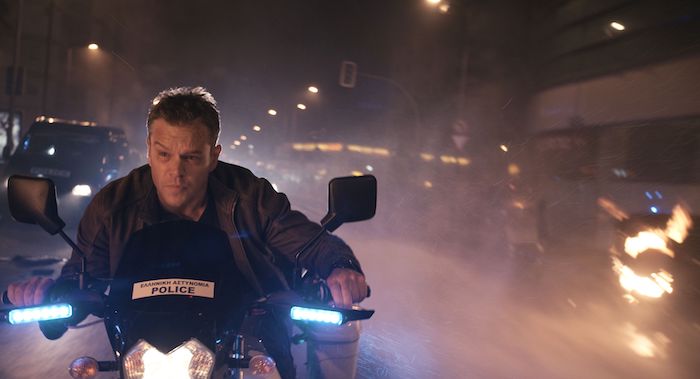 The Bourne series of movies was already famous for its intense fight scenes and imaginative plot twists. Matt Damon's fourth appearance as Jason Bourne, however, upped the ante with a spectacular Las Vegas Strip chase sequence that destroyed more than 150 cars. To infuse as much realism as possible into the movie, the filmmakers helped destroy the Riviera Hotel & Casino, which was already scheduled for demolition, as part of the movie.
Con Air (1997)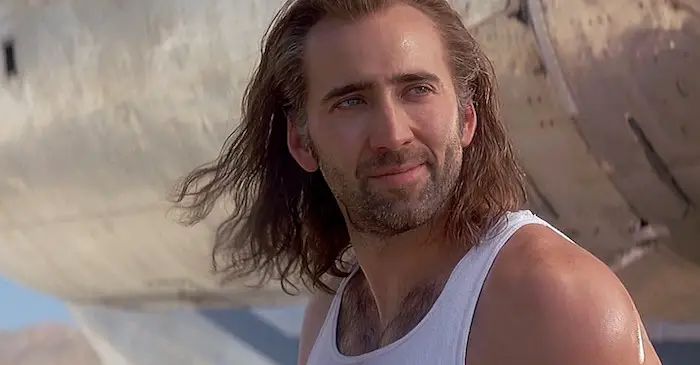 Even by the outlandish '90s action movie standards, Con Air was a preposterous production. The movie follows a planeload of hardened criminals crash-landing on the Vegas Strip. The movie premiered at the Hard Rock Hotel and Casino, a location that was later demolished using scale models and CGI. The Sands hotel was scheduled for demolition, so the production team didn't have any qualms crashing into the building.
Ocean's Eleven (2001)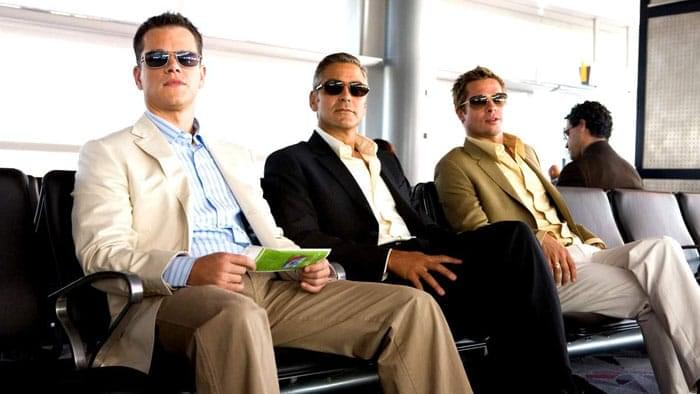 Steven Soderbergh ran with the 1960 version of the Ocean's film and made an even starrier version. The movie, which stars Matt Damon, George Clooney, Brad Pitt, and Julia Roberts takes delight in wrong-footing viewers at every turn. The Bellagio, with its cascading fountains is at the heart of this movie's heist plot.
Fear and Loathing in Las Vegas (1998)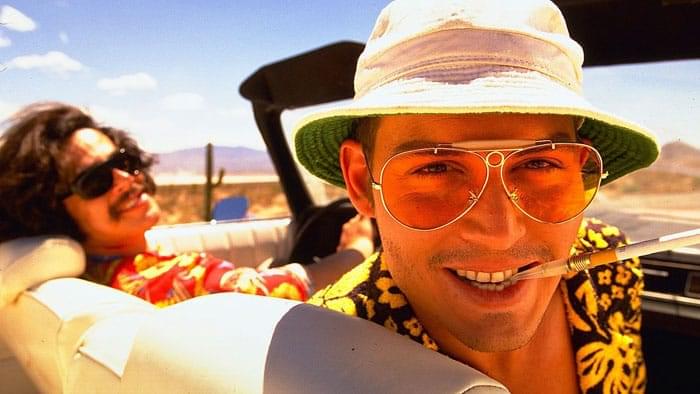 Johnny Depp spent an exhausting 56 days in Las Vegas. Unfortunately for the producers, they could only shoot interior scenes that involved casinos between 2 am and 6 am. This version of Hunter S Thompson's work covers the now-defunct Stardust Resort and Casino.
The Hangover (2009)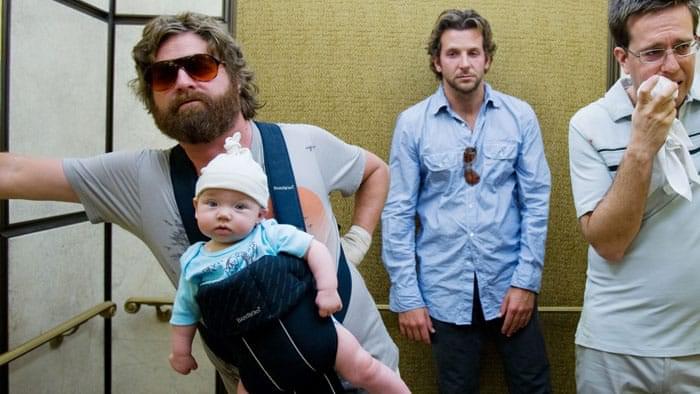 Depending on how you plan and which casinos you visit in Vegas, you can have an excellent or meh experience. What few people ever get, however, is The Hangover experience, which involves wild tigers, a missing groom, a bit of amnesia, and Mike Tyson. The Hangover combined gross excess and outrageous fun to produce an unexpected hit. Caesars Palace was used to film the bachelor party gone very, very wrong, and the Vegas Boulevard was also used extensively.
Diamonds Are Forever (1971)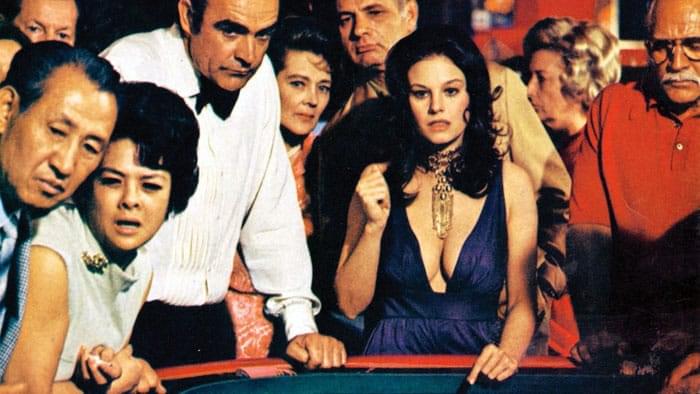 We can't combine gambling and films without including a James Bond flick. Sean Connery stepped back into the 007 role and the glitz and glamour of Las Vegas in Diamonds Are Forever. Agent 007 tracks down a group of international smugglers in a chase that ends up at the Whyte House casino in Vegas. Very few movie fans, however, know that this movie was shot using the Las Vegas Hilton, which was then edited to make it appear taller on film.
Leaving Las Vegas (1995)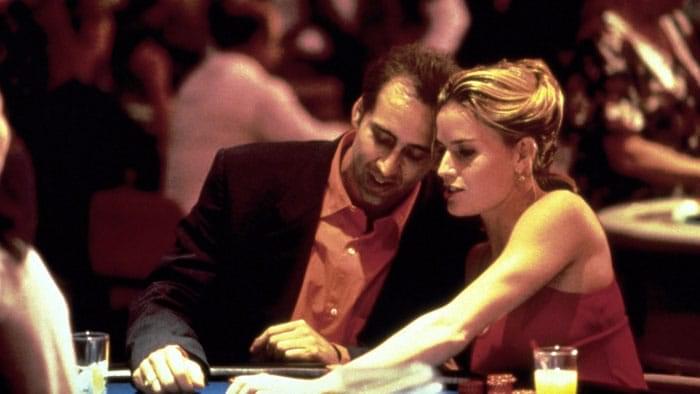 Nicholas Cage put up an Oscar-winning performance as a suicidal Las Vegas alcoholic who's determined to drink himself to death. The director, Mike Figgis, brilliantly managed to expose the seedy and grim side of Sin City. The lack of budget even helped bring out a high level of authenticity in the movie. With no permits and very little money to shut down The Strip, the street scenes were as authentic as possible.
Rain Man (1988)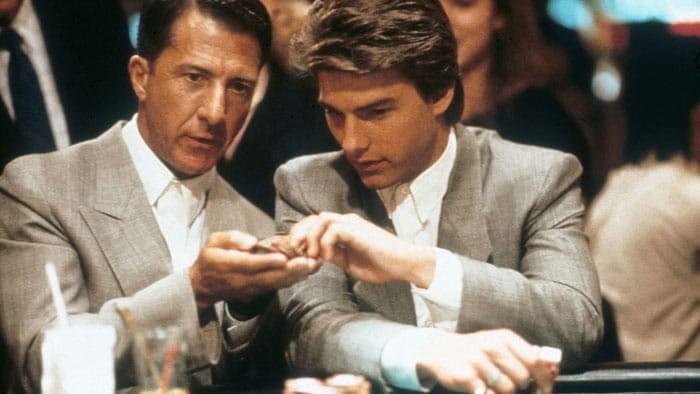 Dustin Hoffman and Tom Cruise are two siblings who go on a road trip that ends up in Las Vegas. Hoffman learns to dance and shows off his card-playing skills in Caesars Palace. A lot of pivotal scenes, including one of the brothers going down an escalator in matching suits, have been parodied countless times since the movie's release.
Casino (1995)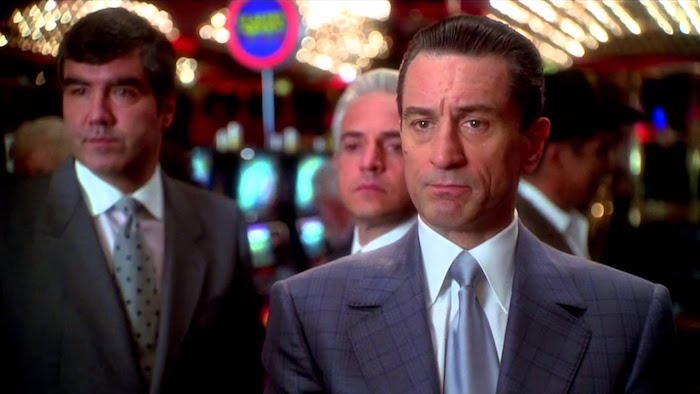 This epic crime drama by Martin Scorsese explores the links between the gambling world and the mafia. The movie features a fictional Tangiers Casino, which was created using parts of the Riviera Casino and the derelict Landmark Hotel. In Casino, Robert De Niro portrays a mafia operative who's sent to Las Vegas to run a casino for the mob.