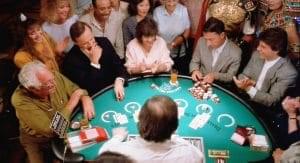 Movie writers and makers have been gaining inspiration from gambling for a very long time. The opportunity to land winnings that can change people's lives is a captivating theme and a psychological phenomenon that is very interesting. In movies that are casino themed, people don't just play with what they can afford to lose, some plunge into it and risk all that they have.
There are variations in the list of the best gambling movies. They range from very serious ones like Croupier and the famous Casino Royale to comedic ones like Maverick and Oceans 11, making it possible for all to have what suits them. Lots of real casinos even go to lengths of providing online slots for their players, based around film themes, like those you can find at these sites for you to play.
These include both the more recent ones and the old classics. You will enjoy a limited selection based on your current region when you search for good gambling movies on Netflix. Some of them are movies that you will need to buy or rent from Apple Stores, Google or Amazon. 
In the list, we made efforts not to reveal the entire plot or to come up with spoilers. The reviews were made based on gambling mindset and casino culture, and based on those; the best 5 are listed below.
1. Casino Royale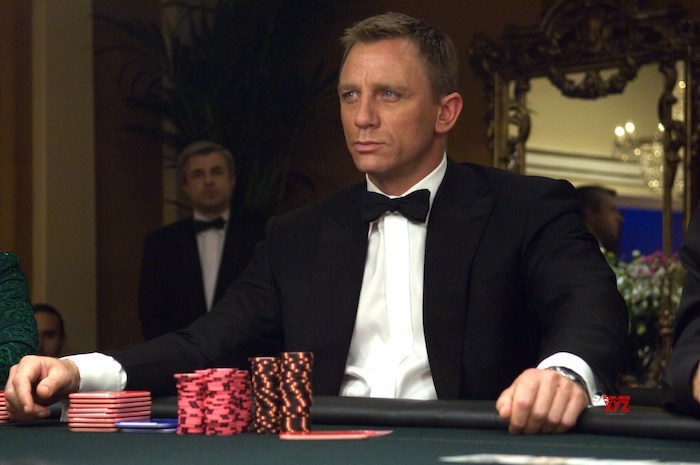 This is where James Bond originated, and it involved brutal violence, gorgeous ladies, and high stakes poker. This is about the M16 agent, James Bond, who just gained his 00 status and the license to kill, and his mission to Montenegro. He had to be in a high stakes poker game that is hosted by the cash starved terrorist banker named Le Chiffre. His mission is to defeat him and get him to accept asylum in the UK. To achieve this, he went in the company of a treasury agent named Vesper Lynd. 
Now, while the epic Texas Hold'em tournament was on between the terrorist and 007, the pot grew to 115,000,000, and the CIA's Felix Leiter came to the aid of the agent.
This is an adaptation of the first Bond novel from Fleming, with the same name as the movie.  There were 53 years between the book and the movie, and the movie still maintained loyalty to the book's original story. The only changes here are that baccarat was replaced with the more fashionable Texas Hold'em poker. However, every other thing was there, even the torture scene.
The movie comes with very intense gambling scenes, to the extent that the game's desperation could be spotted by even people that are not experts in poker. In the battle between Bond and Le Chiffre, every cosmetic was dropped and they went all square. The movies that came before revealed how 007 applied tricks to beat his opponent. But this one took the battle to the last card.
2. Ocean's Eleven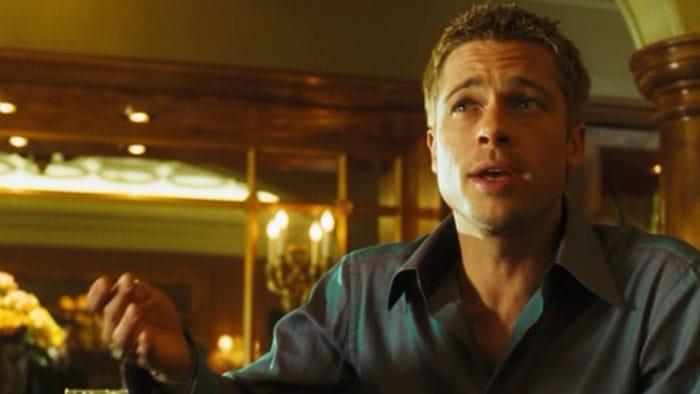 This is about the biggest casino heist in this century. Here, a con man named Dany Ocean is under parole. While on parole, he organized a group of old friends and associates, and some new talents, to help him execute a great heist involving three casinos in Las Vegas at the same time.
These casinos are the Mirage, the MGM, and the Bellagio, and they were all filled with money at that time, as players were waiting for the huge boxing match. Ocean was not just about the $160,000,000, but also the desire to win back his ex-wife, Julia Roberts. The movie was directed by Academy Award winner, Steven Soderbergh, and in it are some of the biggest names in Hollywood at that time. Added to Julia Roberts and George Clooney are people like Matt Damon and Brad Pitt. Andy Garcia was the casino boss.
Here, you will encounter all the ingredients that deliver fun, and it is very fast paced. The cinematic storytelling and dialogue flew well and easily all through the two hours. Now, it should be noted that the Oceans 11 movie did not involve much gambling, especially for a casino movie, but in it, you will get to see Las Vegas casinos then.
Since its release in 2001, this movie has received three sequels of Ocean's Twelve, Thirteen and Eight. Though these are all about heists, only eleven and thirteen involve casino robberies. The eleven has characters like Joey Bishop, Peter Lawford, Dean Martin and Frank Sinatra.
3. Croupier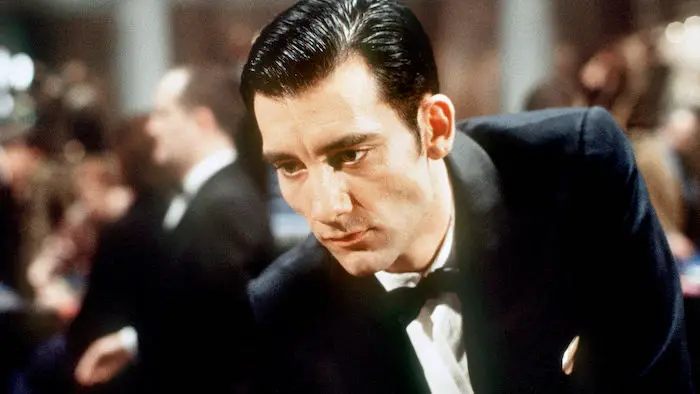 A novelist that was losing relevance decides to return to the casino sector and write a book about gambling. While employed as a dealer in a casino in London, he became entangled in a heist. For him, gambling is not about money, but about ignoring the odds and neglecting reality. 
If you are in search of great movies that criticize gambling, this is it. This does not explore addiction and problem gambling, but its detached coolness treats gambling in a not too welcome manner. Jack stands as a very interesting, but a bit secretive character. He is so callous that every manager at a casino would want to employ him. Here, Frank Owen starred perfectly as a very cold, detached and calculated croupier. The dialogue may have some pretense in the way it sounds sometimes, but it is fitting to the movie's style. Starring in the movie also are Alex Kingston, Kate Hardie and Gina Mckee as the women in his life.
4. Casino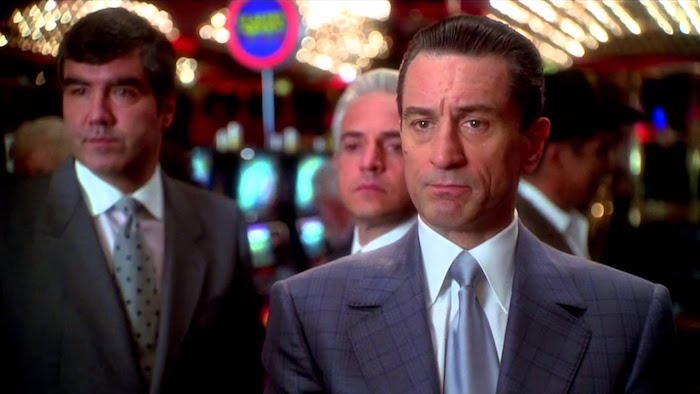 It is about the criminal past of Las Vegas. Here, Sam Rothstein is sent to manage the Tangiers casino in Las Vegas, and to stand for the interest of a mob family from Kansas City. While making a good commercial success out of this slow skimming operation, he falls in love with a very beautiful hustler named Ginger. The business booms and all were happy for some time, until his unpredictable high school friend, Nicky starts misbehaving. Now, Sam has to satisfy the mob bosses, handle his marriage and maintain his friendship with Nicky.
He believes he is being given awards for what he is doing here, something that would have put him in jail back home. We can say that this is among the best casino mob movies out there, but it does not focus on gambling in particular.
The story focuses on marriage, ambition, betrayal and friendship as they were in Vegas of those days, more than gambling. Sam Rothstein simultaneously managed four casinos in Vegas then, namely, Marina, Hacienda, Fremont and Stardust just like the real life character, Frank Lefty Rosenthal. Other characters in the movie also portrayed real life characters in Vegas then. It was majorly about the old days when Las Vegas casinos were run by the La Cosa Nostra.
5. Rain Man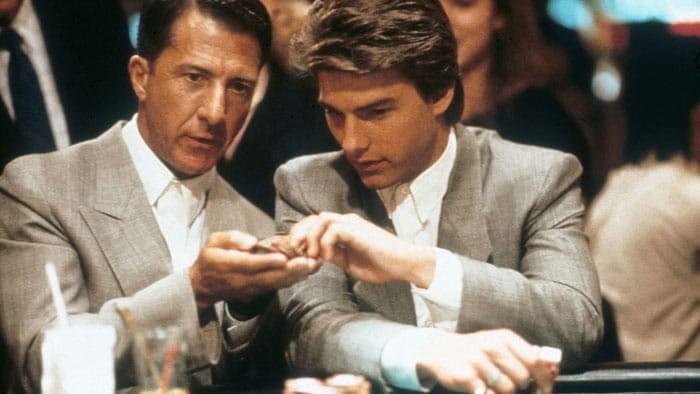 This revolves around the character of Charlie Babbitt, as portrayed by Tom Cruise, and how his selfish yuppie sports car business is going down the drain. After the death of his estranged father, leaving him with nothing, he discovers that he has a servant brother who suffers altruism named Raymond. While on a kidnapping that turned into a road trip, the two brothers connected after he found out how great Raymond is with numbers. They moved to Las Vegas and started counting cards in blackjack tables. Casinos never want to lose, so you hide it when you count cards. 
The blackjack scene here reeks of popular culture that all should know, and it took just seven minutes of amazing performance to get in and get what you crave. This is one of the well made movies of the eighties that will warm your heart. It is so good that it landed 4 Oscars in 1989.