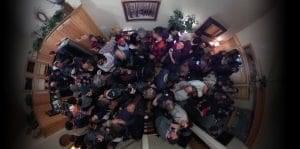 You're headed to the Sundance Film Festival and you're not on the list. No problem. Use one of these lines to crash any party in Park City. And let us know how you do. Drinks on us! 
1. "I left my invite at the hotel, but here's my card." If you're not on the list, say: "But I DID RSVP. Is it okay if I just wait?"
2. "Karen put me on the list." There's always a Karen in every crowd. Try other common names like Bob, Harvey, Geoff or Cassian.
3. "I lost my phone in there." You can also say that you left your coat, purse, address book, whatever.
4. "I was the one that got stuck parking the car. I have to tell my ride I can't get in."
5. "I'm one of the sponsors. I'm happy to wait." Sponsors are treated like gold at festivals.
6. "I'm scouting the venue for a possible event location for a party we want to put on, I'm just observing. Is that okay?"
7. "I need to use the bathroom. Really baaaaaad."
8. "I am with the press." Guaranteed to work better when you feign an accent. Try a French accent or a British accent.
9. WARNING, ADVANCED SKILLS ONLY : Casually lean over, without letting the person see you, glance at the list and select a name. Try to select one that is not checked off. Then say: "I'm the plus one with ______. I have to meet him/her here."
10. VERY ADVANCED SKILLS ONLY : "Hi, I'm Jesse Damon. Matt Damon's brother? I'm supposed to meet him here."