Hollywood films also dominated the format depicting casino life, action, and excitement. It has an important impact on how viewers and enthusiasts perceive it and how much more people are familiar with the luxurious and opulent casino life shown in these Hollywood films. Gambling and film have always worked well together. 
Several films include casinos and Paypal casino Canada and several casino games that have been made famous by movies. The storylines are captivating, and the action scenes add to the excitement. With this in mind, these are the collection of some of the greatest gambling movies you can see. 
Rounders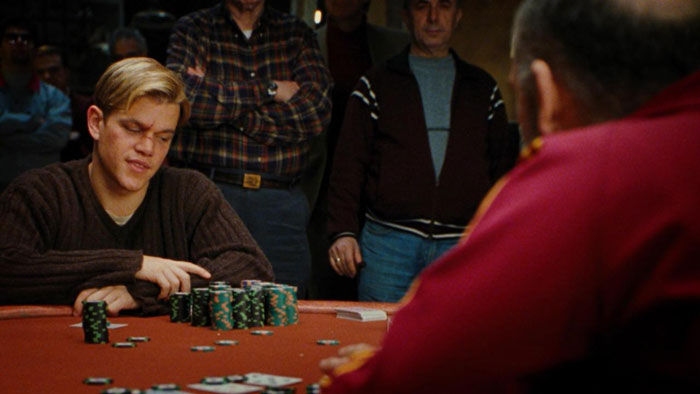 Rounders is widely regarded as one of the greatest gambling films of all time. Matt Damon plays Mike McDermott, a talented poker player, and law student. His affection for the game leads him to Teddy' KGB,' a Russian mobster. Mike loses $30,000 in a single match of Texas Hold'Em after completing the game. However, as the movie continues, it becomes obvious that several people might have lied in these tournaments, motivating Mike to reclaim his money and defeat the mobster. 
Casino Royale
What might be more relaxed than a compilation of one of the most well-known characters in history? Casino Royale is a James Bond film from 2006. The film begins with Bond on a quest to apprehend Le Chiffre. The guy is thought to provide important intelligence for the British government. 
When MI6 discovers that Le Chiffre is planning a casino game in Montenegro, they dispatch Bond intending to force Le Chiffre's hand, lose the currency, and seek asylum with the government in return for the details. However, things do not go as anticipated, and chaos ensues. 
The Gambler
The Gambler, a 2014 film featuring Mark Wahlberg, completes our top three list. This film is a revival of the 1974 film of the same name, and although we like both, the remake appears to shine. Jim Bennet (Wahlberg) is a literature teacher who self-destructs by gambling. His irresponsible behavior has resulted in a $200,000 loan to a casino ring. 
As he prepares to return the money, Jim encounters a slew of problems and roadblocks that slow him down and throw his life in jeopardy. Despite his wealthy past, Jim's family has severed relations with him, leaving him to struggle with the crisis independently. 
How Gambling Movies Impact The casino Industry
The following are some aspects that have contributed to the rise in gaming movie and casino audiences. 
Gamblers With a Sense of Humor

 
Many of the leading men in gambling movies are attractive, mysterious, and charming men who put on a show every time they arrive at the casino. George Clooney and Daniel Craig are beautiful men who flaunt their good looks and capture hearts with outstanding results. Furthermore, the character they project when playing casino games such as Blackjack, Poker, or Baccarat and slot machines seems to captivate the audience. Many people choose to visit casinos to see if the atmosphere shown in these films is accurate. 
Gambling Criminality

 
These films have a significant amount of aggression and action scenes. Area offenders or goons are invariably used in movie storylines, with the protagonist attempting to subjugate them and develop a name by himself or herself. Any mobsters come in with a long list of grudges to settle. Such behavior and the brandishing of firearms may be appealing to young people, but it may also have harmful consequences. 
The Games' Abilities

 
Too many of these films show the gamblers' irreversible and astounding abilities. They practice extreme sportsmanship and have a variety of tricks up their sleeves. It can seem that one of the parties' ships is sunk, but then they take out a card or roll the dice, and the tables change. Such forays down in new directions pique the curiosity of the audience even further. That is why many first-time gamblers go to casinos in the hopes of mastering these techniques and winning big money while playing. 
Winning a Large Prize

 
Gambling films demonstrate or describe scenarios in which a wager pays off handsomely. Even when the risks are high, the bets are risky, and the enemy is a crowd, the character overcomes these challenges and wins laurels in the type of admiration for himself. Such is the attraction that these films create for themselves. The gamblers are seen to depend on their outstanding and almost brilliant talents, not just their luck, to pull off the trick. 
There are a plethora of other gambling-themed films to appreciate. Movies have had a significant impact on people's perceptions of gaming and casinos. These films also aided in the growth of casino popularity and guided many first-time gamblers to well-known casino locations.