There are dozens of gambling or casino-themed movies around, and while many of them feature real-life casinos, some were filmed at real casinos but are set in fictional venues, and we've decided to take a look at them below:
The Bank in Ocean's Thirteen (2007)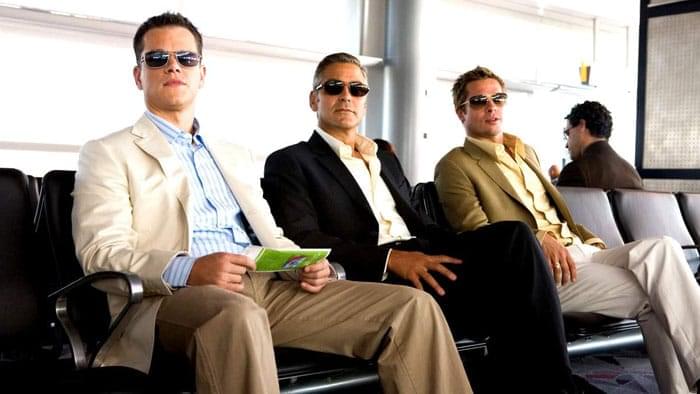 Ocean's Eleven is one of the most popular casino-based films around, so successful in fact that it spurred several sequels. The original 2001 film was based around real Vegas casinos the Bellagio, Mirage and the MGM Grand, but it's 2006 sequel Ocean's Thirteen was based on fictional casino The Bank on the Las Vegas Strip, which George Clooney's Danny Ocean and gang plan to heist. Despite being set in a fictional casino, real-life casinos the Bellagio and Palazzo were both used for filming.
Fun fact: Internet gambling firms, just like film directors, have also used Las Vegas' casino resorts as a blueprint for designing their online casinos. They often feature similar games such as slots and table games and use similar color schemes or logos (Source: https://www.sister-sites.co.uk/). 
The Tangiers in Casino (1995)
Casino, like Ocean's Eleven, is one of the most popular casino films. The popular 1995 film by Martin Scorsese follows a gambling expert who is tasked with overseeing the Tangiers casino in Las Vegas. The venue is completely fictional, with filming taking place at the Riviera Casino in Las Vegas while the defunct Landmark Hotel was used too.
Casino Royale in Casino Royale (2006)
Casino Royale was the first film to star Daniel Craig as secret MI6 agent James Bond as he is sent on an assignment to bankrupt a terrorist financer in a high-stakes poker game at the Casino Royale located in Montenegro. Although the Royale Casino is gorgeous and oozes luxury, the venue doesn't actually exist in real life. Instead, spa city Karlovy Vary in the Czech Republic was used for exterior scenes of the Casino Royale and the Grandhotel Pupp in the same city was used for filming scenes based in the Hotel Splendide.
It's also worth pointing out that Casino Royale was the name of a casino used by novelist Ian Fleming in his 1953 James Bond novel of the same name, although the novel's Casino Royale is based in France rather than Montenegro.
The Shangri La in The Cooler (2003)
The Cooler is a relatively unknown casino film that was released in 2003 and follows William H Macy's Bernie Lootz, who works as a "cooler", someone with bad luck who is employed by a casino to allegedly stop players from winning. The film is set in the Shangri-La casino, but filming actually took place at the Golden Phoenix Reno casino located in Reno, Nevada. The Golden Phoenix Reno was undergoing renovations at the time of filming, and the venue was officially closed in 2006 and converted into condo apartments under the name The Montage Reno.
There aren't many other fictional film casinos as most movies based on casinos and gambling are based in real-life casino venues, but we thought it'd be fun to discuss these fictional casinos, which most people don't know about. While you can't visit the casinos in these films, you may be able to visit the real-life locations used to film them!