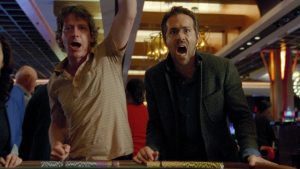 Decades after decades, movies have remained a vital part of our everyday lives. One reason for this is they are always a good way of showing our societal values. As a result, it is no surprise that several excellent movies have featured the world of casinos and gambling. Aside from movies, there are places you can play blackjack for money.
These movies were able to depict all the things we love about the casino atmosphere including glamor, high stakes, thrills, and jackpots. So, you should enjoy watching these movies if you love playing at online casinos in Canada. 
Let's take a look at the top 10 casino movies that any casino fan should watch. 
10. Rounders (1998)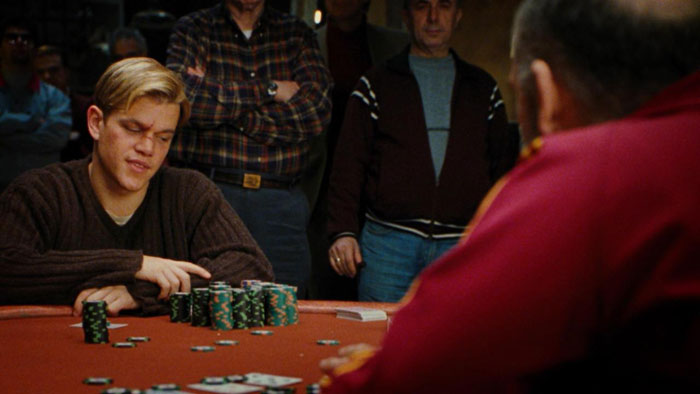 Rounders is a film that was directed by John Dahl and released in 1998. It is one of the best poker movies ever made. Matt Damon played the leading role in the movie as Mike McDermott, a law student. 
He was forced to quit poker after losing all his money to a notorious Russian (Teddy KGB). However, he had to change his mind when he learned that his childhood friend who was fresh out of prison has a huge debt.
A skilled player, Mike returns to poker in a bid to clear the debt that his friend owed the same notorious characters. The movie showed the importance of gambling responsibly. 
9. Mississippi Grind (2015)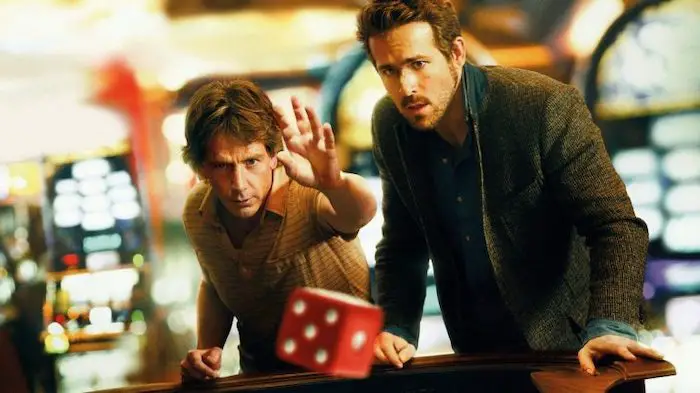 Gerry is a gambler very good at Texas Hold'em poker. In the movie, Gerry becomes friends with  (Curtis) Ryan Reynolds, and they decide to go on a gambling adventure down the Mississippi River. 
They planned to gamble in all the big cities they traveled through. However, their main goal was a casino in New Orleans where they hoped to win at high-stakes poker. 
The best thing about Mississippi Grind is the perfect way in which it depicted a gambler's psychology. 
8. Croupier (1998)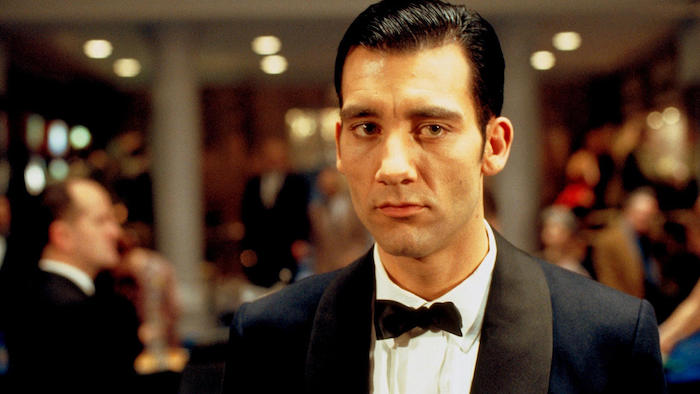 Croupier is one of the most successful British casino movies and it was directed by Mike Hodges. The movie shows the gambling world from a dealer's eyes. 
It concentrates on the other side of casinos, a very different side from the one you see in the glamorous Hollywood gambling films. The main character is Jack Manfred (Clive Owen). 
Jack is a struggling writer who chooses to take a job in a big casino as a croupier. He gets the inspiration for his book the shadiness of the gambling world. However, the casino also gets to him as he starts to see life as a game of luck. 
The movie shows just how difficult it can be for anyone to get out of the gambling world. 
7. Rain Man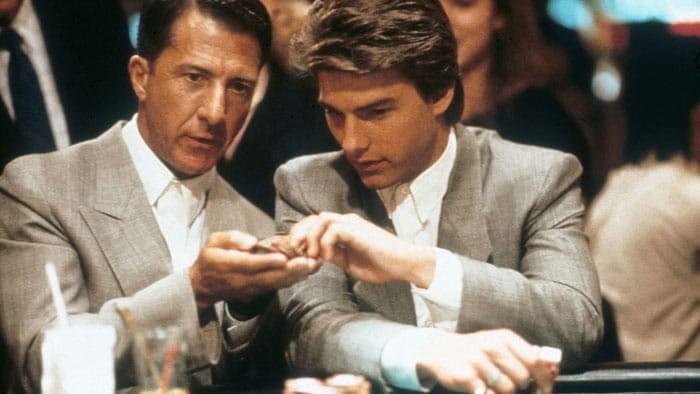 Tom Cruise is Charlie Babbitt in this Barry Levinson-directed movie. He's an egotistical businessman whose brother (Dustin Hoffman) is an autistic savant. 
In this highly popular Vegas movie, Charlie takes his brother to Vegas and uses his gift to count cards at blackjack tables. The movie depicts the grey area between what's legal and what's not in the casino and mentally gifted people are trying to exploit them. 
6. The Gambler (2014)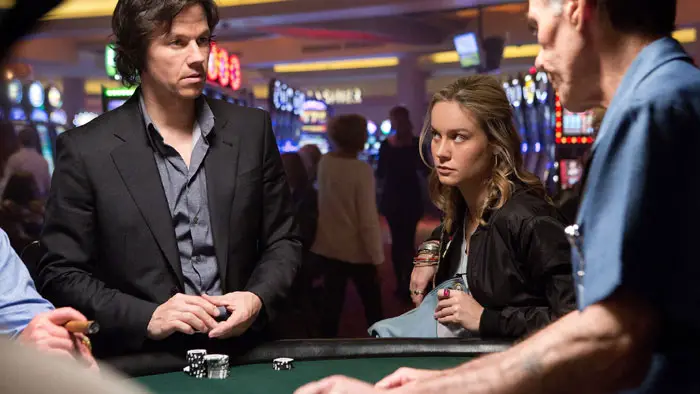 The Gambler is a 2014 film that was directed by Rupert Wyatt. In this movie, Mark Wahlberg plays the role of a teacher who is addicted to high stake gambling. After playing blackjack against some bad guys, he finds in a $240,000 debt. 
For the remainder of the movie, Mark has to do all he can to pay the debt and stay alive. The movie depicts the results of gambling addiction and why people should do their best to curb it. 
5. Ocean's Eleven (2001)

Though this movie wasn't focused on gambling, all the action goes down in three of the biggest Las Vegas casinos. Danny Ocean is a super thief that brings together a group of con artists to pull off a 150 million dollar heist. 
Several Hollywood superstars featured in this movie including Brad Pitt, Julia Roberts, George Clooney, and Matt Damon. It has a great plot, a wealth of comic references, and glamour. 
4. Casino (1995)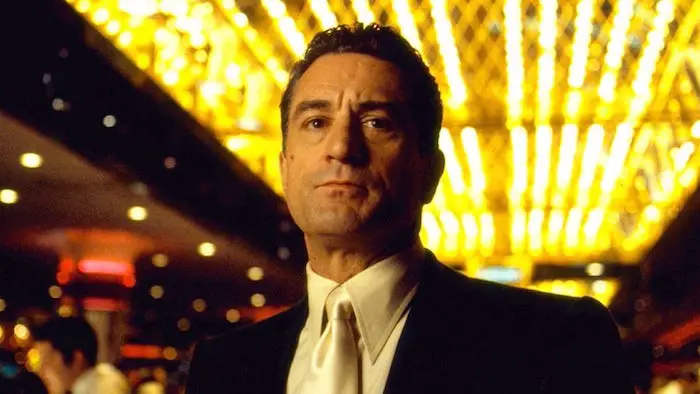 This movie was directed by one of the greatest directors ever, Martin Scorsese. It is a timeless classic whose popularity got common people interested in the glamorous world of Las Vegas. 
Roberto de Niro is a former gangster that no longer lives a life of crime and manages a casino in Las Vegas. However, his life takes another turn when he is approached by an old friend who is a mafia lynchpin. The movie features crime, deception, greed, power, and more.
3. The Hangover (2009)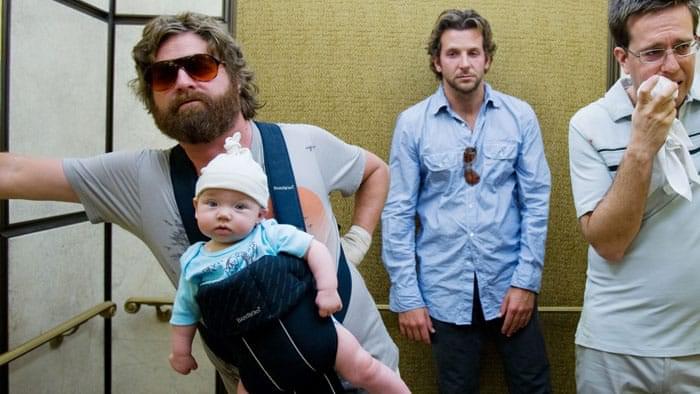 The Hangover is a movie that perfectly illustrates the popular quote "whatever happens in Vegas, stays in Vegas". In this movie, three friends travel to Vegas for a bachelor's party. 
But when they woke up the next morning, the groom had disappeared, a tiger was in the room, and they had no idea of how it all happened. The film only got crazier from there as they tried to figure everything out. It is one of the best casino comedies you will ever watch. 
2. Fear and Loathing in Las Vegas (1998)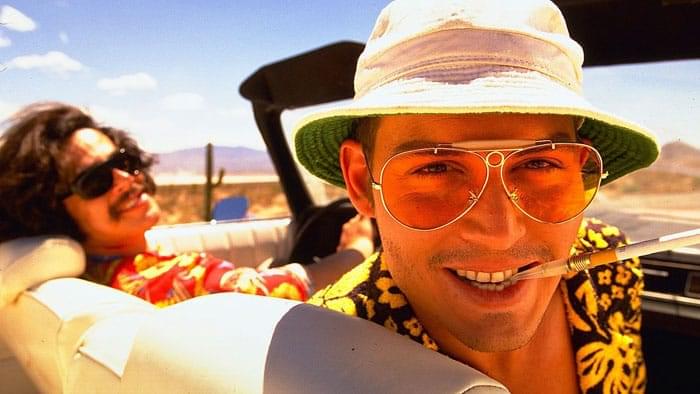 This movie is a cult classic and it was inspired by a true story. The main character is Johnny Depp, a journalist that goes on a trip to Sin City with his lawyer. 
They were in Las Vegas to cover a sporting event only to spend all their money on drugs. So, they went in search of the American Dream, and on this journey, they came in contact with different kinds of people including policemen, drug dealers, gamblers, and more. 
The Las Vegas they experienced is very distinct from the Vegas every gambler dreams of visiting. 
1. Casino Royale (2006)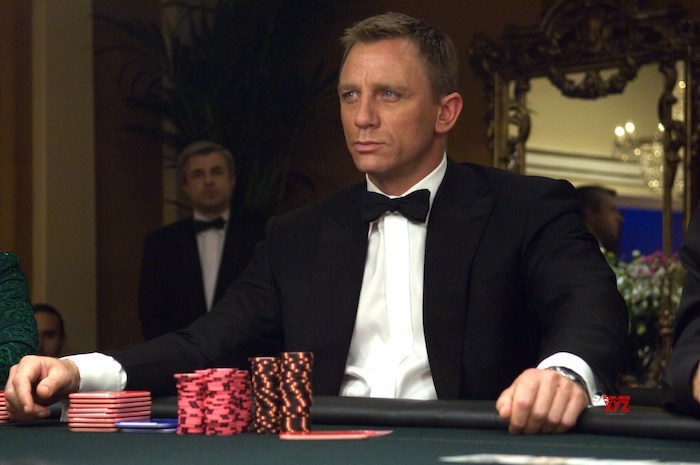 Casino Royale is one of the best movies from the James Bond franchise. It was directed by Martin Campbell and released in 2006. One of the things that make this 007 movie stand out is its excellent depiction of the luxury, risk, and class of the gambling world. 
James Bond (Daniel Craig) is tasked with stopping the villain,  Le Chiffre from winning a poker tournament. Le Chiffre serves as a banker for several terrorist organizations around the world. 
The success of Bond's mission would mean the end of several terrorist organizations as they would lack the funds to operate. But to do this, he has to be at the top of his gambling game. As expected, this 007 movie is extravagant, dirty, high risk, and violent. 
Conclusion
These are the top 10 casino movies that will give you a clear picture of what the gambling world is like. But if you want to get a taste of some gambling action in your home, you may visit an online casino.