In this movie, Mike loses money to Russian criminal Teddy in a game of poker. He then commits to stop gambling after being pressured by his girlfriend, Jo. This pressure continues until Lester, his friend, is released from prison and has an old debt to settle. Unfortunately, the couple is found cheating just as they are about to recover the money.
After learning that Teddy is responsible for the debt, Mike makes one final effort to defeat the Russian. There are many intense casino poker moments in the film. The height of a bluffer's eyebrow and the snap of a card determine fate. However, it truly has less to do with playing cards and more with skill and how people use it to either liberate or corrupt their selves.
Learning Poker Vocabulary is Vital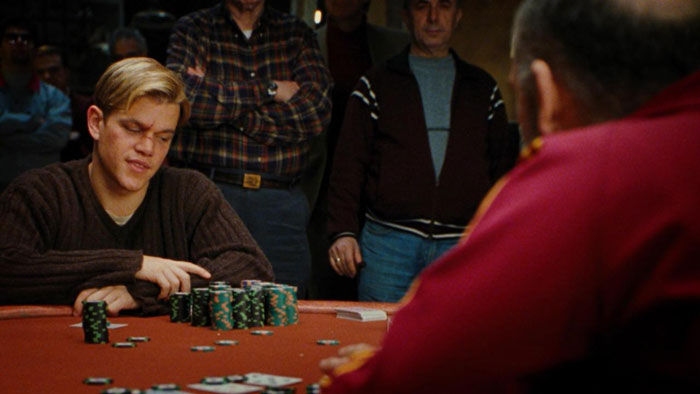 Rounders aims to strike a balance between overwhelming the poker settings with obscure terminology and offering a truthful game representation. With Rounders, Dahl largely succeeds in striking this balance, providing a complex and realistic portrayal of poker.
Poker enthusiasts might observe the strategic conflict between the characters played by Malkovich and Damon. Here, they will follow the emotional reaction and consider each action's importance. A novice unfamiliar with terms like "flop" and "flush" may find the unique vocabulary of poker frightening. However, Rounders avoids speaking patronizingly to the audience while introducing new terminology.
In addition, the film offers a realistic and gritty depiction of a high-stakes poker game. For individuals who are not explicitly looking to improve their poker skills, there are additional lessons to learn from Rounders.
Poker is a Skill-based Game
In popular culture, like in betting, card games are frequently portrayed as determined by luck. However, Rounders' more technical poker style showed that the best player often wins. This underlines the need to plan thoughtful strategies before settling in at a poker table.
Rounders deftly illustrates the need for skill in winning at poker. When Damon's character's luck runs out, he admits that his bad luck resulted from a poorly thought-out plan. Unsurprisingly, many analytical minds inspired by the movie felt compelled to learn more about the game.
Damon must decide between Norton's bolder method and the wise counsel of John Turturro's character. Damon ultimately strikes a compromise between the two, taking a cautious approach to protect the bankroll while acting ruthlessly and significantly when the opportunity arises. The persona of Turturro gives Damon some wise financial and risk management counsel. All Mexico-style poker players should keep these principles in their minds.
One Cannot Contest their Identity
The film follows card players who are so high up the pyramid, so deep into the jacks and clubs ozone, that they can feel the run of the numbers and remember the order of the face cards. Moreover, they are capable of alphabetizing the cards in addition to counting them.
Although they are excellent card sharks comparable to the best [Mexico;casino;betting] stars, they excel even more as people sharks. From the wiggle of their noses to the fluent language of their constricted larynxes, they read rubes like primers. When the rounders get greedy or haughty — character, as perverted by talent – mayhem results. Then they grab their money so deftly that the rubes don't even recognize it.
The excellent point that the film makes is that players should be who they are intended to be. The luckiest people are those who have the talent. Mike knows he should be a professional poker player because he has all the moves and understands the table's semiotics. But, most importantly, one is fortunate if they know what it entails.
Mike permitted himself to go for the mainstream and create dreams that were as flimsy as those of any daydreamer. He is pursuing an upscale career while attending law school and residing with the stunning Gretchen Mol.