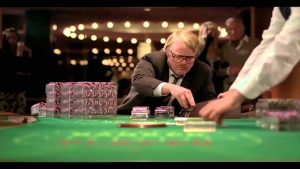 Owning Mahowny is a Canadian movie written by Maurice Chauvet and released on 23 January 2003. This crime and drama movie is based on the book "Stung: The Incredible Obsession of Brian Molony" written by Gary Stephen Ross. In fact, the book is a true story of Brian Molony, a bank vice president in Toronto who is a compulsive gambler and steals more than $10 million on gambling with cash in just two years in the early 1980s. 
The movie Owning Mahowny received nominations at the 24th Genie Awards as the Best Motion Picture, Best Performance by an Actor in a Leading Role, Best Screenplay (Adapted) and Best Achievement in Music, Original Score (Richard Grassby-Lewis, Jon Hassell). Directed by Richard Kwietniowski, the film enables the viewers to learn about the negative impacts of gambling. The movie was named one of the ten best films of the year by critic Roger Ebert. Owning Mahowny stars Philip Seymour Hoffman (as Dan Mahowny), John Hurt (Victor Fox), Minnie Driver (as Belinda), and Maury Chaykin (as Frank Perlin).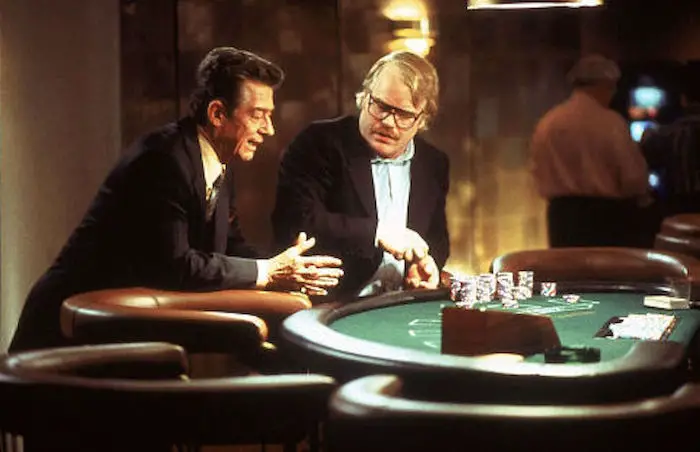 The story is set between 1980 and 1982 when Dan Mahowny (Brian Molony) is a bank employee in Toronto and seems like an honest man. Since he is an assistant branch manager in this great bank, he is given access to the bigger accounts on the bank. Nonetheless, his boss ignores that Mahowny is an addicted gambler and steals larger amounts of money to make weekly trips to Atlantic City and to pay off his bookie. 
He has a girlfriend Belinda (Minnie Driver) who is also unaware that he is a compulsive gambler. Mahowny skims larger and larger amounts by regular trips to Atlantic City where he is treated like a king. As he is encouraged by the casino Manager Victor (John Hurt), he accumulates more and more debt until the missing money becomes hard to hide. Mahowny eventually gets caught and everyone figures out that he has a gambling problem. 
Since his criminal acts come to light, the police in Toronto start to investigate his longtime bookie Frank Perlin (Maury Chaykin). When he gets caught, his girlfriend Belinda also suffers from the problem that he has created. His compulsion has, in fact, led to several troubles like Belinda being suspended from the bank. The movie concludes with a bank manager who is convinced by the misunderstanding about Mahowny's activities. As a matter of fact, Mahowny embezzles the millions and his casino entourage escorts him.
Is Owning Mahowny Worth Seeing Again?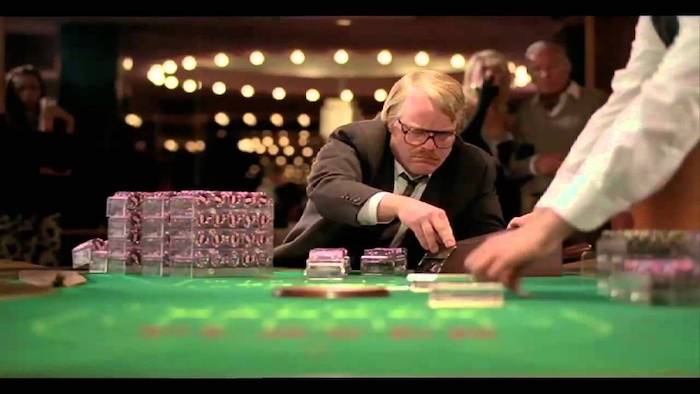 Owning Mahowny is a gambling themed movie that was nominated as one of the ten best films. With the growth of the gambling field, people have adopted this hobby as a part of their life, and today, several countries have legalized gambling and betting activities. Nevertheless, the problems related to gambling have also raised leading to several compulsive gamblers. Owning Mahowny is, therefore, one of the effective options to raise public awareness. 
The film is worth watching because not only does it focus on gambling-related problems but it also allows the viewers to understand the gambling world. They can, hence, appreciate the gambling thrills while preventing gambling harms. Mahowny is the main character who seems to be a trusted employee and a loving husband. Unfortunately, behind his likeable characters, he is an addicted gambler which has affected the rest of his life. 
Although he is a successful and respected bank vice president, his addiction to gambling led him to steal over $10 million in just two years. Undeniably, the film shows a love story between Mahowny and Belinda. However, it focuses more on a helpless employee who experiences incredible trouble due to his dependence. Owning Mahowny is a popular movie bundled with the best scenes in a luxurious casino enabling the viewers to feel the casino atmosphere without leaving their comfort.
A Few Words about Philip Seymour Hoffman
Unlike other gambling movies that often show the glamour and glitz of the casino resorts, Owning Mahowny emphasizes the negative impact of the casino. This much darker path makes the film more seductive because it is totally interesting to learn the story of a powerful man who has ruined his life. This protagonist doesn't realize that his compulsion will impact his personal and professional lives. 
Instead of finding the thrill of gambling, Mahowny faces heavy gambling-related problems. As this activity is more closely related to various problems, it makes a victim called Dan Mahowny. Played by Philip Seymour Hoffman, this late great actor can credibly represent the protagonist's character. One of his greatest films is the 'Savages' in which he won the Independent Spirit Award as Best Actor. 
In addition, in 2005, this unforgettable actor won the Oscar as Best Actor for his role in the film Truman Capote. Hoffman passed away too soon in 2014 when he was only 46. One thing is for sure, Owning Mahowny that features this talented actor in the lead role has remained one of the very best gambling movies ever.