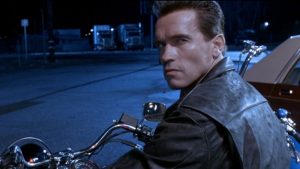 In 1984, an action sci-fi B-movie took the box office by storm. Created by James Cameron, the film begins with an obliterated Los Angeles in 2029, an explanation of the machine uprising, and then a nude Arnold Schwarzenegger went on to make over $78 million worldwide from a mere $6.4 million budget. It was a masterclass of realizing a far-out story within a somewhat low-sci-fi scope.
Since then, the Terminator franchise has gone from a peak to a seemingly new low with each additional return. Still, with over $2 billion made at the box office worldwide following the 2019 installment, you know that Hollywood wants more of the Terminator. As it turns out, Cameron claims to be in talks to get the Terminator franchise going again, and seemingly, the only way is up for the series.
An all-time great sci-fi duology
Even with the way that social media and modern Hollywood seek to retroactively damn or erase many movies and tropes of the era, you'd be hard-pressed to find many respected outlets that call The Terminator anything less than iconic. The premise of the Terminator and the human protectorate, Kyle Reese, both going back in time in search of Sarah Connor brings a very futuristic scenario to what was the modern day, helping to bridge the monetary gap.
It's a tight story, infused the sci-fi elements in an easy-to-understand manner, and it focuses on a small collection of characters in what is essentially a horror-driven plot. Then comes Terminator 2: Judgement Day, which pivots the antagonist Terminator into a hero to protect Conner, boasting a $100 million budget to go all-in on the action. Terminator set the stage very well, and its sequel perfectly expands on the capabilities of the narrative and setting.
These two films, as a duology, comprise one of the greatest sci-fi stories ever put to film, which appears to be the popular opinion. So beloved are the movies that they inspired a host of copycat movies, set new tropes, and expanded beyond the big screen. It's a testament to the enduring popularity of the 1991 sequel that an official online slot could be made in 2014 and still rank among the top slot games available on popular platforms. By infusing the T-1000, the cast, and a feature that takes it from 243 ways to 1,024 ways, the T2 slot delivers an action-packed experience for fans of the hit movie.
As has long been the case in fandom, collectibles are also a big part of the experience, and to this day, new T2 merchandise is being released and sells out. You only need to look at Planet Merch and its selection of products for the classic movie to see that T-800 Terminator Heads sold out. At online entertainment stores, you'll also notice that the 4K Ultra HD 30th Anniversary Steelbook sold so well that a re-print of the special edition release was ordered and still fetches around $30.
Returning to the long-declining franchise
Hollywood is famed for not knowing when to stop building out its so-called "franchises,", especially over the last few years. It seems as though producers only think that audiences want a return to proven stories and won't pay to see something original. Such thinking has given us many lackluster movies or shows that either relies too heavily on recalling previous events and even movie lines or completely miss the essence of the source material. Terminator hasn't been immune to this, with Dark Fate being full of plot holes, callbacks, and forgettable characters.
That said, the 2019 addition to the franchise may not even be the most maligned post-T2. Terminator 3 is discussed with similar derision to Godfather Part III, being called a complete abomination of everything that made the series so strong. Both are fairly solid movies taken on their own but fail to live up to the incredibly high standards of what was set before.
With the trilogy taking 19 years to get through, in 2009, the biggest budget of the franchise to date ($200 million) was given to Terminator: Salvation. It would bring back $365.5 million worldwide, but poor characters, dialogue, and writing overall made it forgettable. In between Salvation and Dark Fate came Genisys in 2015. It achieved the second-highest box office haul of the six-movie series so far (not adjusted for inflation), buoyed by Emilia Clarke's Game of Thrones fame of the time.
When Dark Fate was in the works, it was announced that it would be the first of an intended three-part series into the universe. That's clearly been scrapped now after its mediocre return of $250 million worldwide on a $185 million budget. As detailed on the SmartLess podcast with Will Arnett, Jason Bateman, and Sean Hayes in December 2022, Cameron is in talks to launch the franchise again. This time, though, he'd rather focus on AI being the issue rather than crazed bad robots.
Some will see yet another return to the Terminator universe as beating a dead horse, again, but if he is involved, a T7 movie would mark Cameron's first return to direct, write the story, and write the screenplay since 1991. Even if his discussion to relaunch doesn't work out, there is the Skydance and Netflix collaboration in the works for a Termination animated series.