Stuck for a movie to watch and have been through all of your 'go-to' favorites? There is perhaps one genre that you haven't explored yet which often goes under the radar. That is casino movies and while you might not have thought about these, there are actually more than you might think. Some even date back decades and are to this day, still regarded as timeless classics, while there are also much newer ones out that have received a lot of positive press. Even industry experts have a lot of positive things to say about casino movies, with a spokesperson from Casino Bonus stating: "The casino movies genre is probably one of the most underrated niches that there is.
"That is because a lot of people do not realise that there is more to them than just the actual gambling. They can incorporate many other genres such as action, comedy, romance, and even thriller, with many attracting an all-star cast as well". Let's take a look at some of the best casino movies that you can settle down to this year.
Mr Lucky
One of the first casino-based movie to come out, this classic was released in 1943 and starred Hollywood heartthrob Cary Grant. This feel-good flick incorporates romance and comedy with a twist on gambling that sees Grant's character play the part of a conman who takes over a gambling cruise ship, under the guise of charity relief to scam unwitting guests. However, he falls for a charity worker and things take an unexpected twist.
Ocean's Eleven
Starring Matt Damon, Brad Pitt and George Clooney this is one of the most popular casino movies and encompasses a team of 11 who attempt a daring raid on one of Las Vegas' biggest casinos. This has everything from action, suspense and great acting with plenty of twists and turns along the way.
Rounders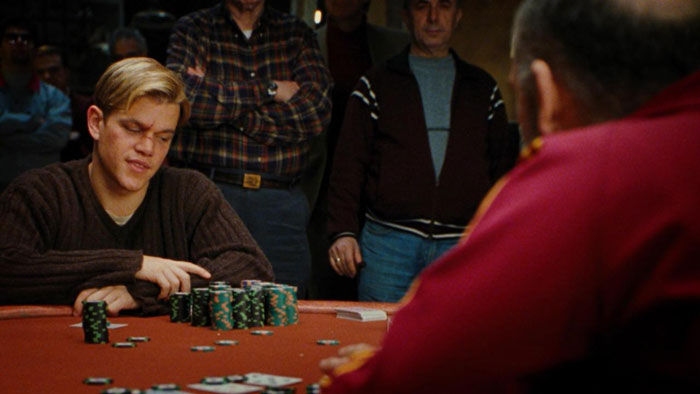 Another with Damon as the lead, Rounders is an understated casino movie about a student who turns back to playing poker after his friend gets involved with a loan shark and ends up in trouble. Damon's character has to use all of his previous skill and cunning to try and solve the situation which makes Rounders definitely worth a watch.
21
Released in 2008, this has Kevin Spacey as the lead and is based on an intriguing true story. It is about a team of MIT mathematics professors and their brightest students who set out to scam Las Vegas casinos out of millions, using advanced card counting techniques at the blackjack tables.
Casino
Directed by Martin Scorcese who teams up with Hollywood star Robert DeNiro, with Joe Pesci also playing a lead role, Casino was one of the most popular movies of 1995 when it came out. Based on the Las Vegas casino mob of the 1970s and 1980s this delves deep into the shady underworld of the mafia and the tight grip that they had on the Las Vegas casino scene and the lengths that they would go to for money, power and influence.
Casino Royale
Who doesn't love a James Bond movie? This classic arguably made Daniel Craig's name and culminates in a suspenseful, tense game of Texas Hold'Em poker with more at stake than just money. This has everything you would expect from a James Bond blockbuster and has been regarded by many as their ultimate 007 instalment.