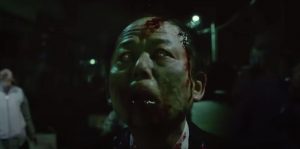 Zombie For Sale is one of only a handful of full-blown zombie comedies from South Korea. That sounds somewhat absurd, given the critical (and commercial) acclaim, several genre titles have found both there and abroad, but it is true. Also, it's important to note that in certain regions, the English title is translated as The Odd Family: Zombie On Sale. But, while such fare may be unique in its home country, does Zombie For Sale offer enough originality and fun to make it worthwhile?
In part because of all the illegal tests on humans they've been conducting, South Korea's largest pharmaceutical company, Human Bio, falsified reports on their latest drug. These experiments have produced zombies. One day, Jjong-Bi (Ga-ram Jung), a zombie, stumbles into a small, dying town filled mostly with farmers, a few shopkeeps, and the Park family. The Parks own the local auto garage and gas station.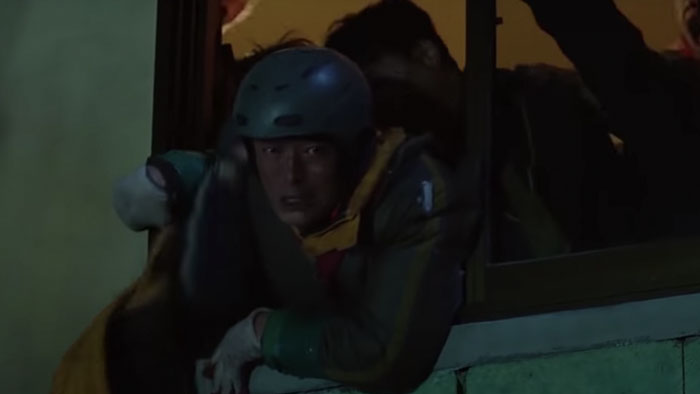 "…a zombie, stumbles into a small, dying town…"
Man-deok (Park In-hwan) is married to Nam-Joo (Ji-won Uhm), and they have three adult children: sons Joon-Gul (Jae-yeong Jeong) and Min-Gul (Nam-gil Kim), and daughter Hae-Gul (Soo-kyung Lee). While they do love each other, their relationship is strained, partly because business is dwindling, which causes Man-deok to be constantly agitated. Jjong-Bi bites Man-deok but gets captured in the garage. Hae-Gul takes an instant liking to the zombie, nicknaming him Zzongbie, and treating him like one of her pet rabbits.
While Jjong-Bi will "chomp" on anything, human flesh, cardboard, or his seemingly favorite, cabbage, the other zombies that show up – of course, more exist – are the typical, brain devouring kind. Can the Parks, and the rest of their small town, survive the undead horde? Is Jjon-Bi more than just a traditional zombie?
Zombie For Sale is rather delightful for its first 40, or so, minutes. The set-up is efficient, and everyone's reaction to first seeing the zombie (they aren't sure what he is) is comical. The dynamic between the Park family is also quite amusing. As Man-deok, In-hwan wonderfully vacillates between the comedy and drama, selling both quite well. Once his youth is restored because of the bite, in an unnecessary subplot that disappointingly does not anywhere, the actor's change in energy and demeanor is excellent.
"…one of only a handful of full-blown zombie comedies from South Korea."