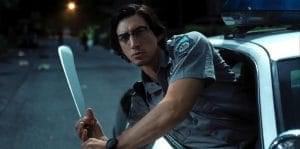 I have to say that I'm a traditionalist when it comes to zombie movies. I prefer the older stuff, particularly the George Romero films. Dawn Of The Dead could be the only zombie movie ever made, and I think that would be enough. Movies like Shaun of The Dead that take their cues from Romero are also in my wheelhouse. I occasionally like the subversion of the genre, particularly Santa Clarita Diet (which should absolutely shouldn't have been canceled, by the way) but generally, I think Romero had the formula down pat, and most other zombie movies are just pale imitations.
Thankfully, The Dead Don't Die is mostly just an hour and forty-five-minute long homage to the classic films. Romero is mentioned by name, and the appearance of the zombies is more modern Romero than Walking Dead. This is not a world where zombies aren't part of the cultural lexicon. This is Centerville, a town with 783 people in the middle of nowhere, but the townspeople still know what's up. In fact, because this is a Jim Jarmusch movie, most of the people who live in Centerville are cool, relaxed, or quirky in some way.
The disaster that springs up the zombie apocalypse, taking place in The Dead Don't Die, is not that there's no more room in hell—though there probably isn't—instead is polar fracking knocked the Earth off its axis. There is no question about where the political loyalties of this film or the director lie, but that shouldn't be a surprise if you know the smallest detail about Jarmusch. Steve Buscemi plays a farmer named Frank Miller, who wears a red hat that says, "Keep America White Again." He's the only person in the film that you have a real distaste for, with the zombies being funny, particularly Iggy Pop and Sara Driver as two coffee-obsessed zombies who keep repeating "coffee" over and over and Carol Kane as the police chief's ex-girlfriend zombie who really loves chardonnay, even in death.
"…Iggy Pop and Sara Driver as two coffee-obsessed zombies who keep repeating "coffee" over and over…"
Bill Murray, Adam Driver, and Chloe Sevigny are the police force of Centerville, with Murray as Chief Cliff Robertson, Driver as Officer Ronnie Peterson and Sevigny as Officer Minerva "Mindy" Morrison. The most they typically have to deal with is something like Hermit Bob (played by Tom Waits in his second appearance as a bearded outdoorsman in a film in the past eighteen months or so) allegedly stealing Farmer Miller's chickens. So when Hank Thompson (Danny Glover), owner of the hardware store shows up for his morning coffee at the diner and finds Fern (Eszter Balint) and Lily (Rosal Colon) disemboweled on the floor, the first thing that everyone assumes is that they were eaten by "a wild animal or maybe several wild animals." Ronnie is the first to assume that it's zombies who killed Fern and Lily.
The first person to witness the zombies and not get killed by them is the town undertaker, a Scottish samurai sword expert, Zelda Winston (Tilda Swinton) who chops both of the people's heads on her examining table clean off with her sword. The next night is when more and more zombies start popping out of graves and returning to the places they used to go to as living people, calling back to the Romero trope. Instead of simply returning to a place and milling around moaning, though, these zombies repeat the things they want over and over. You hear everything from "Skittles" to "Tools" to "Xanax." A particularly funny one is when you hear a zombie carrying a cell-phone say "Siri."
The Dead Don't Die, while paying tribute to Romero in some direct ways, is much more subtly a tribute to his films by expanding the message that materialism and the overall lack of regard for the rest of the world is what's turning us as humans into the zombies in these films. Most of us are asleep and really just want our Wi-Fi or coffee or god knows what else. Romero explored this with all of his films, not just the ones with the undead, and Jarmusch built the whole overarching message of the film from there.
"Hopefully, most audiences can take away the message from the movie and don't get too thrown off by the jokes or the star power involved."
The main thing I love about this film is just how completely absurd and ridiculous it is. There are twists on the star's names in two instances. There's Zelda Winston which is obviously a twist on Swinton's name and the even more hilarious Posie Juarez which is the name for Rosie Perez' television news anchor. The film is also extremely meta, with Ronnie Peterson saying "The Dead Don't Die," a song by Sturgill Simpson which plays throughout, is "the theme song" and later says he "read the script" to Chief Robertson. There are also references to Star Wars, and I can't help but feel like the samurai sword, and some other aspects of Zelda Winston are pretty direct references to Swinton's role as The Ancient One in Doctor Strange. There's also something so unbelievably hilarious about RZA's brief cameo in the film that I would feel bad about mentioning here, so I'll just let you find out for yourself.
Also, as you probably know from the trailer, EVERYONE IN THE WORLD is in this movie. That's the one thing I had a little trouble with was that all these great actors are in this weird, ridiculous movie, but none of them have time to live and breathe as the characters necessarily, but this film is definitely more plot-driven than anything else, and the characters exist more as tropes. I have to mention that Caleb Landry Jones, Larry Fessenden, and even Selena Gomez are in the film as well.
This isn't Jarmusch's masterpiece. He's already made so many of those already, but this movie is certainly fun and irreverent, with a little bit of hard-hitting reality thrown at you here and there for good measure. There's a Tom Waits monologue that really lays bare the foibles of humanity and is the most depressing part of an otherwise goofy, gory, meta-horror comedy. I recommend this film more for fans of Jarmusch than for hardcore fans of the zombie genre. Although I hope that it does serve as an introduction to Jarmusch to people who haven't seen his other films. Hopefully, most audiences can take away the message from the movie and don't get too thrown off by the jokes or the star power involved.
The Dead Don't Die (2019) Written and Directed by Jim Jarmusch. Starring Bill Murray, Adam Driver, Tilda Swinton, Chloe Sevigny, Danny Glover, Caleb Landry Jones, Steve Buscemi, Tom Waits, RZA, Larry Fessenden, Iggy Pop, Rosie Perez, Eszter Balint, Maya Delmont, Taliyah Whitaker, Jahi Winston, Carol Kane, Rosal Colon, Sara Driver, Selena Gomez, Austin Butler, Luka Sabbat, Sturgill Simpson
8 out of 10 stars