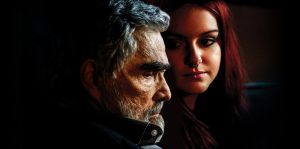 Adam Rifkin's The Last Movie Star is his homage to his Hollywood idol, Burt Reynolds. As the title implies, the film is a story of a mega-star on the back end of his career looking back. This is not a story of per se Burt Reynolds, but one about fame and aging.
Former superstar Vic Edwards (Burt Reynolds), who starred in fictitious films like Deliverance and Smokey and the Bandit (watch the film, you'll get it). Now a senior, whose imprint on Hollywood is rapidly fading, Edwards receives notice that he has been awarded the Lifetime Achievement Award at the International Nashville Film Festival. Reluctant to attend, his friend Sonny (Chevy Chase) convinces him to make the trip and accept the honor.
Arriving in Nashville, Vic's expectations of the "prestigious" festival is quickly dashed. Things are not as he hoped when Lil (Ariel Winter) shows up in her beat-up compact car, his four-star hotel is a forty-dollar motel, and the festival is being held at a dive bar in a seedy part of Nashville.
Running the festival are Doug (Clark Duke) and Shane (Ella Coltrane), master branding geniuses who admittedly fooled Vic into believing this was a legitimate festival. Legitimate in a way, the bar is packed with fans of Edwards. The festival may not be legit, but everyone involved is a fan of Vic's.
"Now a senior, whose imprint on Hollywood is rapidly fading…"
Lil, on the other hand, is Doug's sister with little knowledge of Vic's IMDB page. A go-nowhere young adult, Doug hired Lil to be Vic's driver and personal assistant. She's a little too hip for the room; she's helping her brother only for the money. Distracted by her cellphone, an ungrateful boyfriend, and copious amounts of alcohol, Vic immediately is drawn to Lil over his adoring fans.
Sharing several drinks with Lil, Vic is a little drunk. He then proceeds to have a "Shatner" moment with his fans ultimately telling them to "F**k Off!" during the festival's first Q&A. The next day, Vic plans to ditch the festival and fly home, but not before convincing Lil to take him to his hometown of nearby Knoxville for what will be his final walk down memory lane.
The Last Movie Star hits on the themes of our life's accomplishments and our fading legacy. The trip to his hometown forces Vic to relive the choices he made in life and come literally comes face-to-face with the consequences of the people and life he left behind to chase fame and stardom. In turn, Lil is challenged to seriously consider the choices she is about to make in her life and not make the same mistakes he did.
As much as this story isn't the real life of Burt Reynolds, it's clear that the emotions and introspection of Vic were easy for Reynolds to bring out in his performance. For those of us, who grew up watching Burt's action films, it is great to see him stretch the dramatic muscle we knew he had. We feel his pain, sadness, and regret.
"…[Winters] performance is strong both dramatically and comedically."
Ariel Winter kills it has Burt's counterpart. She more than holds her own as the angst-ridden, angry, narcissist. Her performance is strong both dramatically and comedically. We can only hope that her career continues strong after Modern Family, because she has skills.
Written and directed by Adam Rifkin, The Last Movie Star is an emotional film with comedic moments. In our interview with him, the film was written for Burt Reynolds and would never have been made if Burt didn't play the lead. If there is a negative in this film, the film is somewhat predictable in the issues it confronts with aging. It lacks a dark edge that is needed to set itself apart from other films about aging and while attempting to be profound, the dialogue is forgettable.
The reason to see The Last Movie Star is its performances from both Burt Reynolds and Ariel Winter. It's a sweet, solid film and a suitable bookend to Reynolds' career as a leading actor. Look, I'm in no way saying this is Burt's last film. What chance does anyone have in an industry obsessed with youth and beauty?
The Last Movie Star (2017) Written and directed by Adam Rifkin. Starring Burt Reynolds, Ariel Winter, Clark Duke and Ellar Coltrane. The Last Movie Star played as part of the closing night gala at the 2018 Palm Springs International Film Festival.
3 out of 5 stars
Watch it now exclusively on DIRECTV CINEMA before it arrives in theaters March 30.