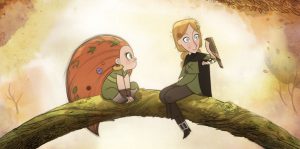 AFI FEST 2020 REVIEW! Admittedly, I'm late to the Cartoon Saloon party. I just finished the third (and I believe final) installment of its Celtic legend series, Wolfwalkers. If Tomm Moore and Ross Stewart's simple and beautiful tale is indicative of the storytelling of The Secret of the Kells or Song of the Sea, they're going right on my ever-growing watch list.
Wolfwalkers is the story of Robyn Goodfellowe (Honor Kneafsey), the daughter of her village's best hunter. Her only dream in life is to be like her father, Bill (Sean Bean). As Bill leaves every morning for the hunt, he tells his daughter to stay safe at home. Of course, Robyn's bravery and determination force her to tail her father from a distance, alongside her trusty falcon, Merlin.
Meanwhile, sinister forces are at work. Lord Protector Oliver Cromwell (Simon McBurney) wants to tear down the forest to increase the farmland available to the workers. The forest cannot be cut down because large packs of wolves protect it, and Bill has been hired (more forced) to hunt down every wolf.
Like every story starring children, good intentions lead to disastrous results. The wolf pack confronts Robyn, her crossbow goes off by mistake, severely wounding Merlin, as she becomes injured in the confrontation. Soon, another young girl, named Mebh MacTire (Eva Whittaker), emerges from the pack and uses her healing powers to mend Robyn and Merlin. Mebh is a mythical wolfwalker who lives with and can talk to the wolves. When Robyn returns home, she is haunted by dreams of transforming into a wolf, but are these just dreams?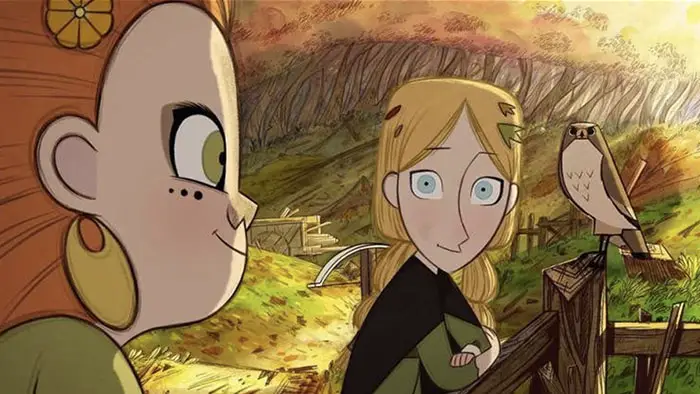 "Mebh is a mythical wolfwalker who lives with and can talk to the wolves."
Wolfwalkers is one of those fables we tell our children to open their eyes to the world of fantasy and the symbiotic relationship they have with nature. It a warning about the path of greed and corruption adults walk down when they grow old and serves as a reminder that we share this planet with others.
It's hard not to compare this film with Disney's long history of animated features. The comparisons, though, would be unfair. The charm of Wolfwalkers is its simplicity in storytelling. Robyn and Mebh are engaging characters, devoid of lighthearted comedic quirks that we think children will respond to. They are instead authentic girls that children will respond to. On their adventure, there's a mystery to solve to save the day. Simple, straightforward, and magical.
When it comes to the animation, I'm slightly torn. Technically, Wolfwalkers is a 2D hand-drawn, animated feature. No wireframes here, but pencil, paper, and ink have been replaced by computers. Animators hand-draw every frame on their tablets or monitors, but it merely mimics pencil drawings in its imperfect perfection.
This quibble is hardly a negative. The art design is beautiful. Moore and Stewart's direction uses loose, expressive linework, like pencil sketches (think 60s Disney, such as 101 Dalmatians and Jungle Book), and presents it using the ancient woodblock printing method as its overall visual style.
I could go on all day about the problems of CG animation balanced against the need to speed up the animation process. That said, Wolfwalkers is a beautiful movie for fans of animation and families with young children. If you want to ween the little ones off Disney's overproduced glitz and turn them on to alternative forms of animation and storytelling, Wolfwalkers is a great place to start.
Wolfwalkers screened at the 2020 AFI Fest.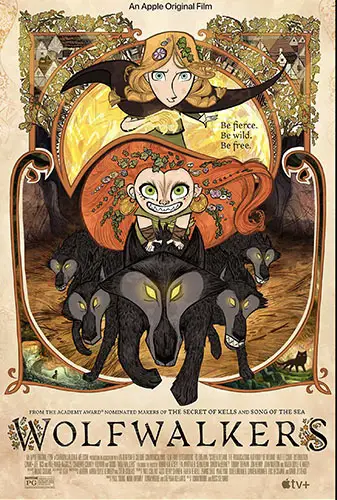 "…uses loose, expressive linework, like pencil sketches...using the ancient method of woodblock printing..."