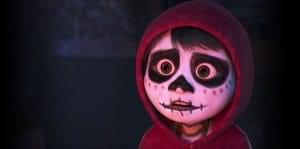 It's hard not to admire Pixar Studios' dedication to the art of STORY. Sure, their advances in the world of computer animation are nothing to scoff at. They innovated hair physics, skin and material textures, and a detail to detail. But never at the cost of STORY. The Good Dinosaur is their most recent example of scrapping a project, replacing almost everyone involved and change a release date just to produce a better movie. The world waits with bated breath to witness, Pixar's first failure. Gonna have to wait for that one.
"…to choose between the safety of a tight-knit, loving family and the desire to follow his dream and passions."
Disney/Pixar's Coco shows what happens when a studio develops a fantastic story and dedicates the entirety of its creative and technological resources to tell it. Coco's story is inspired by Dia de Los Muertos or Day of the Dead festival of Mexico. It is a celebration of friends and families who have passed on, and we're talking about an elaborate celebration.
The world of Coco is huge, and Pixar excels at world building. Inside Out brought us to the creative and colorful world of the mind and emotions. Coco takes us to the massive world of the dead. It is a world full of myths, legends, and most important, rules. All necessary to explain to children…and adults, how this world operates. Pixar masterfully and simply explains why this world exists, its significance and how to move back and forth between the living and the dead.
From this giant world, writers Adrian Molina and Matthew Aldrich tells a story of the importance of family and following your dreams. Trying to explain the plot of Coco is a huge undertaking, so it's best just to be brief and explain why you need to see this film.
Miguel (Anthony Gonzales) is a young boy with music as his passion and a seemingly genetic talent to play the guitar. The problem is music has been banned from the Rivera household ever since Miguel's great-great-grandmother was abandoned with her only toddler daughter Coco by her husband, an emerging musician. Believing that it to be the Rivera curse, music in all its forms has been forbidden over the last four generations.
Like most pre-pubescents, Miguel lashes out at his family, rebels and through a series of events that you have to see for yourself, Miguel finds himself in the World of the Dead looking for a way to return home. Admittedly this is a bad explanation of the full story, but it will have to do. Miguel's journey home from the World of the Dead involves his great-great-grandmother Imelda (Alanna Ubach), an almost forgotten street singer Héctor (Gael García Bernal) and the famous Mexican crooner Ernesto de la Cruz (Benjamin Bratt), who may or may not be said musician. Of course, we have to have an animal sidekick Dante, a flea-bitten street mutt.
"…there is an evil side to Pixar that compels them to make audiences cry."
The visuals of Coco are amazing from the bridge of flowers to the world of the dead. It's clear that Pixar took great care in getting Latin culture perfect. The world's dark undertones are brightened by the orange petals that compose the bridge. The dead city is reminiscent of rural Mexican towns stack up upon one another building a metropolitan city of the past.
A big world like this is built upon millions of smaller details. The guitar is the symbol of music for this film. Great care and research went into the accuracy of the guitar playing. Yes, you can teach yourself the guitar by watching Coco, which ironically is a running theme of the film. Then we have emotion. There is a moment when Miguel is practicing the guitar by playing along with a compilation of De La Cruz famous musical moments on film. He closes his eyes, entranced by the music and the moment, and this animated cartoon captures the emotion perfectly.
Needless to say, music is an integral part of Coco. Composer Michael Giacchino continues to prove his value to Disney/Pixar projects. He keeps producing good music, and they keep having him back. Let's be clear; Coco is not a musical. No one breaks out into song to explain the plot or express their true feelings. Songs were written for a music competition and a huge concert by De La Cruz. These original songs come to us from the Frozen songwriter Kristen Anderson-Lopez. Her song "Remember Me" ties the film together from beginning to end and is destined for an Academy nomination.
Let's get back to start. STORY. Coco's story moves at just the right pace. I will say that I figured out the ending about halfway through the film and I'm not alone. That said, I remained engaged in the journey of young Miguel to the end. A journey that ultimately forces him to choose between the safety of a tight-knit, loving family and the desire to follow his dream and passions.
Let me end with a negative. I believe there is an evil side to Pixar that compels them to make audiences cry. To this day, many adults are still traumatized by Up. Then came Toy Story 3. Damn you, Pixar! They got pretty close with Inside Out but failed. While they didn't bother to try in Cars 3, with Coco, it was almost their mission to make us cry, and boy did they lay it on thick. Here's the real evil. Touching story…blah, blah, blah, we're crying. Well done. Good job. Then in a split second near the final moments, they punch you directly in the face as if to say, "We control you! Don't ever forget it."
Coco (2017) Directed by Lee Unkrich and Adrian Molina. Written by Adrian Molina and Matthew Aldrich. Starring Anthony Gonzalez, Gael Garcia Bernal, Benjamin Bratt, and Alanna Ubach.
4.5 out of 5 stars