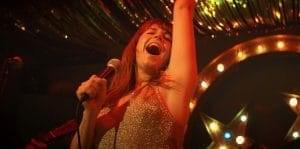 Tom Harper's Wild Rose is the rags-to-riches story of Rose-Lynn Harlan, an ex-con country singer from Glasgow and her journey to find fame as a country singer in Nashville. Before you stop reading, know that while the plot sounds awfully familiar, Wild Rose breaks from its overtold plot and delivers a refreshingly unexpected take on the story of fame. But it's the brilliant and charismatic performance by its lead Jessie Buckley that will leave you starstruck in the end.
Rose-Lynn's story opens with her last moments in prison for narcotics possession. During processing, she receives an ankle-bracelet that tethers her to her home each night from 7 pm to 7 am. Finally free of the prison walls, Rose rushes to her boyfriend's place for a little bang-in-the-park, then to the country bar, Glasgow's Grand Ole Opry, in the hope of getting back on stage as lead singer in the bar's band. Because of her curfew hours, her return to the stage is impossible, and a major tantrum is thrown.
Dejected, Rose returns to her mother Marion's (Julie Walters) apartment to see her two children, Wynonna and Lyle. Wynonna is not exactly thrilled to see mom. On her first morning on the straight and narrow, Rose begins her job as a cleaning person for Susannah (Sophie Okonedo) and her very wealthy home. With headphones on and vacuum in hand, Rose falls into a trance of country music. We quickly discover Rose country music savant, and she's super-talented as a country singer.
"With headphones on and vacuum in hand, Rose falls into a trance of country music…"
Music is a big star in the film as well. The entire film is sprinkled with performances just reinforcing Rose is a serious talent and can sing the broad spectrum of country music. It's easy to sing with a band, but Buckley has two or three opportunities to sing acapella, and she's brilliant.
Discovering Rose's talent, Susannah tells her that if Rose puts her mind to it, she can be a big star and that she's lucky to be young and untethered by a family. In fact, Susannah believes in her so much that for her upcoming birthday party, the only gift she wants from her wealthy friends is to donate money to send Rose to Nashville.